Dover Police Department
Introduction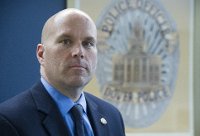 Welcome to the website of the Dover, New Hampshire Police Department.
It is my opinion that you are exploring the website of one of the finest Police Departments in the country. We pride ourselves on professional and courteous service to all individuals. I believe that the imaginative and creative programs that you can learn about here are clear examples of our commitment to our City.

 Should you have any comments or suggestions, please don't hesitate to contact me.

William Breault
Chief of Police
Send Email
Click here to Submit an Online Police Report
Click here to Register your Camera and Sign Up for Virtual Neighborhood Watch Program
Contact Information:
Dover Police Department
46 Chestnut Street
Dover, New Hampshire  03820-3396
Fax: (603) 749-3956
The Dover Police Department is actively seeking qualified candidates for the position of police officer.Qualified women and minorities are encouraged to apply.  Interested candidates should click the Career Opportunities link to the left to learn more.  Certified police officers are encouraged to contact Sergeant Matthew P. Travaglini at (603) 742-4646 or by e-mail at Sergeant Matthew P. Travaglini.
The City of Dover is an Equal Opportunity Employer.
 Mission Statement 
The mission of the Dover Police Department is to enforce the laws of society, maintain order, protect life and property, deliver quality service to the community, and to assist the public-at-large in a manner consistent with the rights and dignity of all persons as provided for by law and under the Constitution of the United States and the State of New Hampshire. 
Law Enforcement Accreditation
The Dover Police Department is an Internationally Accredited Law Enforcement Agency that has been found to be in full compliance with all of the professional standards established by the Commission on Accreditation for Law Enforcement Agencies (CALEA). CALEA is a non-profit agency founded in 1979 to establish a series of professional standards for law enforcement agencies throughout the world.
The Dover Police Department was the 62nd agency in the United States and the 1st New Hampshire Police Department to gain accredited status, and has been accredited since March, 1988. In addition to this distinction, the Dover Police Department was the first agency to be awarded the New Hampshire State Multi-Level Accredited status by the New Hampshire Police Standards and Training Council.
The Dover Police Department provides Law Enforcement services to a growing community of just over 30,000 people. In an average year, the Police Department responds to over 27,000 calls for police service, makes over 1,140 arrests for criminal offenses and issues over 2,700 citations for traffic offenses. The City of Dover enjoys one of the lowest rates of serious crime in the entire region.
Twitter Feed
Tweets by DoverNHPolice
Sours: https://www.dover.nh.gov/government/city-operations/police/
Police Department
Staffing
The Dover Police Department is a full service police staffed by:
16 Full Time Police Officers
4 Part Time Police Officers
1 Full Time Special Police Officer
1 Part Time Administrative Assistant
1 Part Time Animal Control Officer
Responsibilities
Staff are trained, equipped and ready to handle any type of situation that may manifest itself. The officers do their utmost to prevent crime, educate the public and assist in the resolution of problems. In addition, they stand ready to investigate any of the few crimes that are committed and diligently work to identify those responsible for crime and prosecute them for the offenses.
In addition to their singular duties, the department also operates the Emergency Communications Center. They receive calls for a whole host of both emergency and non-emergency public services, including the fire department, ambulance/Emergency Medical Technicians service and the animal control officer, and dispatch the necessary departments to deal with the request. The Communications Center and department is full staffed seven days a week, twenty-four hours a day.
Animal Control
The Animal Control Officer is a sub-unit of the Dover Police Department. She is responsible for the enforcement of local and state animal control by-laws, rules and regulations.
Drug Disposal
If you have prescription drugs in your medicine cabinet that you no longer need, the Dover Police Department has a new drug take-back container - and you are invited to use it. The new secure prescription drug collection container can be found in the police lobby of the Dover Police Department.
The container is self-serve and there is no paperwork or questions involved - it is as easy as returning a library book in a drop box. Taking a few minutes out of your week to safely dispose of unused prescriptions, particularly pain pills, might save someone a lifetime of addiction and its consequences.
Read the entire press release (PDF).
Voices Against Violence
Voices Against Violence is the domestic violence and sexual assault agency designated by the State of Massachusetts for residents of Dover . They provide information, counseling and support to survivors and their significant others. All of their services are free and confidential to all people regardless of race, religion, age, income, marital status, or sexual orientation.
Sours: https://www.doverma.gov/283/Police-Department
Police Department
The History of the Dover Police Department
The history of law enforcement within the Town of Dover began in 1880. A Police Marshall was assigned by the county to serve Dover from 1880 to 1911. The first police officer to serve was Mr. James Hagen, who was later named Police Chief on April 27, 1898. This appointment did not come without scandal though. The position was already filled by Chief Charles W. Bowlby, but he was ousted by the city council. Chief Bowlby refused to step down from his position and remained patrolling and conducting business as usual. This action became local news as well as reaching the New York Tribune, which also gave commentary. Chief Hagan's tenure ended in 1901, and Ethelbert Byram took over the position for the next 20 years.
A town ordinance was adopted to regulate and control the police department on August 21, 1911. The new ordinance called for a Police Chief, Sergeant, Detectives and Patrolmen. The first police headquarters was located on North Morris Street, one block southeast of where the current headquarters is located at 37 North Sussex Street.
The Dover Police Department became the subject of state and national news in May of 1931. Dover Police Officer Charles E. Ripley was on patrol when he noticed a vehicle park in a bus stop and the operator walk into a local store. Police Officer Ripley recognized the remaining occupant as Mr. James Nannery, America's #1 most wanted individual. Mr. Nannery was found to be heavily armed, but was taken into custody without incident. Mr. Nannery was wanted for escaping from Sing-Sing State Prison in New York on August 8, 1928. Mr. Nannery was also wanted in New York for the murder of a police officer. Mr. Nannery was a well-known gangster during this time period.
On May 22, 1930, tragedy struck the Dover Police Department when it suffered its first line-of-duty death. On that date, Police Officer Thomas Deshazo was providing a police motorcycle escort to Charles Lindbergh and his family. During the escort, he was thrown from his motorcycle and sustained serious injuries. Police Officer Deshazo died two days later. On December 30, 2003, tragedy struck the department again. Police Officer Arthur J. Ohlsen III responded to a report of a brush fire along the New Jersey Transit Railroad Tracks. While investigating the scene, Police Officer Ohlsen was struck and killed by a passing commuter train. The names of both men, Police Officer Thomas Deshazo and Police Officer Arthur J. Ohlsen III, are engraved on the National Law Enforcement Officers Memorial in Washington, DC. Both of their badge numbers (Deshazo #1 and Ohlsen #115), have been retired from service in the police department.
Today, Jonathan Delaney is the Chief of Police of the Dover Police Department, and as such, runs the day-to-day operations.
Captain William Newton is the second in command, and oversees both the Patrol Division and the Investigative/Administrative Division.
Detective Sergeant Oxmani Corona who is bilingual, currently supervises the Detective Bureau and our Internal Affairs Bureau.
There are presently multiple Sergeants and over twenty (20) Police Officers assigned to the Patrol Division.
Additional officers are also assigned to the Dover Detective Bureau.
Languages:
The Dover Police Department has 16-Spanish speaking officers, 1-Polish speaking officer and 1-Albanian speaking Officer.
Additionally, the department has multiple Class II Special Law Enforcement Officers (SLEO II), who commonly conduct foot patrol and bike patrol in the downtown area to keep our residents safe.
The Dover Police Department's community outreach initiative continues to progress and more programs are being planned for the future to build positive relations with residents from our community. We are also looking forward to continuing to implement innovative policing techniques and use state of the art technology to better serve the residents and visitors in the Town of Dover.
Sours: http://www.dover.nj.us/cn/webpage.cfm?tpid=2386
PAL Drop Event August 10, 2018

Concerned, Committed and Community Oriented

The Dover Police Department is a community responsive law enforcement organization that is committed to adhere to the ethical standards of the law enforcement profession and place our concerns for the welfare of the citizens of this community above personal concerns while rendering police services. We support and abide by the Law Enforcement Code of Ethics.

The Dover Police Department's main objective is to maintain a high quality of life that exist in the town and we are committed to that effort. We actively seek opportunities for changes leading to improve police service.

The Dover Police Department is responsible for protecting the citizens of Dover from crime; investigating and apprehending those suspected of violating the law within the city limits; enforcing city ordinances and providing traffic control on the streets and in schools; providing information and education to the schools and community about crime prevention, self-protection and illegal use of narcotics.

Lip Sync Challenge!


Sours: https://www.dovertn.com/index.php
Number dover police
The Dover Police are a full service police department staffed by officers trained, equipped and ready to handle any situation that may manifest itself. The officers do their utmost to prevent crime, educate the public and assist in problem resolution. In addition, they stand ready to investigate crimes, identify those responsible and prosecute them for the offenses.
Famous Last Words Video – Distracted Driving
July 11, 2017
In 2015, 3,477 people were killed, and 391,000 were injured in motor vehicle crashes involving distracted drivers. If you text and drive, your next message may be your last. Visit …
Read More »
Sours: http://dovermapd.com/
PAL Drop Event August 10, 2018
Police
For all emergencies, please call 911
The goal of the Dover Police Department is simple – keep the City of Dover a safe place to live and visit.
The Dover Police Department has served the community by providing diligent enforcement of city laws and ordinances, but also by being an effective presence throughout the city.
It is with great honor and dedicated duty that every member of the Dover Police Department serves our community.
Chief Paul E. Bantum
 Dover Police Department
110 East Third Street
Non-emergency: 
(330) 364-5533
If you have an emergency, call 911.



 Dover Civil Service Commission will give an open competitive examination for the position of Police Officer, Police Department, City of Dover, according to the Ohio Revised Code Sections 124.22, 124.23 and 124.41.  Please click here for additional information. 
Sours: https://www.doverohio.com/police
You will also like:
Police
The Dover Police Department was established with a grant in 1971 to support one policeman for 1 year. After the first year, the department enlarged to a Police Chief and patrolman. An addition was constructed on the back of the Town Office to house the department.

By the 1990's, the department had grown to a Police Chief, 4 full-time police officers and a secretary/dispatcher. In 1995, the former West Dover Firehouse was converted into a police station to house the growing department.

Today, the department consists of a Police Chief, 1 Sergeant, 3 full-time Officers, 3 part-time Officers, and a Dispatcher/Office Manager.

Below is a listing of those employees who serve and protect our community.
Chief Randall Johnson
Sergeant Michael Arbogast
Senior Patrol Officer Samuel Morris
Detective Rebecca Morris
Patrol Officer Frank Dornburgh
Patrol Officer Timothy Cunningham
Part-Time Patrol Officer Richard Werner
Office Manager Michelle Mann
Sours: https://www.doververmont.com/police
465
466
467
468
469