What's the Right Fence Height?
Posted in: Fencing
Many factors go into finding the right fence: the material you choose to use, the accessories you want for your fence, how long you want your fence to last, where you want to put your fence, etc. But what often gets overlooked is choosing the right height for the fence. Whether you want a grand and tall aluminum or wrought iron fence or an unimposing yet welcoming picket fence, the height plays an important role in the fence's look and function.
Three main factors determine the height of a fence: the style of the fence, the purpose of the fence, and the local regulations. Of course, your taste and the needs of your property play a role as well, but these three questions will help guide you to making the right decision.
At Long Fence, we care about giving you all the tools you need to find the right fence for your property. If you need additional help, don't hesitate to call us. Our professionals would be happy to assist you.
Finding the right style
A good fence doesn't just blend into a property; it plays an essential role in creating a consistent style and adding to the beauty of your home. Different factors have a big influence on the style. A dark wooden fence might lend a house the stoic beauty of a missionary or Frank Lloyd Wright home, whereas a white vinyl picket fence might give a home a quaint, colonial feel.
The material and color both play a role in the fence, but the fence height is equality important. A high wooden fence might appear austere, while the same fence at a shorter height might appear inviting. Though there are always exceptions, fences of all sorts generally follow a similar pattern: high fences are generally seen as imposing and grandiose, while shorter fences are friendly and welcoming. Keep the intended style of your fence in mind as we explore the purpose of the fence.
Determining the purpose of your fence
Every fence has a purpose. Some people choose to fence in their yards to protect themselves from trespassers or protect their garden from deer and other animals. Some people choose to fence their yards to keep pets or young children from escaping. Still others are simply looking to add to the beauty of their property, or simply to provide a definitive boundary to their land.
The purpose of the fence goes a long way toward determining how high to build a fence. Once you clearly define the purpose, you'll be better equipped to determine the height you want to build your fence. Remember, however, that the ultimate height also depends on your individual property and local regulations. If you need additional advice on choosing the right fence height, call us today! Our team of qualified experts is ready to walk you through the process of determining the perfect height.
Property boundary fence height
Your primary goal may simply be to set up a fence to separate your property from the outside. If you have a large amount of land, a boundary fence is an excellent step toward claiming the land as your own and preventing trespassers, horseback riders, or hikers from making inroads into your property. Even if you don't own a large property, a short property fence might be the right choice, helping you set up a clear boundary between your backyard and that of your neighbors.
A boundary fence is typically short, anywhere from 3- to 6-feet high. On a large piece of mostly undeveloped land, a 3-foot fence is typically sufficient. On a smaller, suburban property, a 3-foot fence in the front adds beauty to your front yard and can separate your yard from the next. In the back, 6 feet is an appropriate height for a fence if setting up a boundary is your primary goal. Of course, since property boundary fences often have few height restrictions, you may also want to consider the style and look of the fence when determining fence height.
Privacy fence height
Oftentimes, people build a fence not just to define their property, but also to provide their home and family with a degree of privacy. Many people value the ability to spend time in their yard and relax without the feeling that others may be watching their every move. If privacy is your main goal, you'll want a fence that is at least 6-feet high to prevent nosy neighbors or curious passers-by from peeking in. To be extra safe, choose a 7- or 8-foot high fence. Before you start building, however, double-check that local regulations allow you to build a fence to this height.
The right material is also important when choosing a privacy fence. A solid wood or vinyl fence provides more privacy than an aluminum or chain-link fence, though privacy panels may also be used. A solid vinyl fence is also the ideal choice for homeowners who want to reduce the noise coming into their yard. Choosing a high-privacy material, however, is pointless if the fence is short enough to allow people to look over the top of the fence.
Keeping animals and trespassers out
Fences are also an important means of keeping out unwanted animal and human visitors. Most animals, including deer, are deterred by a 6-foot fence. White-tailed deer are capable of jumping up to 8-feet high, so if white-tailed deer are a problem in your neighborhood, consider installing an 8-foot high fence. Also be sure to install a solid vinyl or wood fence, as many animals can slip through or under an aluminum, wrought iron, or picket fence.
Humans are more difficult to predict. A 6-foot fence will keep out most casual trespassers, but a determined burglar might be able to hop an 8-foot fence. Accessories such as pointed edges on the tops of an aluminum fence might be an investment to consider. However, be sure not to rely solely on your fence. Implement a comprehensive security system at your home to protect your property against burglars.
Keeping pets and young children in
Many of our clients build a fence to keep loved ones from wandering off the property. Families want to be able to relax in their yards with their children and pets, without having to constantly watch them to make sure they don't run off. A proper-sized fence allows them to let their children and pets play freely without constant supervision.
If this is your primary goal, a simple aluminum or vinyl fence may do the trick, so long as you are sure it is high enough to keep your pets or children from climbing over it. A 4-foot fence is typically high enough to keep most dogs from jumping over it, but larger and more active breeds may need a 6-foot fence. For young children, a 4- to 6-foot fence is typically a safe bet.
Pool fence height
Because of the drowning danger pools carry with them, pool fences are especially important and highly regulated. Even if you do not have any children or poor swimmers in your household, a pool fence is sometimes required by law to prevent a stranger from entering your property and falling into your pool. It also helps protect you from liability should an accident occur.
Pool fences are typically 4-feet high but may vary based on location. They also have various other requirements designed to prevent young children from being able to climb over or slip under them. Gates must be self-closing and self-latching. If the fence is aluminum, the pickets must be less than 4 inches apart, and if the fence is chain-link, the holes must be no wider than 1.75 inches. Before installing a pool fence, double-check all local ordinances and pool code.
Garden fence height
Clients who want to fence in a garden typically choose a shorter fence – about 3-4 feet. This allows them to show off the hard work they've put into cultivating their garden and allows visitors and passers-by to enjoy the foliage inside. An aluminum or vinyl picket fence is a popular choice for the same reason, but if you want to keep small animals such as skunks or rabbits out, you may prefer a solid vinyl or wooden fence.
Some people choose to install a solid bamboo fence, which adds natural beauty to the garden. A bamboo fence feels like an extension rather than a boundary to foliage and flowers. Certain kinds of fences, including bamboo and wood, can act as trellises for climbing vines, which also gives the fence an organic look.
Local regulations on fence height
Before you get your heart set on any one fence material or fence height, be sure you are complying with all local regulations. Some neighborhood associations and city ordinances dictate that fences cannot be below or above a certain height. You wouldn't want to have an 8-foot high vinyl fence installed only to have to take it down a month later because it doesn't comply with a regulation. All it takes is a few clicks or a phone call, and you can make sure your fence complies with the law.
Fence height for municipal facilities
Municipal facilities often have their own regulations regarding height. Though municipal fences should look professional and add to the beauty of parks and public property, their primary goal is safety. Fences around parks and pools, for instance, have the goal of keeping young children safe and preventing trespassers from entering during off-hours. Typically, a fence of 4 to 6 feet is a proper height, unless otherwise specified by local codes and regulations.
Fence height for businesses and retail stores
Fence height regulations are typically similar for retail stores and small businesses as they are for homeowners. For retail stores, business owners must balance a need to protect their property with the desire to attract new consumers. For example, a tall chain-link fence may be economical and stop potential burglars, but it may also appear unwelcoming to passers-by. A short, picket fence that customers find appealing, however, might invite trespassers and burglars after hours.
A fence should not be the only thing between your property and a burglar. A detailed security system should also be in place. However, investing in a beautiful, aluminum or vinyl fence that is at least 6-feet high is a smart thing to do. Of course, consider your company's individual needs and local ordinances first, but a 6-foot high solid fence may be enough to protect your property at night while not deterring customers during the day.
About the Author
Sours: https://www.longfence.com/blog/posts/view/334/What_s_the_Right_Fence_Height
There are plenty of practical uses for a fence: to gain privacy, safely corral kids and pets, block wind and noise, and prevent unsupervised dips in a swimming pool. But the right wood fence styles also make a strong aesthetic statement, improving a home's curb appeal.
Components Of A Fence
All fences use the same basic components:
Vertical posts set into the ground: The post supports all components; for stability, bury at least one-third of it in the ground.
Horizontal rails that support either pickets, fence boards, or lattice panels. They are spaced between 6 and 8 feet apart, depending on fence height and design.
What Type Of Wood Fence Lasts The Longest?
Redwood, cedar or pressure-treated pine last the longest. A fence can last about 20 years, if made of a turnout resistant wood. Then posts are usually the first to go; panels survive longer because they typically don't touch the ground.
Fences must withstand year-round exposure to the element. So be sure to assemble the parts with weather-resistant fasteners, such as hot-dipped galvanized or stainless-steel nails and screws.
What Are The Different Types of Wood Fences?
1. Wood Picket Fence
Usually 3 to 4 feet high, these fences are named for their widely spaced pointy-topped pickets, which discourage climbing and shed raindrops.
Best for:
Front yards
Gardens
Pool enclosures
Similar to shown: 4-foot-tall pointed-top cove panel, about $24 per linear foot in red cedar; Blue Ox Millworks
2. Post and Rail Fence
This inexpensive fence, traditionally used for penning livestock, also makes a bold demarcation between properties.
Best for:
Boundaries
Enclosing fields
Similar to shown: 4-foot-tall paddock fence, about $8.25 per linear foot in treated southern yellow pine; Capital Fence
3. Wood Lattice Fence
Crisscrossing strips of lath obscure the view while allowing air and light to pass through. A perfect screen for climbing plants.
Best for:
Similar to shown: 4-foot-tall lattice panel, about $59 per linear foot in white cedar; Walpole Woodworkers
4. Louver Fence
Vertical louvers or staggered boards afford privacy when viewed straight on but allow airflow and open views from the side.
Best for:
Pools
Decks
Parking pads
Patios
Similar to shown: 6-foot-tall open-louver panel, about $21.50 per linear foot in redwood; Bay Area Fence & Deck, Inc.
5. Vertical Board Fence
Overlapped or butted edge to edge, tall vertical boards, ensure privacy. They also block the wind, a good thing in winter but not so much in summer.
Best for:
Keep out nosy neighbors
Wind and noise protection
Similar to shown: 6-foot-tall shadow-box panel, about $30 per linear foot in redwood; Borg Fence
6. Ornamental Fence
Steel, aluminum, or fiberglass made to resemble wrought iron.
Pros:
Lifetime warranties on fiberglass and aluminum, 10 to 20 years for steel
You can paint it any color
It's strong and sturdy.
Cons:
No privacy
All posts set in concrete
Steel rusts
Cost: Starts at about $25 per linear foot for aluminum or fiberglass; about $16 for steel.
7. Vinyl Fence
Hollow PVC posts and rails reinforced with metal or wood inside.
Pros:
Warranties from 20 years to lifetime
Needs only an occasional wash.
Cons:
White and shades of beige only
Has a plasticky sheen
Gets brittle and cracks with age
Cost: about $12–$50 per linear foot for 6-foot-tall uninstalled panels.
8. Composite Wood Fence
Boards made of a sawdust and plastic blend with solid wood posts and rails.
Pros:
Warranties from 20 to 25 years
Comes in a variety of wood-like colors
Cons:
Posts must be set in concrete every 6 feet, which means extra digging and installation expense
Cost: about $15–$50 per linear foot for 6-foot-tall uninstalled panels.
Sours: https://www.thisoldhouse.com/fences/21017711/all-about-wood-fences
The Official Blog of The Fence Authority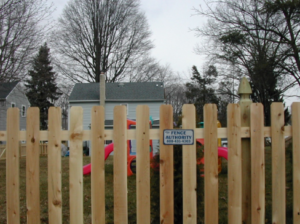 4′ High Spaced White Cedar Picket Fence
Fences come in many different heights, and for good reason: different sized fences serve different purposes. Depending on your needs, wants, and can-dos, you may choose a short 3-foot picket fence or an 8-foot fortress of privacy. The placement of your fence, such as your front yard or backyard, can affect the height of your ideal fence. Unfortunately, local regulations may dictate height for you and limit your options. That's often the first concern for homeowners, but it's not the only reason to think about height. Here are some considerations when deciding on the perfect fence height for your yard.
Local Regulations Regarding Fence Height
Want to make your house feel like a home? Contact The Fence Authority for a free quote. We install fences in and around West Chester, PA, Montgomeryville, PA, and Smyrna, DE.
Fence regulations are typically governed by local law or a homeowners' association. In many municipalities, six feet is the maximum height for a backyard fence, while a 4-foot fence may be used in front of your home. One reason front yard fences are smaller is because taller fences can block the sightlines of cars, creating blind corners at intersections and putting children and pets in danger. Depending on your location, you may be able to build an open fence (such as an aluminum fence) higher because it allows for visibility.
Applying for a Variance for a Higher Fence
If you have specific reasons for wanting a higher fence, you will need to apply for a variance when you submit your fence permit application to the local building and code department. A reason for building an 8-foot fence, for example, might include owning property that's next to a commercial building or backing up to a wooded area that deer frequent. A variance will make it harder to get your permit approved—but how hard depends on your local code enforcement rules and officers, as well as whether or not your neighbors support your fence plan.
6′ White Cedar Privacy Panel Fence

HOA-Imposed Fence Restrictions
Your homeowner's association (HOA) may have even stricter regulations than your municipality when it comes to things like fence height, color, and material. Check the bylaws of your association prior to starting your project to avoid being fined or asked to remove your fence!
Choosing Your Fence's Height Based on Functionality
The reason you want a fence likely has a lot to do with how high you want your fence to be.
Privacy Fences
If you are searching for privacy and don't want your neighbors to be able to see into your yard, you'll probably want a fence as high as possible. A six foot fence made out of solid wood or vinyl panels, rather than widely spaced pickets, will give you the most privacy in your backyard.
Fences to Protect Your Garden
If you are walling off your garden you are probably looking for a fence that will help keep animals – and trampling feet – away from your plants, while still accentuating the look of flowers, vegetables, and herbs. If deer and large mammals are not a concern for you, a shorter fence can help delineate your garden space. An open fence may allow animals like moles, groundhogs or rabbits to get at your plants, though. A taller, deer fence may be as high as 8 feet, but would need a variance and likely block the view of the plants you are trying to protect.
Pet Fences
If you are a pet owner, one main reason to get a fence is to allow your dog access to the yard. Some small dogs or dogs that cannot jump will do fine with shorter fences, but in general, a 6-foot fence is appropriate for containing your dog – and making sure other animals don't get into your yard to terrorize your pets.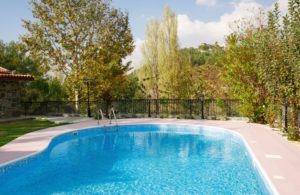 Pool Fences
For those lucky enough to have a pool, a pool fence is required by law to help restrict access, as an accidental fall into a body of water can be dangerous. These fences do not need to be solid privacy fences, and many people choose to make them open aluminum or vinyl fences, both of which resist moisture damage much better than wood. Most pool fences are about 4 feet in height, but you will have to check local ordinances for legal requirements.
Fences for Defining Your Property
Finally, some people simply want a nice looking fence to delineate property, separating it from the neighbors or the street, and enhancing the curb appeal of their home. In this case, your fence can obviously be any height. Most people choose shorter, 3-foot picket fences for the front yard. You can do the same for the backyard, but keep in mind how a shorter fence may look in your backyard, as well as the resale value of your home – the next property owner may be looking for privacy, gardening space, or a dog fence!
Do I Need to Replace My Fence If It's Too Short?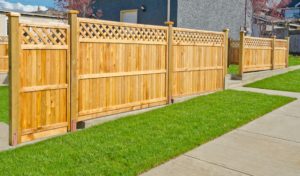 If the previous owner of your property, or even you (before your needs changed) installed a fence that is now too short, there may be a solution. Adding a fence extension can create up to 8 feet of height for your fence. This added portion may also be angled to help contain dogs who like to jump or to keep deer out of your yard. While a solid privacy fence might be 6 feet height, adding an additional two-foot extension will give you an added visual component, since those last two feet will be made of lattice or open work to reduce wind resistance.
Additionally, if you have a fence in good condition that is too tall for your needs, it may be possible to have it cut down to a smaller size, depending on the materials and installation. This is a project best suited to a fence professional, so contact us today to discuss your fence – and the perfect height for your yard.
To order fence parts or schedule professional installation,
call 800-431-4303 or contact us online!
Sours: https://www.fenceauthority.com/blog/why-cant-you-have-fences-over-a-certain-height/
Installing A No Dig Privacy Fence Crazy Fast!
Rainier Vinyl Privacy Fence
Our Rainier Vinyl Privacy Fence is our most popular privacy fence with a beautiful and contemporary style that is perfect for enhancing and defining your property. All of our vinyl privacy fence panels include aluminum in the bottom rail for industrial strength, boast the thickets rails, posts and pickets, and are ideal for creating complete privacy. With a transferable lifetime warranty built in, our fences stand out among the rest! Compare the facts on our commercial grade vinyl privacy fence and see the difference. All of our Heavy Duty vinyl privacy fence panels are available in the following heights: 3 foot tall, 4 foot tall, 5 foot tall, 6 foot tall, 7 foot tall, 8′ tall privacy fence, 9′ tall, 10′ tall privacy fence, 12 foot tall privacy fence and even 16 foot tall privacy fence! Fast nationwide shipping! Most orders ship within 5-7 business days.
Rainier vinyl privacy fence is very basic to install, as always we provide complete installation support. Unlike big box stores that push their low grade plastic fence that can blow away in the first storm, we provide expert support along with the very best vinyl fence manufactured in USA. When you have a question simply give us a call or email. You will not be dealing with a person working in the paint department nor the lawnmower aisle. We are fence experts and will provide you with expert support to ensure your fence is installed correctly the first time! Rainier Privacy Fence is available in White privacy fence panels, Tan privacy fence panels, Gray privacy fence panels, and Clay privacy fence plus color combo. Contact us 24/7 for a free quote.507-206-4154
Sours: https://www.vinylfenceanddeck.com/products/vinyl-privacy-fence/rainier/
Fence 4 privacy foot tall
4 Foot High Wood Privacy Fences
Four-foot-high wood privacy fences provide enclosure for your property, keeping pets and children from wandering away while ensuring animals and unwanted visitors don't enter your yard. While offering that protection, the four-foot privacy fence still provides sight lines into and out of your yard and lets you have a conversation over your backyard fence.
Four-foot-high wood privacy fences are typically built out of Western Red Cedar and can use any of the same styles used for full-sized wood privacy fences such as solid board, alternating scalloped, louvered, batten board or any other fence style.
Each fence post can be topped by a variety of fence post caps, a trellis or other decorative top. Those tops, combined with any of a variety of gates built into the fence, can give your fence a unique appearance.
If you are thinking of building a four-foot-high privacy fence you should consider consulting a professional for an estimate, even if you expect to do it yourself. The professional can share ideas and expertise that could help, or you may find the affordability of price, and assurance of quality, is worth it to you.
Call 651-451-2222 for more information or to receive a free estimate.
View examples of 4 foot high wood privage fences installed in Twin Cities yards.
Sours: https://www.midwestfence.com/wood-private-fences/4-foot-high-wood-private-fences/
Is a 6 Foot Fence Enough? How Tall Can I Make My Fence?
A Horizons Privacy Fence Panel Kit 4-ft. tall contains pickets that are made of recycled wood and plastic materials making it the best eco-friendly product. The composite pickets are backed with a 25-year residential warranty and won't rot, warp, or splinter, plus it is resistant to insect damage like termites. In fact, there's no paint to scrape, no once-a-year water seal required because of the low-maintenance benefit. Also, the fence is formulated to withstand most climates and is super-durable for high winds. The unique design of the Trex horizontal interlocking picket system offers a fully-private, neighbor-friendly fence (with the same look on both sides). This fence panel kit is ready to construct onsite and installs on 8 ft. post centers. Available in three rich, natural wood-like colors plus the black Horizons steel frame kit. The Horizons frame kit is backed with a five year limited warranty.
Horizons Privacy Fence Panel Kit 4-ft. tall requires pickets and Horizons frames to be cut to length for shorter sections. Recommended power tools: circular saw or 12 in. miter saw and drill for fasteners. The product is bulk packaged per item and grouped together onto oversized wood pallets. Before purchasing, review the items included and look over the installation guide to know if this is a DIY project your team can handle.
Trex Horizons Installation Resources
Installation Guide
Exploded View
4-ft. Tall View
Sours: https://trexfencingfds.com/shop/horizons-privacy-fence-panel-kit-4ft/
You will also like:
The error occurred in C:/home/fencecenter.com/wwwroot/modals/email-us.cfm: line 79
Called from C:/home/fencecenter.com/wwwroot/vinyl-fence/include-seo-content-section.cfm: line 16
Called from C:/home/fencecenter.com/wwwroot/vinyl-fence/4ft-white-vinyl-fence.cfm: line 137

77 : </div> 78 : 79 : <cfscript>
---
Resources:
| | |
| --- | --- |
| Browser | Mozilla/5.0 (compatible; Googlebot/2.1; +http://www.google.com/bot.html) |
| Remote Address | 92.51.5.193 |
| Referrer | |
| Date/Time | 23-Oct-21 04:16 PM |
Sours: https://www.fencecenter.com/vinyl-fence/4ft-white-vinyl-fence.cfm
380
381
382
383
384