Lock and Load Stops His Generator Theft!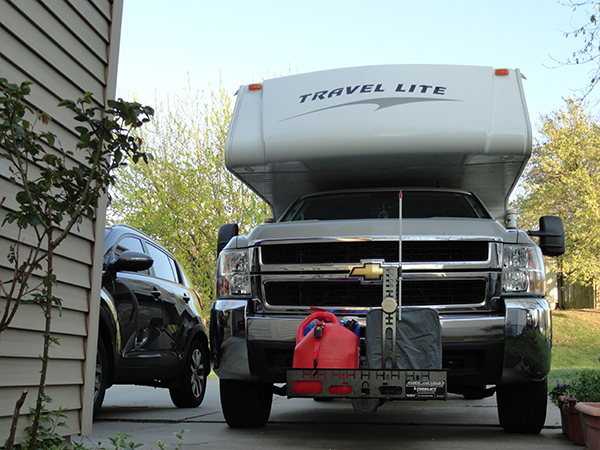 When an unknown thief attempted to steal one of our customer's generators, we were excited to know the thief couldn't get past our Lock and Load generator security tray.
"Somebody tried to steal my Champion Power Equipment 73540i 2000watt portable inverter generator from the Torklift Lock and Load Maximum Security Cargo Tray attached to the front hitch receiver of the truck in the driveway. The culprit never succeeded in stealing the generator but took the five-gallon gas can instead that was only secured to the tray by a ratchet strap." –John Patterson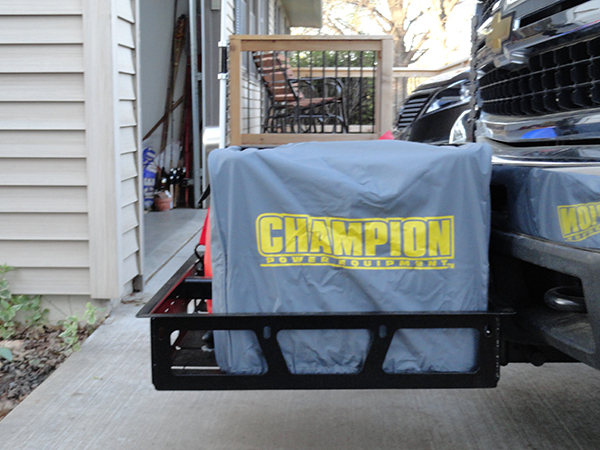 Wow John! It's unfortunate to hear that someone tried to steal your generator, but we're happy to hear that the Lock and Load hitch mounted cargo carrier did its job and kept your Champion generator safe from theft!
Last Christmas, Torklift International was able to play Santa Claus to a deserving customer whose only wish was to get a Lock and Load generator tray for Christmas. You can read the whole story here, but in the spirit of Christmas, we secretly sent him the Lock and Load locking cargo tray. He absolutely loved his surprise and has been updating us on how much he loves his Lock and Load since then. We are excited our Christmas gift stood the test of thievery.
Lockable for Your Peace of Mind
One of the best features of the Lock and Load is that it is lockable to prevent costly generator theft. The Lock and Load comes with a high security tamper-proof lock that makes it so your generator doesn't get stolen. John learned that the best kind of theft prevention is this generator tray:
"I'm hoping that big puck lock securing the generator to the tray helped convince the perpetrator to give up and just take the gas can instead. The additional security measures of the cable lock give me a little more piece of mind. The Lock and Load in my opinion is a very capable product of preventing theft of your expensive generator." –John Patterson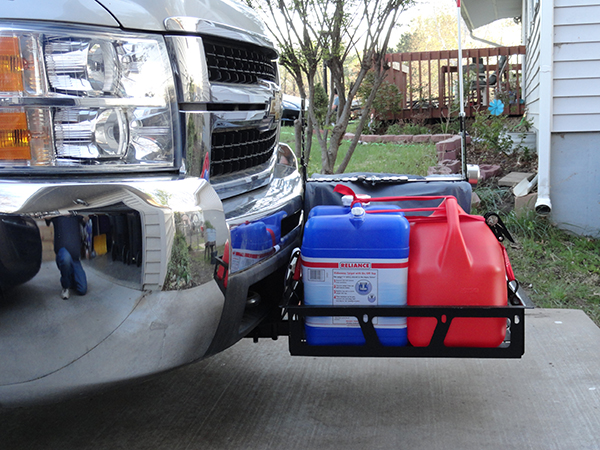 Easy to use – Install it, then forget about it!
This receiver hitch generator tray mounts easily into front or rear standard 2" x 2" receiver hitches and allowsyou to lock, store and run your generator and other motorized equipment simultaneously. You can even leave your generator in the hitch mounted cargo carrier – no more heavy lifting! All in all, John is incredibly happy with his generator carrier and finished his message with this wonderful statement:
"The Lock and Load Maximum Security Cargo Tray is an incredible product that Torklift has devised to help alleviate theft of expensive generators and anything else of value for that matter. Thanks again Torklift." –John Patterson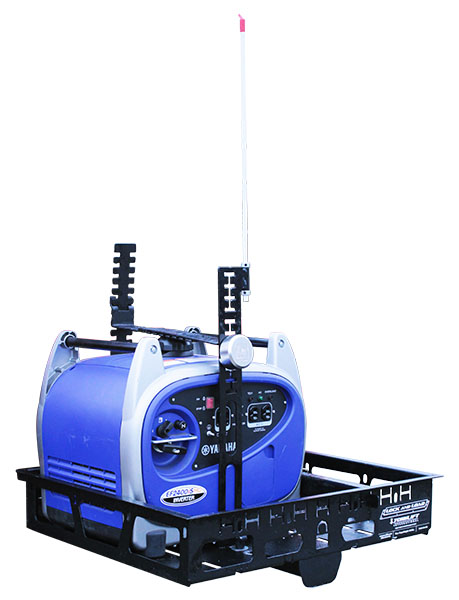 Lock and Load features include:

• Protect costly generators, camping gear, welders, tool boxes, plasma cutters and more from theft
• Allows you to lock, store and run your generator and other motorized equipment simultaneously
• Avoid exhaust fumes and stains by permanently storing your generator while on the road or off the grid
• No more heavy lifting – your generator stays on the tray even while running
• Features a safety visual sight indicator to prevent risk of damage while driving (Part #A7752)
• License plate relocation holes to attach license plate (Part #A7752)
• Mounts easily into front and rear receiver hitches
• Fits most common generators
• High security tamper proof puck lock included
• Cargo tray dimensions:27-13/16 L" x 23-1/2"W x 23" H
• Maximum security strap adjusts to secure multiple objects (extra security straps sold separately) 6-5/8"L x 13-5/8"W x 13-1/8"H to 27-13/16 L" x 23-1/2"W x 23"H
• Available in high impact powder coat steel
• Legendary Lifetime Warranty
• Proudly made in the USA
If you have been looking for new generator storage or are wanting to prevent generator theft, now is the time to check out the Lock and Load so your generator is stored safely this winter. If you want to learn more, click here.
If you are looking to store a smaller generator, the Lock and Load is available in a smaller size. The Lock and Load SideKick is 21.25" x 16.125" and fits all front or rear 2" x 2" mounted trailer hitches. More features can be found here.
Participating dealers are featuring the Lock and Load and smaller version the Lock and Load SideKick RV cargo carrier 10% off for a limited time here. If you want to wait until Christmas for your Lock and Load present – find a Certified Dealer near you by visiting our Where to Buy page and save it for later!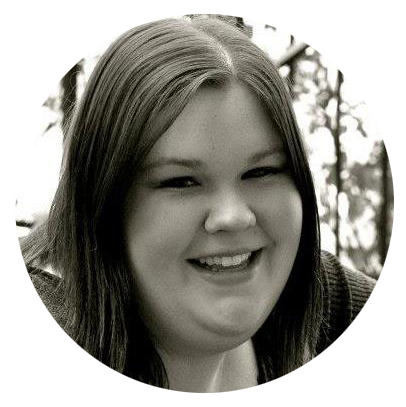 Written by Kerstin Stokes:
As a graduate from the College of Idaho with a B.A. in both History and Art, Kerstin has found her passion for writing and marketing. She enjoys looking up tasty recipes for baking and daydreaming about future travels.
Sours: https://www.torklift.com/blog/entry/lock-and-load-stops-his-generator-theft
Generator Boxes for Travel Trailers
Generator Boxes Inc. is the first expandable, upgradeable transport and storage system for ALL major brands of portable inverter generators (Honda, Yamaha, Generac, Briggs & Stratton, etc. Most 2000/2200 Watt Units). Our Generator Boxes are designed for travel trailers, campers and any other power needs where AC Power is not available. Rugged, durable and great looking, Generator Boxes are built to protect, secure and safely transport your portable generator or generator system. Guaranteed!
Boxes stack & lock together to run multiple generators in parallel & for extra fuel or storage.

Made in the USA of industrial-grade, heavy duty, welded diamond plate aluminum.

T-folding door handle & box latches lock for security.

No exhaust fan needed! Unique ventilation design includes louvered vents & removable access panels for generator exhaust, control panel access & refueling.

Rugged hardware: locking T-folding door handle, spring-loaded carrying handles, heavy duty hinges & rubber weather stripping on the doors, 1" self-locking cam buckle strap inside, removable access panels, & much more!

Accessory kits for all types of bumper & trailer hitch mounting.
Installing the Generator Box System to your travel trailer or camper might require professional installation. However, very capable DIYer's can complete the installation on their own.
We have a lot of great things planned, so stay tuned. Coming soon:
Plus Line of Generator Boxes for 3,000- and 4,000-watt generators

Swing-out Trailer Hitch Extension

Slide Accessory for easy manual refueling for 2-box Generator Box Systems

Smart Phone Generator Control App

And more!
Email or chat with us for any questions. We are here to help, and we look forward to hearing from you!
Thanks,
The Generator Boxes Inc. Team
Check Gallery
Watch Videos
Read More
Sours: https://www.rvgeneratorbox.com/
This post contains affiliate links.
A full black tank is a poopy situation but it's even worse when you can't find a dump station. Knowing where to dump your tanks is half the battle and the Sani Dump Station Guide will help you find them. Find out more about this complete guide to "Know Where to Dump When RVs have to go..."
Hey RVer! Want to learn how to build an online business and replace your current income with passive income? The awesome course Project 24 by Income School taught us everything we know about building an online business so we have the freedom to travel in our RV.

Whether you're on the road or just running to the convenience store a few blocks from your campsite, you want to properly secure your RV's generator. Generators are sadly one of the most stolen items, fortunately, secure it is easier than you think.
You can secure your RV generator using chains, cables, and alarms to help prevent theft as well as putting your generator where thieves have a hard time getting to it. You can secure your generator with a hitch or rack, in your RV, or in your truck while traveling.
Not many people have 500 dollars that they wouldn't miss, and you'll likely be out at least that much if something happens to your generator. Properly locking up your generator overnight and while you are away from your campsite will save you headache and wallet ache. Plus securing it while traveling will give you peace of mind while you rattle down the road.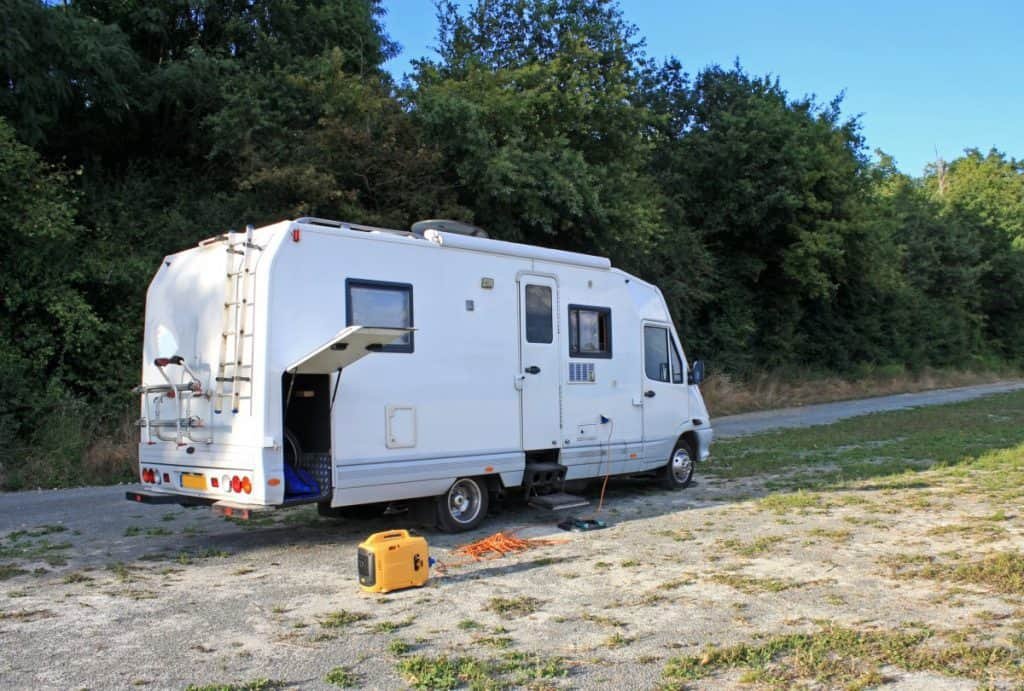 Securing your Generator at you Campsite
One minute – that's all the time it takes for thieves to make off with your portable generator if it isn't secured. The resale value on portable generators is great, which unfortunately makes them a popular target in RV parks and campgrounds.
The good news is that there are several ways to help ward off thieves and make sure that your generator doesn't grow legs while you aren't watching, including using chains, special cables, and alarms.
Chains
You'll want to grab the thickest chain you can get and then secure your generator right to the axle of your RV. You can also get a cut-proof chain for added protection if you want, but no matter which chain you use you should secure it with a padlock that can't be snipped with bolt cutters.
Using a chain is a great option if you're only going to be gone for short periods, but even the heaviest chain can be broken with a hand saw and enough time. Chains will hopefully be a big enough deterrent to prevent a crime of convenience.
Cables
One way to deter them further is to use a cable with an anti-cut alarm. These special cables have a screeching alarm that sounds if the lock or cable is cut, but they won't do you much good if you don't have neighbors close by and they hit you while you're out.
Similar to chains, cables help prevent theives who happen to notice your generator and are hoping for an easy buck. But the alarm should scare off anyone looking for a quick smash and grab.
Security Bracket
A security bracket actually works in parallel with a cable or chain. It is installed over top of your generators plastic handle giving you something more substantial to run your cable or chain through.
It's relatively inexpensive and installs with a couple of bolts over the handle of your portable generator. Just make sure to buy one that fits your generator model. Again, it's another deterrent for lazy thieves.
Sunluway Theft Deterrent Security Bracket for Honda Generator EU2200i, EU2000i, EU2000i Companion,...
PERFECT FITMENT: This Generator Security Bracket perfectly fits for Honda Generator EU2200i, EU2000i, EU2000i Companion, EU2000i Camo...
HIGH QUALITY MATERIAL: Made from powder coated iron and installed with tamper proof bolts, our high quality security bracket ensures a long...
DISTINCTIVE DESIGN: The screw heads we produce only match the special wrench which is showed on the picture, making it hard for others to...
Other Options
If you'd rather play it safer, you can also try making it harder for thieves to get at your generator. Some people have been able to maneuver their RV over top of their generator – especially when parked on an incline that leaves more room at one end. They still chain the generator to the RV's axle, but the inaccessibility of the generator overall is an added deterrent.
Placing your out portable generator in a hard to access area as well as out of sight will help discourage would be thieves.
Do you have a large dog, or a medium-sized dog that thinks he's a Doberman? If the weather is nice enough you can put your pup to work guarding your generator. Even if they'd only lick a would-be thief to death, the majority of people aren't willing to take that chance.
If you're more of a cat person like me, one of the most secure ways to store your generator at night and while you're away is to hide it out of sight. It's a pain – those bad boys aren't light – but if lifting your generator into your covered truck bed or into your RV's storage space keeps it from being spirited away then it's probably worth it.
Some generators are made specifically for RVs and have their own special compartment. If you have this kind of generator, you'll want to make sure you lock the compartment when you are away from the site and overnight/during quiet hours.
Mounting your Generator during Travel
Securing your generator properly on travel days is very important since you don't want your generator sliding around getting damaged or damage your camper. You also want to ensure the unthinkable doesn't happen, your generator falls into the road and is either damage beyond repair or causes an accident.
Truck Bed
With a pull-behind camper you can secure your portable generator in the bed of your truck. Once you have lifted the generator into the bed of your pickup, use ratchet straps or even heavy-duty bungee cords to make sure it won't shift anywhere during travel.
Storage Compartment
If you already have plans for your truck's bed space and would rather put it somewhere else, your RV may have a dedicated compartment for a generator from the manufacturer. In my fifth wheel, the generator compartment is in the front under the hitch, and that's where we keep our portable Honda while traveling.
Since the Honda is smaller than the generator that would come from the manufacturer, we use ratchet straps to secure it and put a towel underneath just in case there are any leaks.
Even if you don't have a dedicated generator compartment, you still might be able to store it in one of your other RV storage compartments if you have a large enough space, or you can even store it inside the RV like under your bed, dinette, etc.
If you do store it inside your trailer or in a compartment, make sure you have it tied down so it does go sliding around during turns or breaking. I'm personally wary of keeping my generator inside just because I'm paranoid about potential leaks.
Bumper or Hitch Mount
If you're like me and would rather not chance it, you can always mount your generator to the outside of your RV. One of the easiest ways is to get a rack that hitches right to your back bumper. Unfortunately, it's also one of the most dangerous.
You only need to go to a review site for one of these hitches to see countless stories of back bumpers being ripped off that weren't designed to carry that much weight – not to mention the danger to other drivers if your generator falls off on the interstate. Before you consider this option, you need to know exactly how much your back bumper is rated to carry.
You can avoid the possibility of losing your rear bumper (and your generator) altogether by going with a frame-mounted hitch instead. This hitch gives you the same platform for your generator on the back of your RV but is mounted to the frame instead of the bumper, making it much more secure.
Before you run out to buy one, though, you should know that the hitch lowers the bottom of your RV by several inches and you'll be more likely to bottom out on steep inclines and unpaved roads.
If you have an A-frame trailer, you're in luck: there are racks that are built to fit on top of your propane tank on the front of your trailer for mounting your generator. You do have to remove the rack if you need to get to the propane tank, but otherwise these are a great way to secure your generator for travel.
Sale
Stromberg Carlson CC-255 Trailer Tray
Appx. 30-5/8" from top of A-frame to top of tray.
Appx. 29-1/2" from top of A-frame to bottom of tray
Due to bent design on vertical tubes, tray brackets can be mounted on your A-frame at  widths varying from 14″ to 55″
Best Practices for Keeping You and Your Generator Safe
Now that you have some idea of how to secure a generator outside and while traveling, let's talk about best practices for safety. There are very few things that scare me more than carbon monoxide. You may be thinking to yourself that's silly – there are snakes, scorpions, and black water tanks that refuse to drain that are much scarier – but let me tell you why.
Carbon Monoxide
Carbon monoxide is completely odorless, and leads to unconsciousness and eventually suffocation. It does this by replacing the oxygen in your red blood cells, and if inhaled in large enough amounts you may not even feel short of breath or dizzy before you pass out.
No matter where you keep your generator, make sure that it is well-vented and away from where you spend most of your time to avoid inhaling carbon monoxide. You should have a functional detector inside your RV, and you'll also want to pay attention to where your neighbors are keeping their generators if they happen to be close by.
Lights
With that gloom and doom out of the way, let's talk about lighting. You'll want to make sure that the area around your RV and generator is well lit at night in order to discourage potential thieves, and also to keep you from accidentally tripping over it when you go outside to check out that noise you heard. There are many solar lights that will work, and you won't need your generator running to use them.
Location
As I mentioned, the location of your generator can go a long way toward preventing theft. Keeping your generator out of sight when it's not in use and making it not easily accessible when it is will both help keep thieves away.
GPS Tracker
While there is no 100% perfect way to protect your generator, the harder you can make it for someone to take it will lower the chances that someone actually does. In the event that the worst does happen and your generator is stolen, there are GPS trackers that you can purchase that will allow the police to find and return your generator as long as the thieves stay close enough.
Many of these trackers are a small tag that you can lock to the generator, and some even come in a patch that you stick to the surface. Whichever option you choose, just remember that your generator is not worth your life and the police will have a better chance of getting your generator back safely.
Closing Thoughts
Your generator is a large part of your dry camping setup, and the last thing you want is for something to happen to it – whether in transit or while at the campsite. Making sure that your generator is secure while traveling will protect both your generator and those around you, and you can take extra precautions like chains and alarms to deter thieves when camping.
If you have trouble with your generator shutting off, check our article Why Your RV Generator Keeps Shutting off.
Learn more about the common types of generator fuels in our article Common Fuels RV Generators Run On.
Sours: https://lifeonroute.com/secure-rv-generator/
Homemade GENERATOR GEARBOX - power almost any usb device.
.
Generator lockbox portable
.
Homemade GENERATOR GEARBOX - power almost any usb device.
.
Similar news:
.
291
292
293
294
295