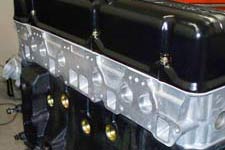 The "Cast" 3.0L
This engine package requires a L28 core as a starting point and features cast pistons, L24 connecting rods, and a stroked L28 crankshaft. This engine can be built using any Nissan L6 cylinder head. With big bore SU carbs and a ported head this engine package makes 275 HP and 270 TQ, with tripple carbs and a ported cylinder head this engine is capable of producing up to 310 HP(fw) and 280 TQ.
Engine long blocks starting at $6500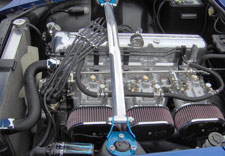 The "Purist" 2.7 Z-Car

This setup uses your existing 240Z engine so your numbers match. The motor has a big bore, long-rod combination and can use the E-31 or E-88 style cylinder head from your stock 240Z engine. On pump gas with an Improved Touring prepped cylinder head and SU carbs this engine produces 240 HP(fw) or 270 HP(fw) with tripple carbs (as shown).
Engine long blocks starting at $5500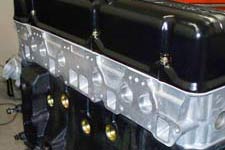 The "True" 3.0Z-Car
A True 3.0 liter 6-cylinder starts with a L28 "stroked" crank, big bore cylinders, forged pistons, longer H-beam connecting rods and an option to use any of the L-series cylinder heads. With the big bore SU carburetor modification, street porting, and cam kit and it can produce 300 HP(fw) / 275 TQ. With tripple side draft carbs or throttle body injection this engine can make up to 340 HP(fw) and 290 TQ.

Engine long blocks starting at $7500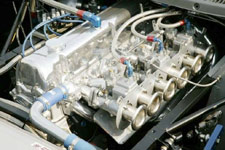 The "Big-Bore" 3.2 Z-Car
Using the diesel crankshaft and special block preparation this long rod combination is a real torque monster. With cylinder head work, cam and an induction/exhaust system, it produces 320+ HP(fw) / 300+ TQ. Add tripple carbs or throttle body injection and get 365 HP(fw) / 300+ TQ. This engine is sold ONLY as a complete assembly. Base price includes, Block, Forged pistons, Billet connecting rods, and rod and main bearings. Customer supplies cylinder head core, does not include Diesel crankshaft.
Engine long blocks starting at $8900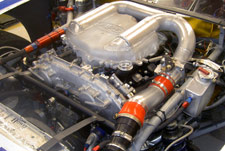 VQ35 Powered 300ZX GT-2
The VQ35 engine came in the Nissan 350Z, G35 and Altima. Race versions of this engine can make 380 HP(fw) / 300 TQ with a 36mm single inlet restrictor. The same engine without restrictions makes 490 HP(fw) / 330 TQ and revs to 8800 RPM. We have many different versions of this engine including a 4.1 liter stroker kit and a 9500 rpm destroked 3.3L.
Engine long blocks starting at $7500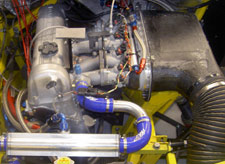 Nissan/Datsun GT-Lite engine
Starting with a 1.6L or 1.8L 4 Cylinder L series engine the GT-Lite single inlet restrictor package is capable of making over 170 HP / 135 TQ and revs to 8000 RPM.
Engine long blocks starting at $8500
Sours: http://www.rebelloracing.com/enginebuild.htm
L28 Short Block Engine
machined, built and warranted
Fully assembled short block with complete machine work finished. Includes New Pistons, Cleaned and Installed Rods and Crankshaft. Also new Brass Freeze Plugs and High Temp Paint.
We can build you a long block too, see our other items.
**Please do not ask about HP numbers, these engines have not been dynoed and I can not confirm the numbers. Estimated figures will be 200 and up depending on Head, intake, exhaust, flywheel and other parts!**
Engine is machined, built and warranted by a shop in Riverside California. There are other parts needed to complete this engine. Photos are just a sample, additional parts shown are extra.
Any problems or failures related to other parts in this ad will void warranty. Please make sure all of your intake and exhaust parts are fully functional before installation.
***THIS IS A SHORT BLOCK, NO HEAD, OIL PAN OR TIMING COVER.
ENGINE SHOWN IS **Not**THE ACTUAL ENGINE YOU WILL GET.
GREAT FLOWING HEAD AND GOOD PERFORMANCE 10/1 COMPRESSION W/ A N42 HEAD. (91 Octane Fuel)
COMPLETE HOT TANK CLEANING
**Please note I have other heads, if you wish for me to build you a custom engine please email me at 909 641 5383.
Sours: https://www.californiadatsun.com/long-block-short-block-engines/datsun-l28-short-block-engine.html
350HP DATSUN L28 ENGINE DYNO – VIDEO
IT'S always impressive when a naturally aspirated engine makes over 100hp per litre, and even more so when it's using an older-style engine. While we were down at Powerhouse Engines working on my Nissan RB30 turbo build (read about it in the August mag), we saw this stout Datsun L28 motor being run up on the dyno, making around 350hp.
It might not sound like a lot in this day and age, but when you consider that this motor uses the standard cylinder head, factory rocker gear, and a stock size exhaust, it's impressive.
The L28 started life as a 2.8-litre 12-valve in-line six, which Les from Les Collins Racing in Warragul has bored and stroked to 3385cc. The standard bore of the L28 is 86mm, but this one has been punched out to 89mm to take custom SPS pistons, and Les reckons on average he has to go through ten original Datto L28 blocks to find one that can handle being bored out so significantly. Likewise, the stroke has been taken from 79mm right up to 90mm with the use of shorter 137mm rods and a billet crankshaft.
The whole thing breathes through triple 50mm throttle bodies and oversized stainless intake valves. This thing loves to rev and will happily spin up to 7500rpm, where it produces a peak output of 347hp. The motor is going into a Datsun 240Z owned by a customer in America. Yep, Les Collins Racing in Warrigal, Victoria has a few international customers. He reckons he's even sent motors over to places like Norway and even Kenya!
Check out the video to hear this thing sing on the engine dyno at Powerhouse Engines.
Sours: https://www.whichcar.com.au/tv/dyno/350hp-datsun-l28-engine-dyno-video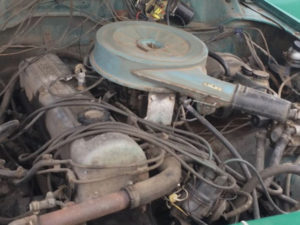 The Nissan / Datsun L28 is a carbureted 2.8 liter (2753 cc) straight-six, four-stroke cycle gasoline engine from Nissan L-family.
The Nissan / Datsun L28 engine features a cast-iron block, a wedge-shaped combustion chamber, aluminum head with overhead camshaft and a fully balanced 7-bearing crankshaft. The cylinder block is cast in a single unit and features deep skirting.
It has an 86 mm (3.39 in) cylinder bore and 79 mm (3.11 in) piston stroke with a compression ratio of 8.6:1.
It produced from 118 HP (120 PS, 88 kW) to 138 HP (140 PS, 103 kW) of horsepower and from 201 Nm (148 ft-lb) to 220 Nm (162 ft-lb) of torque.
The breakdown of the engine code is as follows:
L – Engine Family
28 – 2.8 Liter Displacement
General information
Engine Specifications
Engine code
L28
Layout
Four stroke, Inline-6 (Straight-6)
Fuel type
Gasoline
Production
–
Displacement
2.8 L, 2,753 cc (168.0 cu in)
Fuel system
Carburetor
Power adder
None
Max. horsepower
138 HP (140 PS, 103 kW) at 5,200 rpm
Max. torque
220 Nm (162 ft-lb) at 3,600 rpm
Firing order
1-5-3-6-2-4
Dimensions (L x H x W):
–
Weight
–
Cylinder block
The L28 engine has a cast-iron cylinder block, bore is 86 mm (3.39 in) and stroke is 79 mm (3.11 in). The cylinder block, a monoblock specially cast structure, employs the seven bearing support system for quietness and higher durability. The pistons are each fitted with two compression rings and a single oil ring. The crankshaft of L28 engine is made of special forged steel.
Cylinder block
Cylinder block alloy
Cast iron
Compression ratio:
8.3:1
Cylinder bore:
86 mm (3.39 in)
Piston stroke:
79 mm (3.11 in)
Number of piston rings (compression / oil):
2 / 1
Number of main bearings:
7
Cylinder inner diameter (standard):
86.000-86.050 mm (3.3858-3.3878 in)
Piston skirt diameter (standard):
85.965-86.015 mm (3.3844-3.3864 in)
Piston pin outer diameter:
20.993-20.998 mm (0.8265-0.8267 in)
Piston ring side clearance:
Top
0.040-0.073 mm (0.0016-0.0029 in)
Second
0.030-0.063 mm (0.0012-0.0025 in)
Oil
Combined
Piston ring end gap:
Top
0.25-0.40 mm (0.0098-0.0157 in)
Second
0.15-0.30 mm (0.0059-0.0118 in)
Oil
0.30-0.90 mm (0.012-0.035 in)
Connecting rod center distance:
130.35 mm (5.13 in)
Connectin rod small end inner diameter:
20.965-20.978 mm (0.8254-0.8259 in)
Crankshaft journal diameter:
54.942-54.955 mm (2.1631-2.1336 in)
Crankpin diameter:
49.961-49.974 mm (1.9670-1.9675 in)
Crankshaft center distance:
39.50 mm (1.5551 in)
Cylinder head
The cylinder head is made of a light, strong aluminum alloy with good cooling efficiency. The camshaft is made of special cast-iron and is located inside the rocker cover. Intake valves are 44.0 mm in diameter, intake duration is 240 °, and the exhaust valves are 35.0 mm, exhaust duration is 248 °. The intake manifold is cast aluminum.
Cylinder head
Valve Arrangement:
OHV, chain drive
Valves:
12 (2 valves per cylinder)
Intake/Exhaust duration:
240° / 248°
Valve head diameter:
INTAKE
44.0 mm (1.732 in)
EXHAUST
35.0 mm (1.378 in)
Valve length:
INTAKE
116.15-116.55 mm (4.5728-4.5886 in)
EXHAUST
117.15-117.55 mm (4.6122-4.6279 in)
Valve stem diameter:
INTAKE
7.965-7.980 mm (0.3136-0.3142 in)
EXHAUST
7.945-7.960 mm (0.3128-0.3134 in)
Cam height:
INTAKE
39.95-40.00 mm (1.5728-1.5748 in)
EXHAUST
40.30-40.35 mm (1.5866-1586 in)
Outer camshaft journal diameter:
47.949-47.962 mm (1.8878-1.8883 in)
Tightening torque specs
Tightening torque specs
Main bearing cap bolt
44-54 Nm; 4.5-5.5 kg·m; 33-40 ft·lb
Connecting rod big end nut
44-54 Nm; 4.5-5.5 kg·m; 33-40 ft·lb
Water pump bolt
M8: 12-16 Nm; 1.2-1.6 kg·m; 9-12 ft·lb
M6: 5-10 Nm; 0.5-1.0 kg·m; 3.6-7.2 ft·lb
Flywheel bolt (M/T)
137-157 Nm; 14.0-16.0 kg·m; 101-1116 ft·lb
Drive plate bolt (A/T)
137-157 Nm; 14.0-16.0 kg·m; 101-1116 ft·lb
Cylinder head bolt
69-83 Nm; 7.0-8.5 kg·m; 51-61 ft·lb
Cylinder head to front cover bolt
8-14 Nm; 0.8-1.4 kg·m; 5.8-10.1 ft·lb
Camshaft thrust plate bolt
8-14 Nm; 0.8-1.4 kg·m; 5.8-10.1 ft·lb
Pivot bushing bolt
78-118 Nm; 8.0-12.0 kg·m; 58-87 ft·lb
Pivot lock nut
49-59 Nm; 5.0-6.0 kg·m; 36-46 ft·lb
Camshaft sprocket bolt
127-147 Nm; 13.0-15.0 kg·m; 94-108 ft·lb
Chain guide / tensioner bolt
6-10 Nm; 0.6-1.0 kg·m; 4.3-7.2 ft·lb
Oil pump bolt
11-15 Nm; 1.1-1.5 kg·m; 8-11 ft·lb
Crank pulley nut
118-157 Nm; 12.0-16.0 kg·m; 87-116 ft·lb
Rocker cover bolt
18-27 Nm; 1.8-2.8 kg·m; 13-20 ft·lb
Spark plug
15-20 Nm; 1.5-2.0 kg·m; 11-14 ft·lb
Manifold bolt and nut
Bolt: 15-25 Nm; 1.5-2.5 kg·m; 11-18 ft·lb
Nut: 12-16 Nm; 1.2-1.6 kg·m; 9-12 ft·lb
Water outlet bolt
12-20 Nm; 1.2-2.0 kg·m; 9-14 ft·lb
Thermostat housing
10-16 Nm; 1.0-1.6 kg·m; 7-12 ft·lb
Distributor support bolt
4-8 Nm; 0.4-0.8 kg·m; 2.9-5.8 ft·lb
Alternator bracket
39-59 Nm; 4.0-6.0 kg·m; 29-43 ft·lb
Engine mouting bracket
69-81 Nm; 7.0-8.3 kg·m; 51-60 ft·lb
Carburetor nut
12-18 Nm; 1.2-1.8 kg·m; 9-13 ft·lb
Fuel pump nut
12-18 Nm; 1.2-1.8 kg·m; 9-13 ft·lb
Maintenance data
Valve clearance (HOT)
Intake valve
0.25 mm (0.010 in)
Exhaust valve
0.30 mm (0.012 in)
Compression pressure
Standard
12.0 kg/cm2 (11.77 bar, 171 psi) / 350 rpm
Minimun
9.0 kg/cm2 (8.83 bar, 128 psi) / 250 rpm
Oil system
Oil consumption , L/1000 km (qt. per miles)
up to 0.5 (1 qt. per 1200 miles)
Recommended engine oil
5W-30
5W-40
10W-30
10W-40
Oil type API
SE
Engine oil capacity (Refill capacity)
With filter change 4.4 l
Without filter change 3.9 l
Oil change interval, km (miles)
5,000-10,000 (3,000-6,000)
Ignition system
Spark plug
Cold: BP7ES, L44PW, BPR7ES
Standard: BP6ES, L45PW, BPR6ES
Hot: BP5ES, BP4ES, L46PW, L47PW, BPR5ES, BPR4ES
Spark plug gap
0.8-0.9 mm (0.03 -0.035 in)
Vehicle applications
| | |
| --- | --- |
| Model | Years Produced |
| Nissan Laurel C130 | 1975–1977 |
| Nissan Cedric 330 | 1978–1979 |
| Nissan Gloria 330 | 1978–1979 |
| Nissan Patrol 160 | 1980–1989 |
| Nissan Patrol 260 | 1986–2002 |
| Dome-Zero | 1978 |
Sours: https://www.engine-specs.net/nissan/l28.html
Engine l28
.
.
You will also like:
.
284
285
286
287
288