It's easy to forget about lockdown. Or perhaps we're just trying hard to forget. Because, we no longer have the laboured Zoom quizzes, or the perpetual fog of a red wine hangover, or full afternoons spent in our best underwear, or hour upon hour of Successionsprawled out in front of us (OK, so those last two bits were quite good). For many guys, though, something from those dark, weird days has endured. It's one of the best long hairstyles for men.
In the year of Covid, long hairstyles for men have become an ever more frequent sight. Barbers were shut. That forced many to either hack at their own hair under the duress of shouty YouTube tutorials, or simply grow it out. Many in the latter camp looked in the mirror, and found that, actually, long hair suited them. Many in the former did not feel the same way.
To look good – as in really, naturally, early Nineties Interview With A Vampire era Brad Pitt good – you need a few things to pull it off. Length, first and foremost. We're assuming you've already got that. But you also need certain genetics. Finer hair can look even thinner without regular trims, and extra weight will pull everything down. So it's best to only consider one of the best long hairstyles for men if you've still got plenty up top.
If you have that, though, know that the benefits are legion. Longer hair is versatile. But it's also unique in that it packs a certain strain of loucheness that evades almost every other haircut for men. All you do is get up, push back and go outside – or at least that's the illusion. In truth, it takes a substantial amount of effort, but, again, the nice lady on the till at Tesco Express doesn't need to know that – nor will she assume that you summer in Newquay.
Joe Mills, founder of barber Joe and Co, says there's never been a better time to consider a longer hairstyle.
"It's really diverse at the moment with longer hair," says Mills. "You've got guys with hair flowing down past their shoulders through to guys with Seventies Bowie-style cuts with short fringes." Like any trend, he says, "hairstyles are circular", and the current maxim is a pushback to military-grade war-hero cuts that appear on everything from the runways of Milan to Sheesh bar and grill in Chigwell. That means its time for a change.
"People first started moving towards a softer, Stone Roses-style look, and it went from there," says Mills. "You always have a phase where everyone's having sharp, short haircuts, then people buck the trend and it starts to filter through."

No time like the present. Here's everything you need to know about the best long hairstyles for men.
Who can pull off long hair?
"The thing with long hair is that it's an attitude as much as it is a look," says Maxwell Oakley, barber at Ruffians Shoreditch. "If you've got the confidence to break out of the pack, then you're halfway there." That being said, all the chutzpah of a Met Gala Jared Leto won't help if you're without the right starter ingredients.
"Realistically you need medium to thick hair to grow it long," says Mills. "It's better if it's got a slight wave in it too, so that it doesn't just hang. Straighter hair is OK, curly hair can work really well as the locks drop out when hair grows. But, if your hair is too fine then it'll just look wispy."
As well as hair type, you'll also need to take your face shape into consideration. "An oval or square jaw will pretty much work with most haircuts. If you've got a particularly round face, you have to be mindful your hair doesn't accentuate that. Anything mid-length can tend to look a bit Lego-head."
Can I make my hair grow faster?
Growing your hair out is a serious commitment: you can't ghost out when the going gets tough. There will be tricky patches, and times when you want to just give up and shave your hair off. Try to persevere.
"Understand that there are a lot of stops on the journey, and some will seem to last longer than others," says Oakley. He recommends talking to your barber about your long-term goals (and showing them references), so that they can give you a roadmap of how to get there.
In terms of shortcuts, there are, unfortunately, none. As far as miracle products such as caffeine shampoo go, "there's just not enough science," Mills says. "If you want decent hair, skin and nails, just make sure you're eating a balanced diet and if you're out drinking, make sure you rehydrate." He adds that zinc and collagen are said to be beneficial for hair quality, so multivitamins and supplements could be an option. But really, this is a waiting game.
How do you maintain long hair?
As your hair moves south, it's important to invest in a quality shampoo and conditioner to keep it strong and glossy. This means separate bottles (no two-in-ones) and not just resorting to your significant other's wash of choice. Mills recommends using Triumph & Disaster, or Kevin Murphy's Hydrate.Me range, both of which are sulphate and paraben-free and contain hydrating oils and extracts.
"If your hair is in fairly decent nick, you only need to condition your hair every other wash," he says. "If you've got finer hair, you can also use a sea salt spray which coats the hair, making it look thicker."
While shearing off dead ends is important for maintaining a glossy mane, getting a trim doesn't make your hair grow any faster, contrary to popular belief.
"People say you need to come in every four to six weeks to get the dead ends cut off, but you're cutting off what you've just grown," says Mills. "If your hair is really thick and getting out of control, you might want to have it reshaped, but it's not like the short back and sides mentality: you don't need to come in every few weeks."
The other major psychological shift, Mills says, "is getting your head around the fact that you won't look quite as clean-cut as you once did." This doesn't mean resigning yourself to looking scruffy, rather that additional effort is required.
"It helps if you're clean around the edges – the back of your neck and your sideburns if you have them. If you've got a beard, make sure it's blended in. Aside from that, you've got to just put up with it."
How to grow out Afro hair
Afro hair is more brittle than caucasian and Asian hair, meaning you'll need to use a deep moisturising treatment more often as it grows. You'll also need to wash it less (once a week at most) to maintain your natural oils, ideally, again, using a sulphate and paraben-free shampoo.
"The thing with long hair is that it's an attitude as much as it is a look"
"One thing to remember is that afro hair is longer than it appears," says Mark Maciver, owner of SliderCuts. "It tends to be quite curly which can disguise the true length as it's growing, so you have to be patient. If you pull a strand, you'll see how long it really is.
"It's also very important that you don't cover your hair too much by wearing caps, hats or wraps," he adds. "Just like your body, hair needs sunlight and oxygen to keep it healthy and constantly covering it doesn't let it get this which can result in your hair not growing or becoming damaged."
Your long hair inspiration
Follow in the follicles of these well-coiffed men on every step of your short-to-long growing journey
---
Longer Afro Style
What to ask for: Tell your barber that you're growing your hair out, and they'll advise a trim and products designed to enhance curls
Who it suits: Guys who are able to easily grow two to three inches of hair
What it is: A traditional Black hairstyle that results from natural growth and progression, and it's usually styled into a rounded shape using a comb.
Dating back to the civil rights movement of the Sixties, Aaryn Lynch, a producer behind Cambridge's Fitzwilliam Museum 2013 afro comb exhibition, named the afro "a symbol of rebellion, pride and empowerment" in an interview to the BBC.
Due to its voluminous nature, you'll need a little more maintenance too as breakages can frequently occur. Use a wide-toothed comb to style, avoid excessive heat from hairdryers and straighteners and swerve chemical-based relaxers and hair dyes with a full shampoo wash needed every seven to ten days.
---
Longer On Top
What to ask for: A classic scissor taper with square layers on top
Who it suits: Everyone
What it is: Bradley Cooper's current 'do would be a solid end goal in itself, but Oakley says it's also a strong transitional option for anyone who's starting to grow their hair out.
"The great thing about this cut is it can be adapted for pretty much any hair type," he says. "The key feature is the taper. This can be cut with a little graduation, or if you have the length on top the angles can be made more extreme. If your hair is very thick it is better to not go too tight."
Rub a little serum or hair cream (Ruffians does a very good one) through to give the hair a slight hold. If you're looking for something slicker, use a matte clay or pomade through the length and ends.
---
Longer Quiff
What to ask for: Slightly feathered layers, longer on top
Who it suits: Heart-shaped faces, thick hair
What it is: With more length on the sides and slightly feathered layers, Patrick Dempsey's soft quiff is where we start to take a real departure from clipper cuts. "His stylist has point-cut the ends to soften them," says Oakley. "The soft feathering on means that the hair isn't so bulky, making it much easier to style as you gain length."
Oakley says that this style is particularly good for men with heart-shaped faces as the narrow shape around ears and slight flare at the back "gives the appearance of more balance".
"Use salt spray on wet hair before drying to take the shine off. For a little more volume and hold sprinkle in some hair powder, or for a softer look with a demi shine rub some styling paste through the hair while slightly damp."
---
Naped Tidiness
What to ask for: A round layer throughout
Who it suits: Square and oval faces
What it is: The point at which your hair starts falling down instead of growing out in all directions is also when your hair starts to feel purposeful and powerful. Not unlike, say, a Jedi master. This is also the point where you can go for something deceptively simple, like Adam Driver's one-length all-over style.
As Oakley explains: "It may look like this cut is shorter at the back but this is merely an illusion. The hair mimics the lines of your head; the weight on top is actually pushing the lengths at the back to follow the head shape."
If you're aiming for even more length, Oakley recommends you ask your barber to reduce some of the weight from the top while allowing the base length to get longer and heavier. At home, smooth some styling cream into freshly washed and conditioned hair, running your fingers through it as it dries naturally.
---
Mid-Length Longer hair
What to ask for: Mid length layers, slightly longer on the top and shorter on the sides
Who it suits: Medium to thick hair, square and oval faces
What it is: Your reward for about a year's hard work and perseverance – that's how long it'll take you to get Keanu Reeves' grown-up surfer look. but the good news is it's relatively low-maintenance from here on out.
"You need four to five inches of length, with the sides slightly shorter than the back," says Mills. "If your hair is thicker then ask your stylist to take some weight out to give it some movement, and so that it doesn't sit flat to your head."
To style, use a small amount of mousse on damp hair and either blow dry or leave to dry naturally. Then, use a styling cream to finish.
---
The Chalamet
What to ask for: A classic layer cut blended at the sides
Who it suits: Thick wavy or curly hair
What it is: A classic Timothée Chalamet, which Mills says is the ideal starting point for guys who are just starting to embrace longer curls.
The explosion of ceramic hair straighteners around the turn of the millennium convinced us all that curls were something which needed taming. Thankfully, this is no longer the case. Mills recommends that you start by growing the top at first, keeping the back and sides at "an inch to two-and-a-half inches and blended in as much as possible in a classic layer cut."
"The top is probably three times longer than the sides, with the curls pulling the length back in, but if you're growing it out ask your barber to leave as much as possible," he explains. "You can then grow the back and sides gradually." To add sheen and tame any frizz, use a touch of styling cream.

---
Medium Curls
What to ask for: A round layer throughout
Who it suits: Medium to thick hair, square or oval face
What it is: Where you'll be a few months in, when your curls start to elongate and fall down around your face. As Oakley points out, this cut is "pretty much identical in length and in shape to Adam Driver's" – a round layer throughout with some of the weight removed from the top where necessary.
To get Kit Harington's casual swept-back style, use conditioner and hair cream after washing. Leave it dry naturally, being careful not to touch it while your curls set.
"When it is completely dry it might look very shiny and a touch crispy," Oakley continues. "To get rid of that Eighties DeBarge look, rub some Ruffians Matt Clay into the hands and run it through the hair." This will break up any crunchiness while adding hold.
---


Longer And Messier
What to ask for: A universal layer with more length at the front
Who it suits: Medium to thick wavy hair
What it is: Easy maintenance with tonnes of texture.
Dev Patel is cold, hard proof of the magic of grooming (see: his unbelievable glow-up from awkward TV sixth-former to Oscar-nominated heartthrob). If his tousled, textured mop looks effortless, that's because once you've got the required length, it mostly is.
"This is what we call a universal layer," Mills explains. "It's about the same length all over – four to five inches on top and three to five inches on the sides, but with more length towards the front."
The key to this style is movement. "If you've got very thick hair you'll want some of the weight taken out of it, making sure sure it's soft around the edges with the back cut into."
Once you've got the cut sorted, all you need is a touch of curl-enhancing cream before air drying. Mills recommends Kevin Murphy's Motion Lotion, though Patel has admitted he uses facial moisturiser.
---
Short Braids
What to ask for: Box braids
Who it suits: Those with suitable scalps
What it is: A protective style that looks slick
Braids and cornrows are great for protecting afro hair during the colder months, when biting winds wick moisture out of the hair, but they've also made a style comeback in recent years thanks to the likes of A$AP Rocky and the late Nipsey Hussle.
Mark Maciver says: "The first thing to consider is if you have any scalp conditions, such as a tender scalp or alopecia, as a style like plaits could actually cause more damage to your hair".
"Booking a consultation with a hairdresser will help to identify this. They'll also be able to advise whether your hair is capable of achieving the style." If your scalp can handle the tension, ask your stylist for simple box braids all over.
Shannon Currie, who works with Maciver at SliderCuts, says: "Your hair needs to be at least three inches long to achieve a neat plait without the use of elastic bands, and at least six inches long to achieve the A$AP Rocky style." Wear a durag to bed and keep your scalp moisturised with a coconut or avocado oil-based product.
A word of warning: braids on white guys are definitely not fly. If David Beckham couldn't pull it off, neither can you.
---
Jesus Waves
What to ask for: A layered cut, straight across the back
Who it suits: Wavy hair
What it is: Sleek with serious length
This is what you get when you bide your time, follow a dedicated hair maintenance regime, and maybe throw in a few prayers to the hair gods every now and then.
"It's a great haircut," says Mills. "It's cut straight across the back and then through the front it's got some layers to give it that softer textured feel. It's very sleek, very groomed."
Mills adds that this is a style that works for any length of hair once it's past the shoulders, and suits all hair types from fine to thick. To get Jared Leto's signature Seventies folk singer look, use a pomade to define your natural waves. You can air dry, but Mills recommends going for a full blow-out when you want to seriously impress.
---
Long And Natural
What to ask for: One length all over
Who it suits: Thick hair with a strong wave or curl
What it is: The holy grail of long hair.
Jason Momoa's hair is the stuff of legend: sun-kissed and shoulder-length with stronger waves than the ones that toppled Atlantis.
"I've worked with Jason and I know his hairdresser, it's super low-maintenance," says Mills. "This is just a classic one-length haircut, all of the hair is the same length." It goes without saying that this is a style which requires thick hair, preferably with a strong curl. "Then, all you need to use is just a bit of conditioner, towel dry it and whack some grooming cream in there."
Like this article? Sign up to our newsletter to get more delivered straight to your inbox
SIGN UP
This content is created and maintained by a third party, and imported onto this page to help users provide their email addresses. You may be able to find more information about this and similar content at piano.io
Sours: https://www.esquire.com/uk/style/grooming/a31990236/best-long-hairstyles-men/
What are the most popular men's haircuts and hairstyles for men? You will find them right here in this newly updated guide.
This is the best collection of men's haircuts and cool hairstyles for men. We have been very careful to select only best examples of all the latest haircuts we are seeing cut and styled by the best barbers in the world. Scroll down, find a new look, and then simply show the photo to your barber. Super easy.
Below, you will find the freshest men's hair ideas including short hair looks, medium to long hair length options, super cool fade haircuts. These are the latest and most popular men's hairstyles and trends that we are seeing in the best barbershops around the world.
In detail, we discuss the haircuts, the best men's hair products to use, and how to style them. And, we show you the most popular types of haircuts for men, as well as all the different types of fades your barber can give you.
These are the newest trends in fade haircuts, modern undercuts, pompadours in different lengths and styles, classic men's haircuts, cool comb-over haircuts, and the most popular quiff haircuts and crop haircuts.
There are more cool haircut styles for guys than ever before. Stay fresh, stay cool. Mix and match features, hair length, part vs no part, or fade vs tapered haircut looks. We are also seeing men's haircuts that show off longer hairstyles with movement and flow. If you have long hair or are thinking about growing it out, check out our ultimate guide to long hair for men.
Current trends are also showing natural-looking men's hairstyles that are styled with lighter hold and matte finish pomades. You can also use a blow dryer to get some exaggerated flow and extra volume to your hairstyle.
Although the trend is leaning towards longer hair and medium-length men's haircuts you will also find our top picks for guys that want short hair. Short haircuts are always popular because they are easy to manage and look clean cut.
Some of these looks below are fade haircuts which means your barber uses clippers to shave the sides and back of the head in a particular style. Other haircuts are entirely scissor cut all over including the sides and back.
If you have curly hair,wavy hair, or thick hair you will also find some great haircuts below. Got curls? Check out our complete guide to curly hair. We show you the best haircuts, and the best products to care for curly hair.
Top 100 Men's Haircuts + Men's Hairstyles
Okay, so let's dive in and take a look at the best haircuts for men and hairstyles for men that we have seen this year. 
Somewhere on this list, there is a brand new haircut and men's hairstyle combination for you to try out.
1. Cool Men's Haircut + Low Fade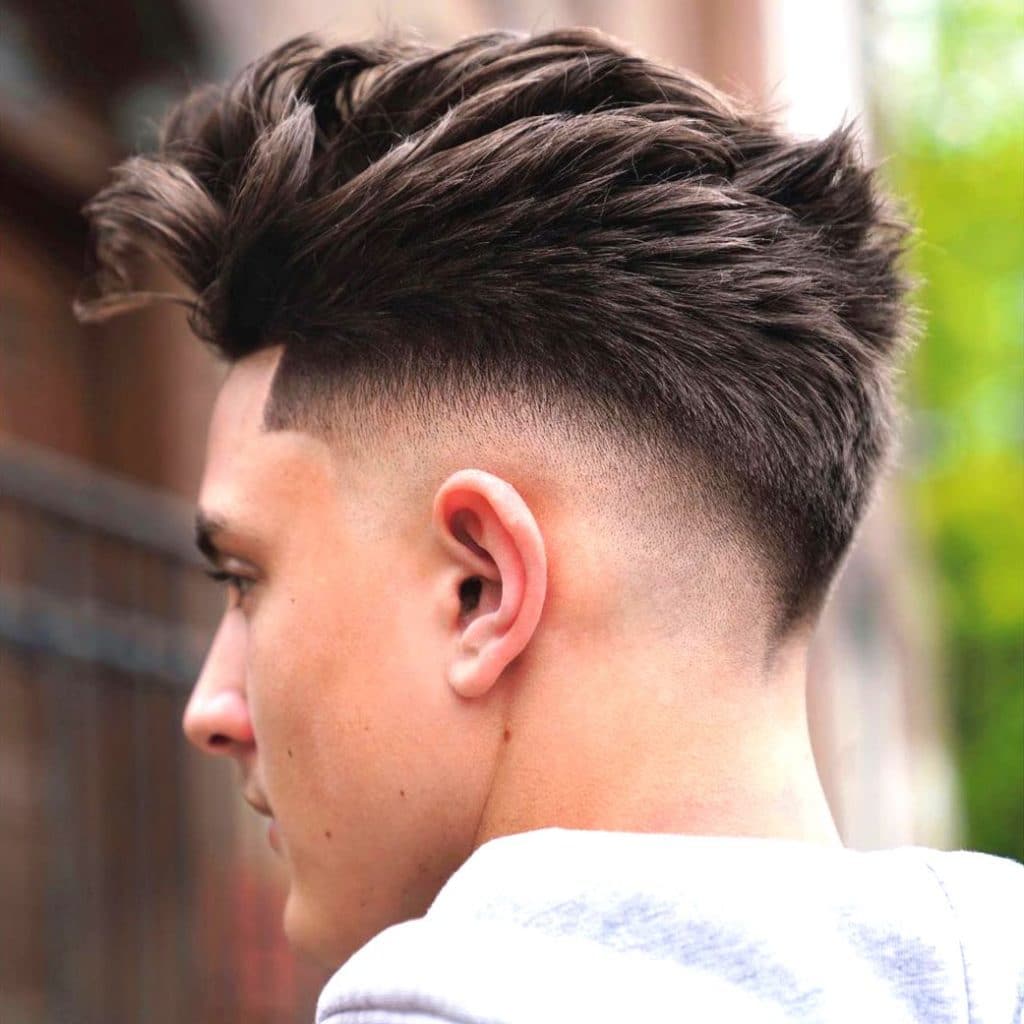 Zach Ramsey
This is a cool haircut for men that features medium textured hair and a low bald fade.
2. Medium Haircut For Men + Bald Fade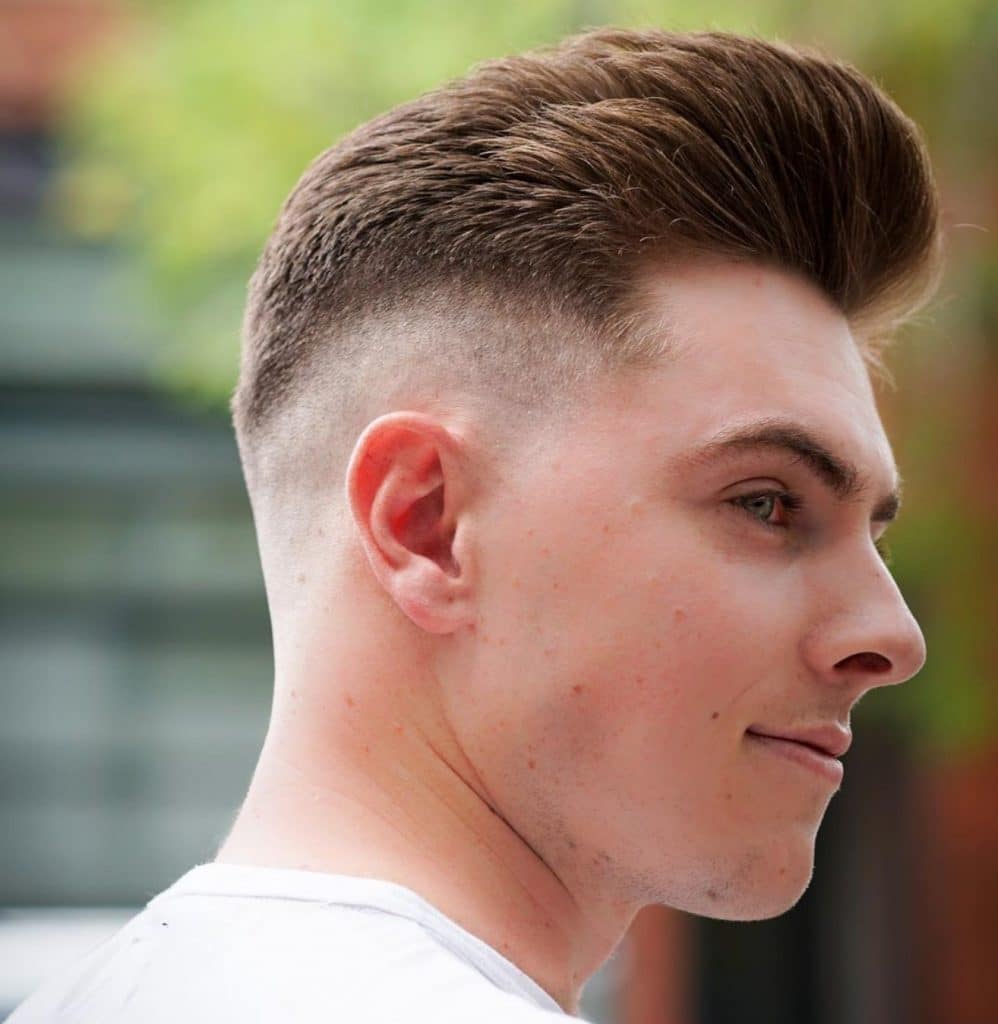 Barber Cole
This haircut features short to medium hair on top with shaved sides. A modern take on the pompadour.
3. Modern Slicked Men's Haircut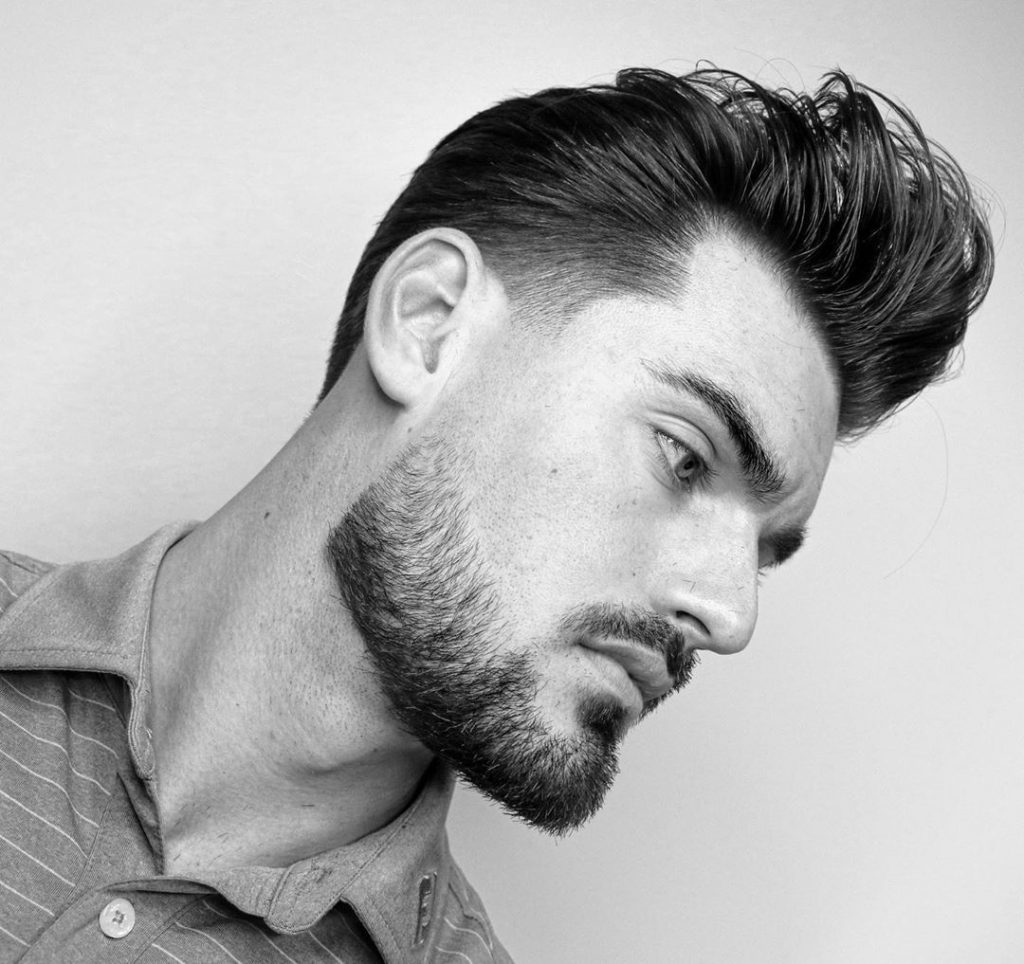 Barber James Beaumont
A great example of a classic slicked back look. But here the hair on top is left a bit more natural looking. This is not the traditional approach of styling with a shiny pomade. Rather the hair has been brushed back and blown dry with a hairdryer to give that natural flow and movement. Use a matte pomade.
4. Side Part Hairstyle For Men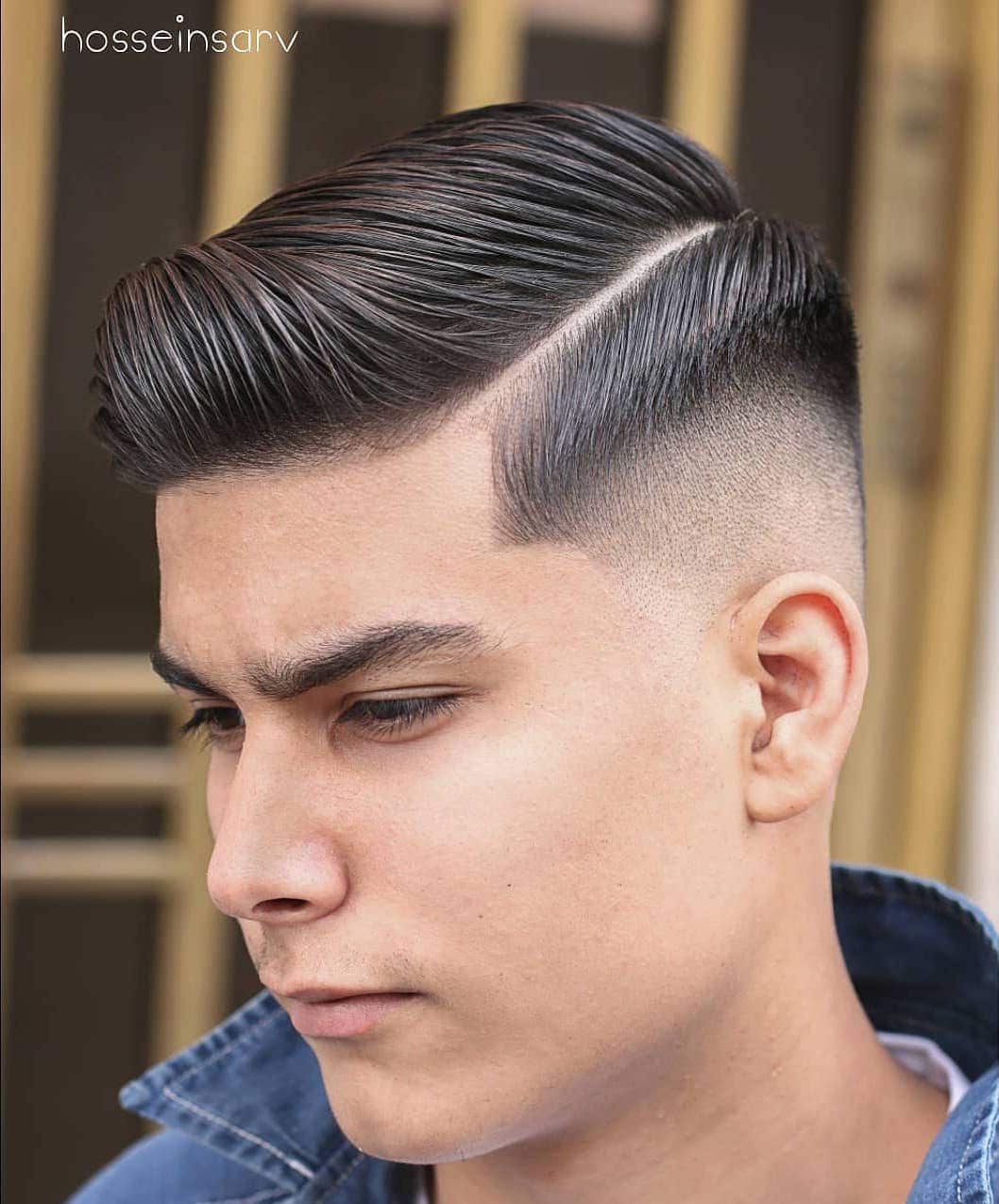 hosseinsarv
A great looking men's hairstyle with a side part. To get this look you will want to use a product that has a bit of shine. Work a small amount of a shiny pomade into damp hair. Comb into place. To get some extra body use a blow dryer.
5. Medium Length Men's Haircut + Bald Fade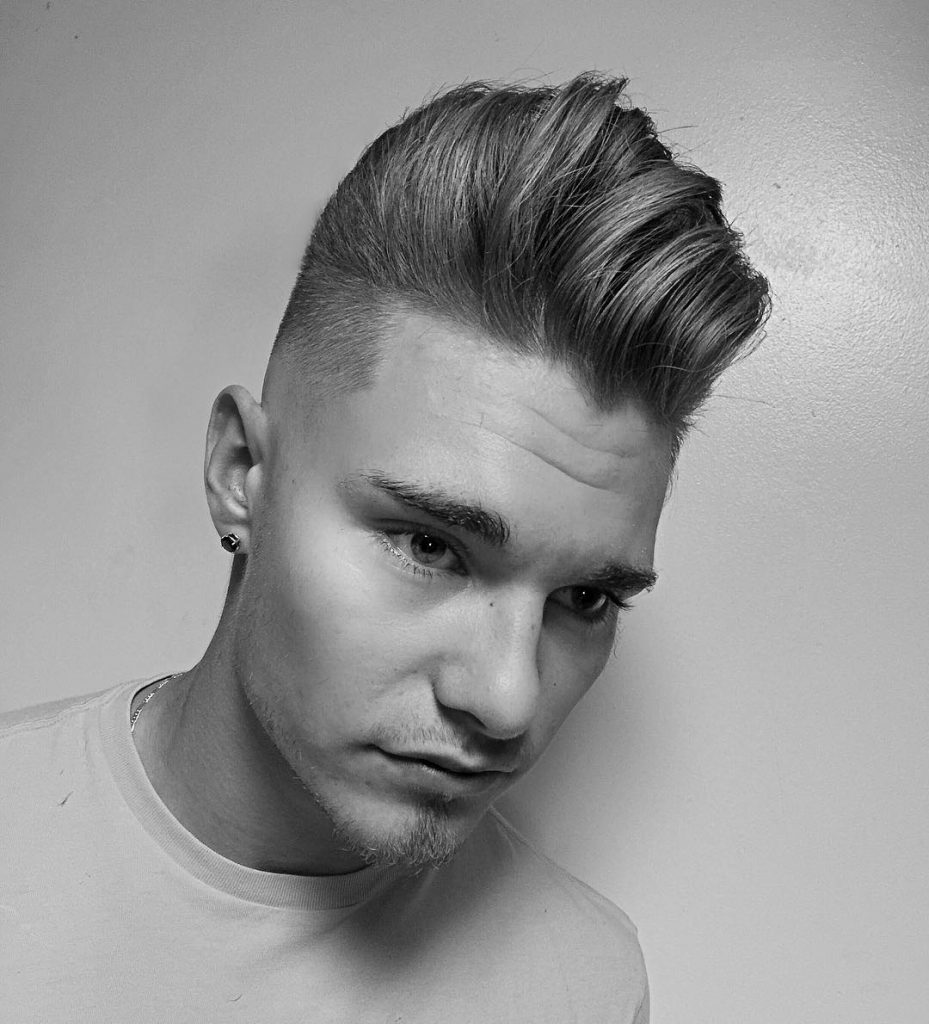 Mikey
This has been one of the most popular men's haircuts for several years. Shaved sides. Long hair on top. You need to use a blow dryer to get the tall big hair standing up on top. A great look for any type but works best with thicker hair types.
6. Cool Flow Tapered Haircut For Men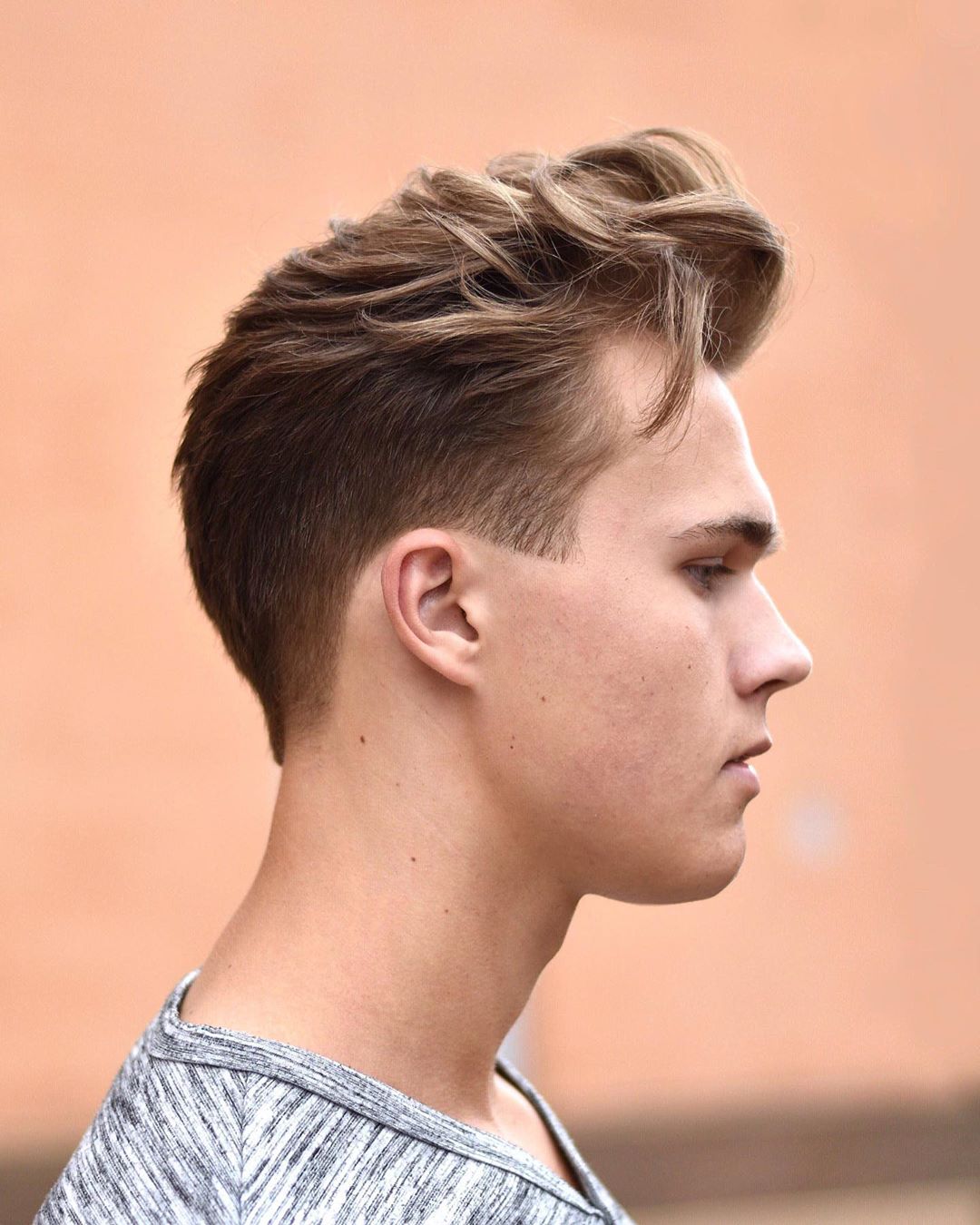 Iisakki Nummi
As we have said longer hair looks are in. More and more guys are growing their hair out longer on top. This is a beautiful scissor cut taper haircut for men with curly hair. It shows off some great looking flow and movement.
7. Short Textured Haircut + High Fade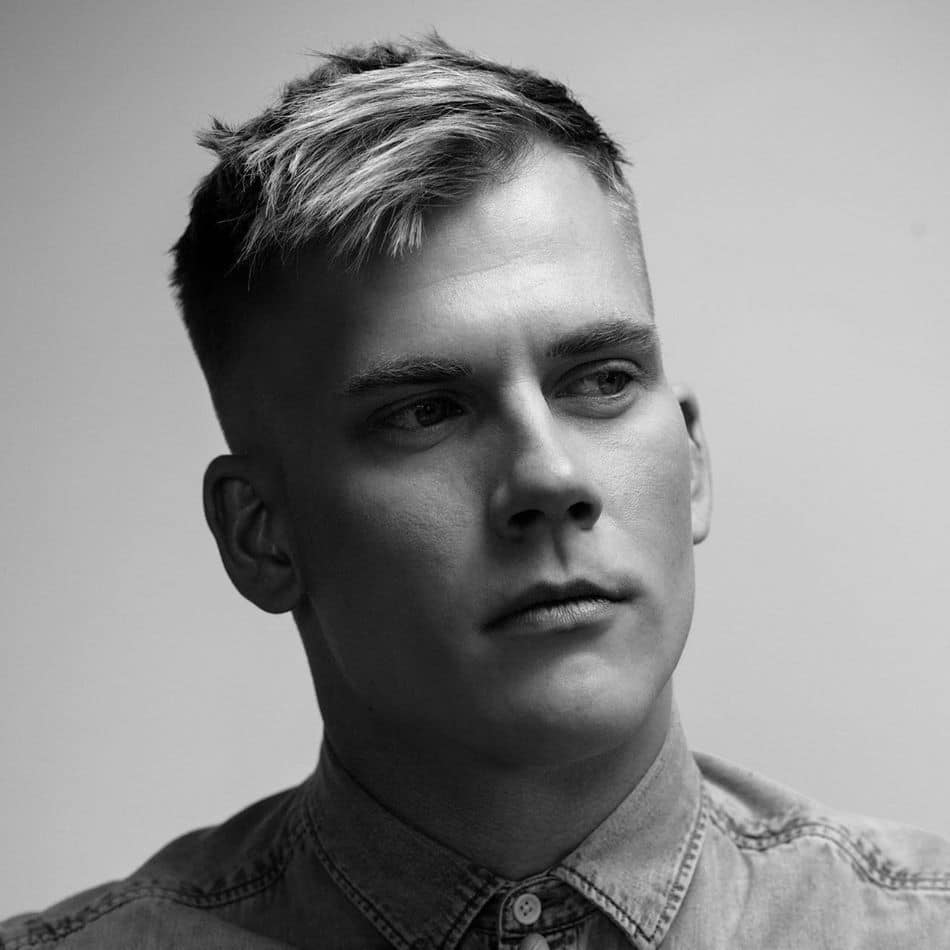 Whitney Vermeer
This is a great short haircut for men that can be styled in a number of ways. You can wear it slicked and neat for the office, or mess it up for a more edgy look when you go out on the town.
8. Long Hair Pompadour Hairstyle For Men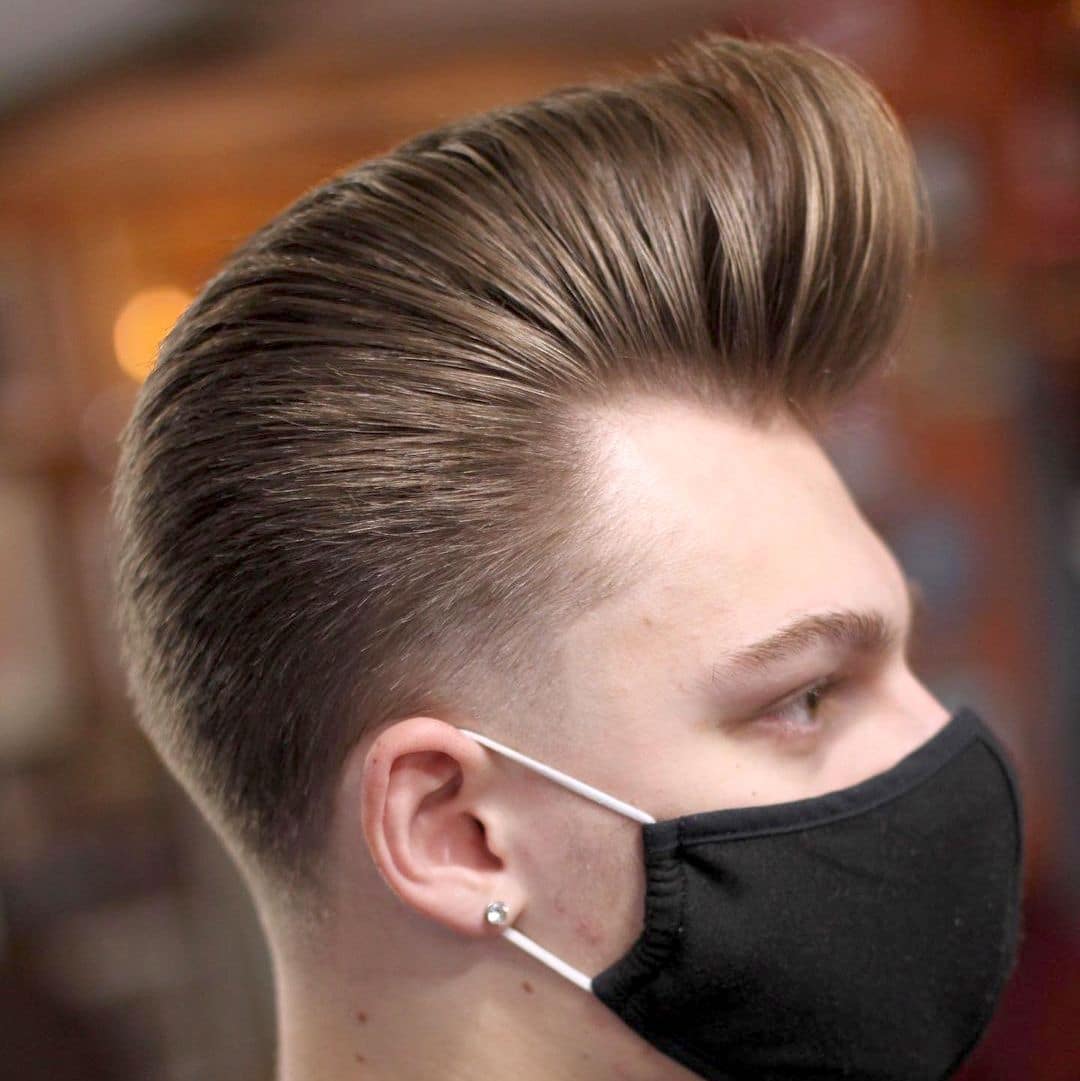 Curran Candage
Another great example of a cool pompadour hairstyle with short sides and longer hair on top.
9. Undercut + Messy Hair On Top + Long Fringe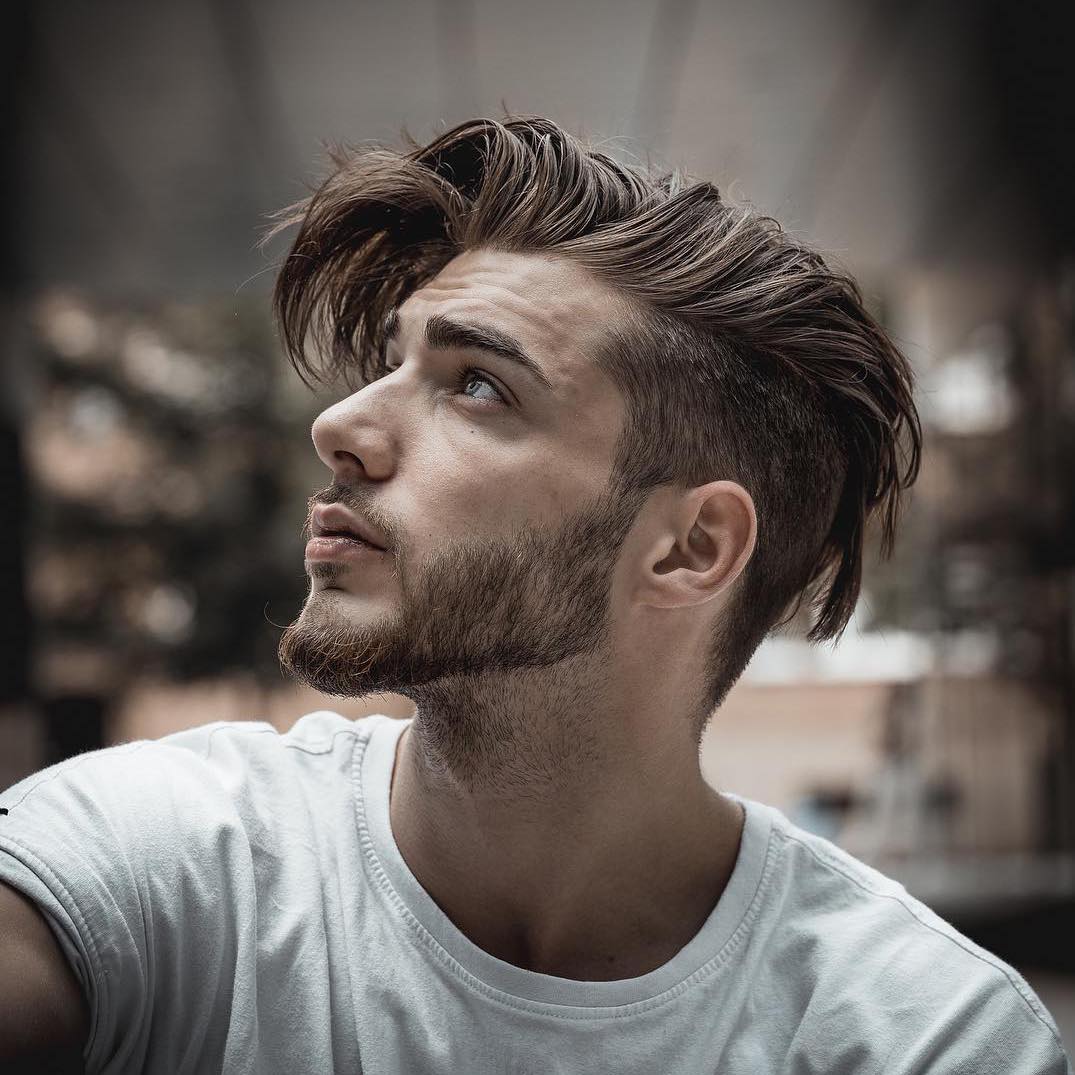 Kristijan Lizačić
This is a super cool undercut. If you have an abundance of thick hair than this might be a good option. The hair on top is left to flow wildly. Undercuts are one of those men's haircuts that continues to evolve into cooler new styles.
10. Haircut With Long Fringe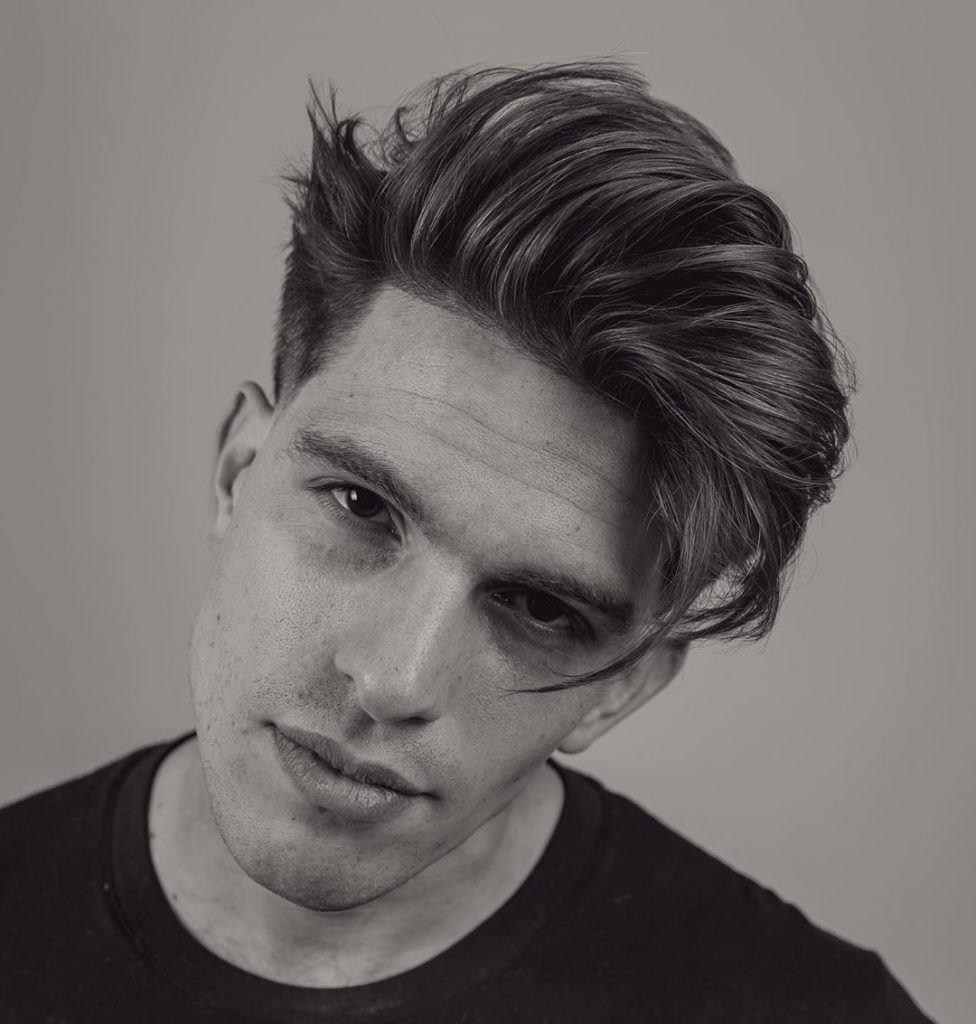 joshlamonaca
A cool modern version of the classic "skater haircut" that features a long fringe in the front, and short sides
11. Tapered Haircut For Thick Hair With Short Sides + Long Fringe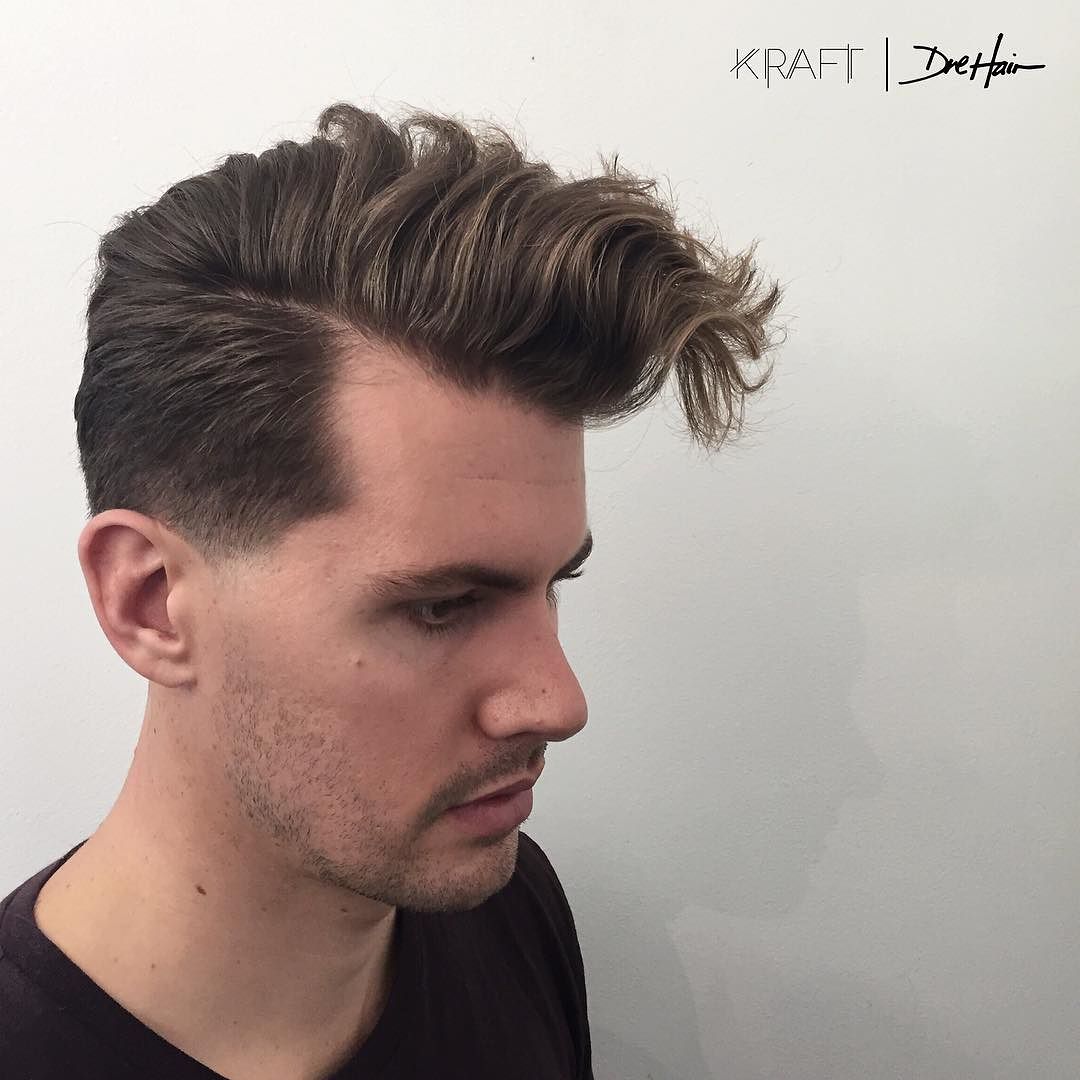 Dre Hair
A beautifully tapered haircut. A great looking side part haircut. Not too much clipper work, mostly scissor cut.
12. Cool Short Haircut For Thick Hair + Bald Fade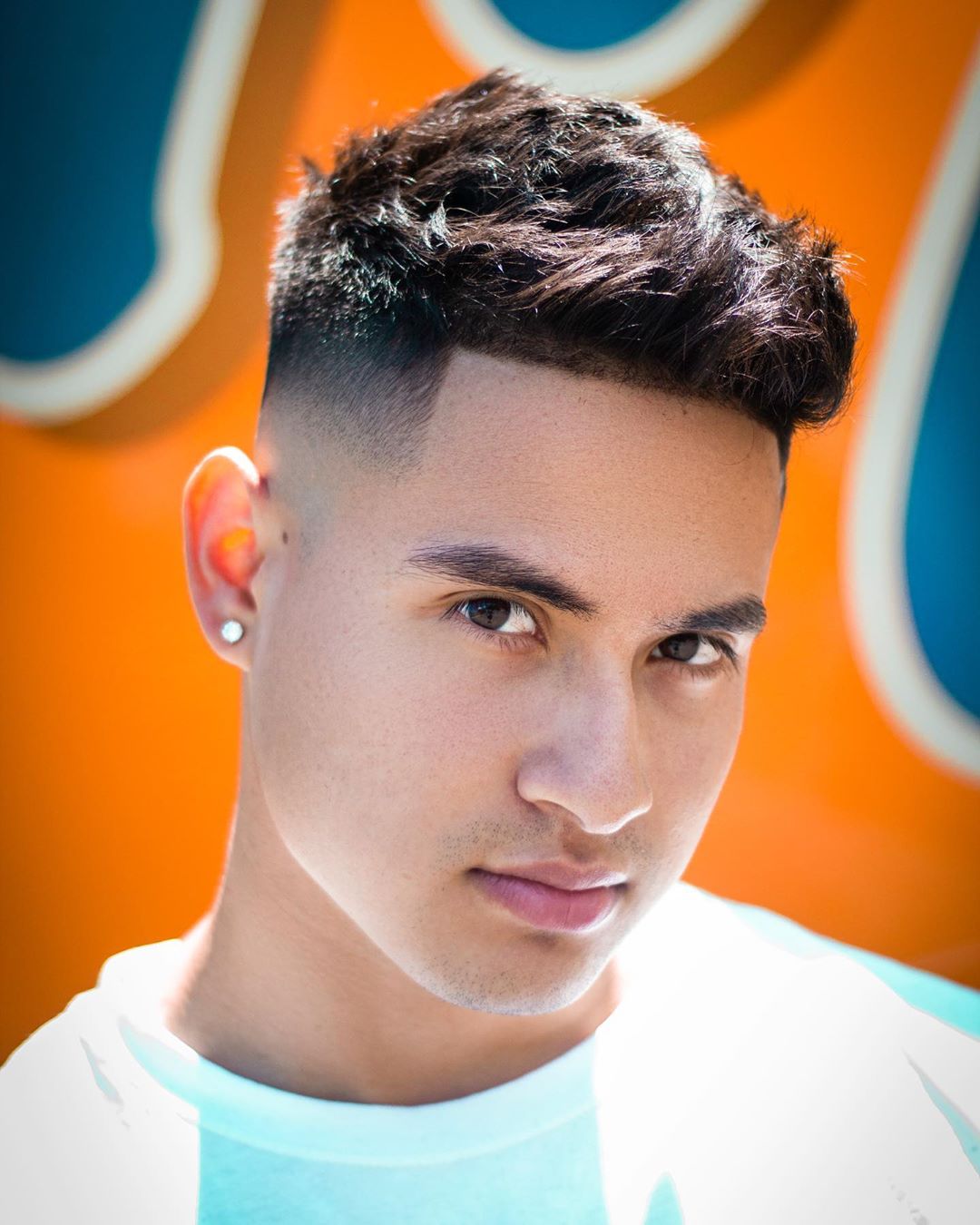 travisanthonyhair
A cool haircut for men that have thick hair. It is cut short on top, nice and fresh in front with a line up, and shows off a bald fade on the sides.
13. Short Textured Men's Haircut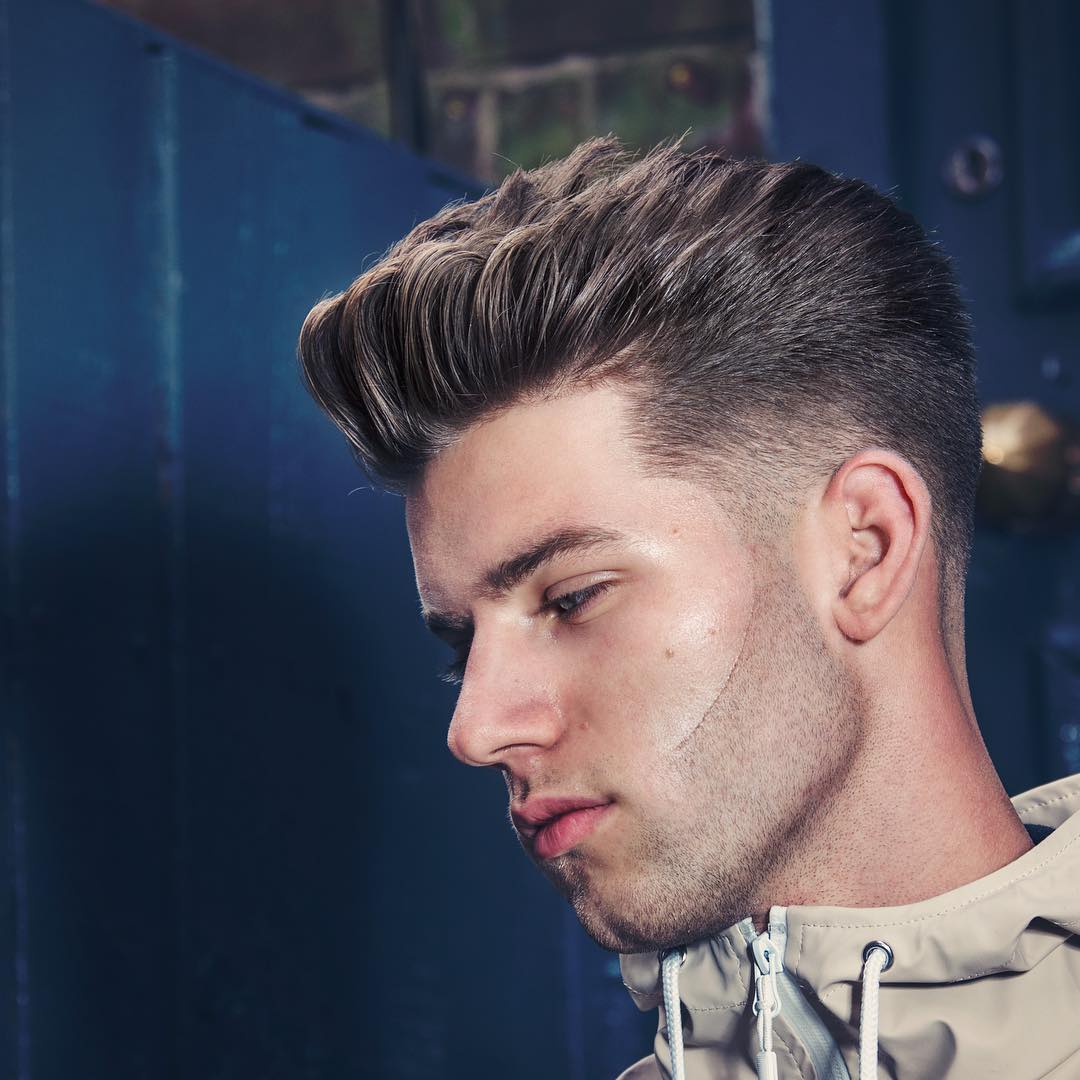 Alternative Barbering Co.
A super cool short textured haircut with a low fade and plenty of flow. Textured men's haircuts are awesome because they give you more styling options. They can be worn neat and clean if you style with a comb or styled into a less refined messy hairstyle.
14. Textured Haircut + Long Fringe + High Fade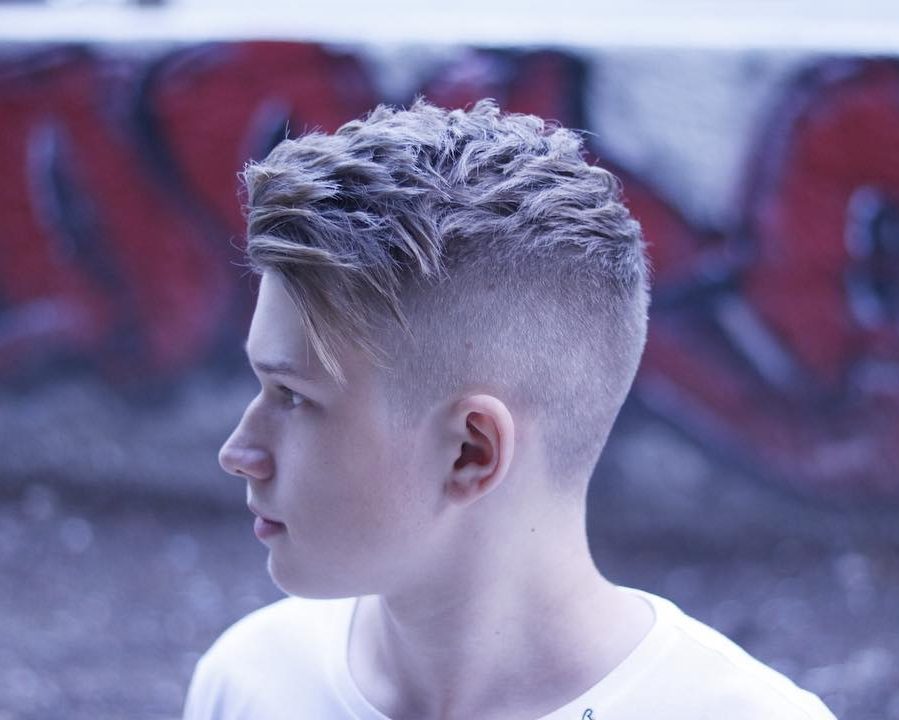 Haircut by Rafa Underground
Such a cool haircut. Messy medium textures on top give that spiky look. Fringe was kept longer. Another undercut with a very modern twist to it.
15. Short Spiky Quiff Haircut + Beard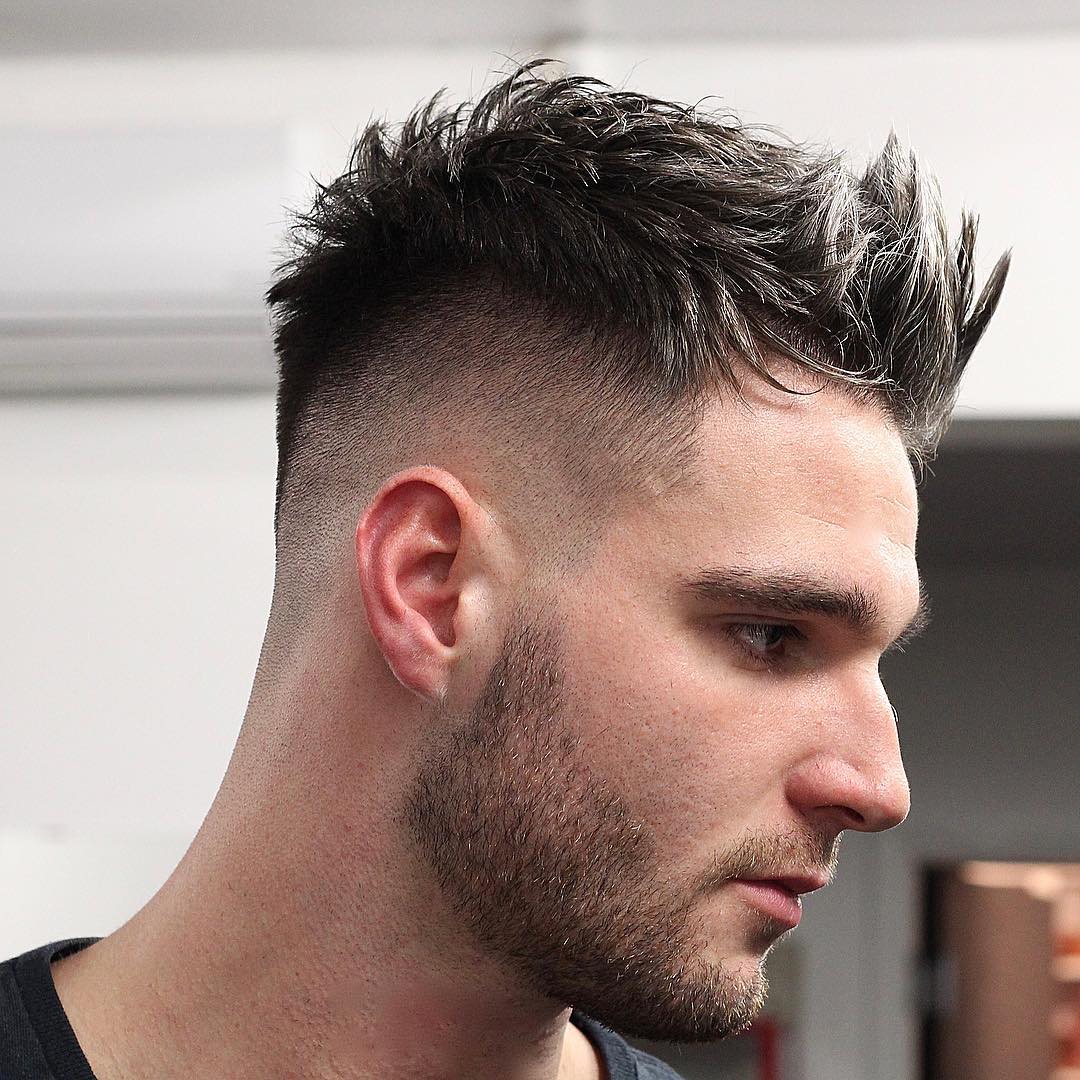 Haircut by Tom Baxter Hair
Another great example of a quiff haircut. One of the most popular men's haircuts we have seen the past couple years made popular by the likes of David Beckham. This one is on the shorter side. The textures give that spiky appearance on top. Use a medium to strong hold pomade to style the haircut into place.
16. Medium Length Taper Fade Haircut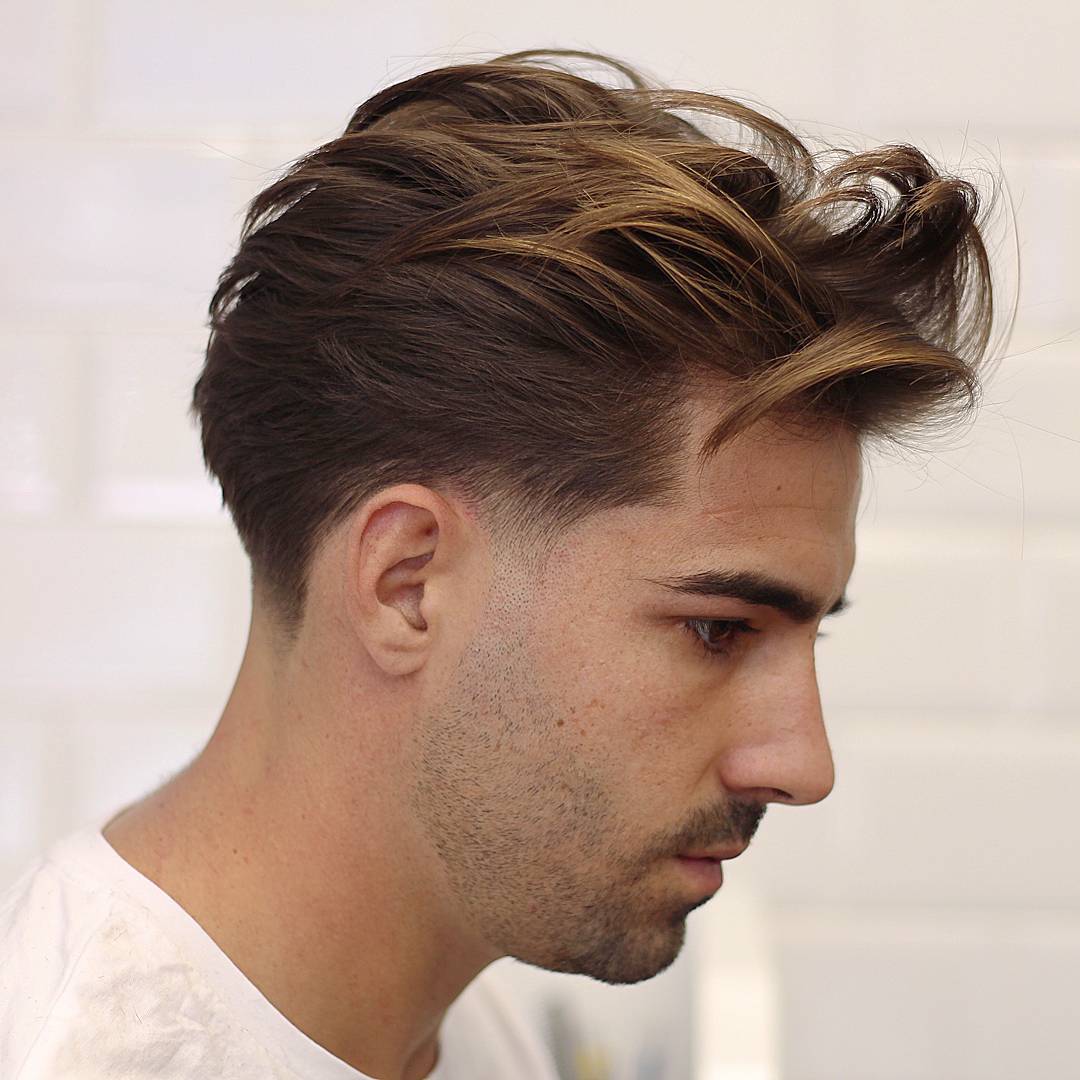 Haircut by Agus De Asis
This is an awesome taper fade haircut with some great medium length flow on top. You will need to use a blow dryer to get that flow and movement.
17. Short Pompadour Haircut + Mid Fade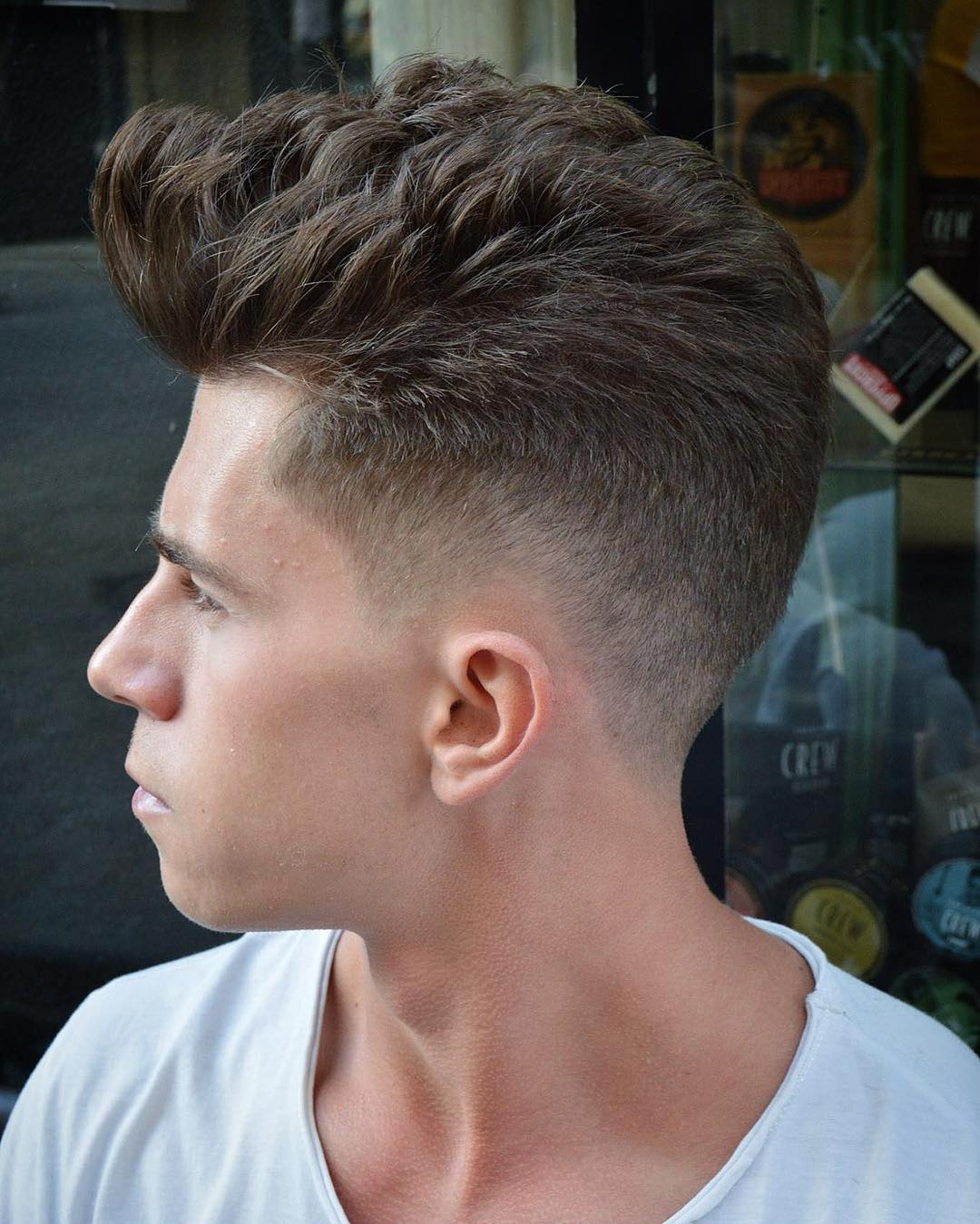 Haircut by Viroga's Barbershop
This haircut for men features a super clean mid fade on the sides and back. Perfectly blended into the short to medium length hair on top. A great cleaned up look for those of you that have thick, wavy or curly hair.
18. Curly Flat Top Haircut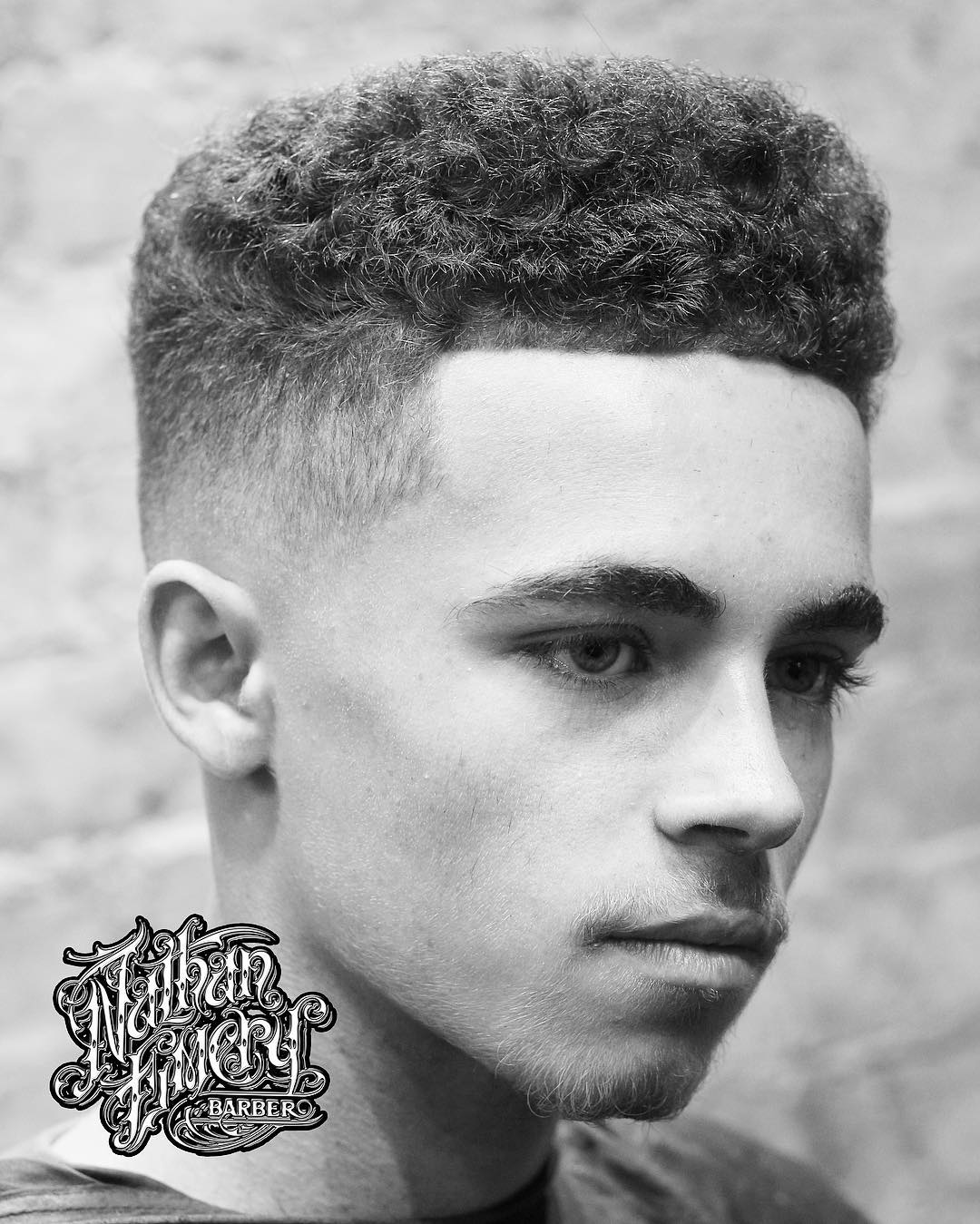 Haircut by Nathan Emery
Perfectly sculpted curls on top and sides kept short with a mid fade.
19. Medium Length Haircut + Mid Fade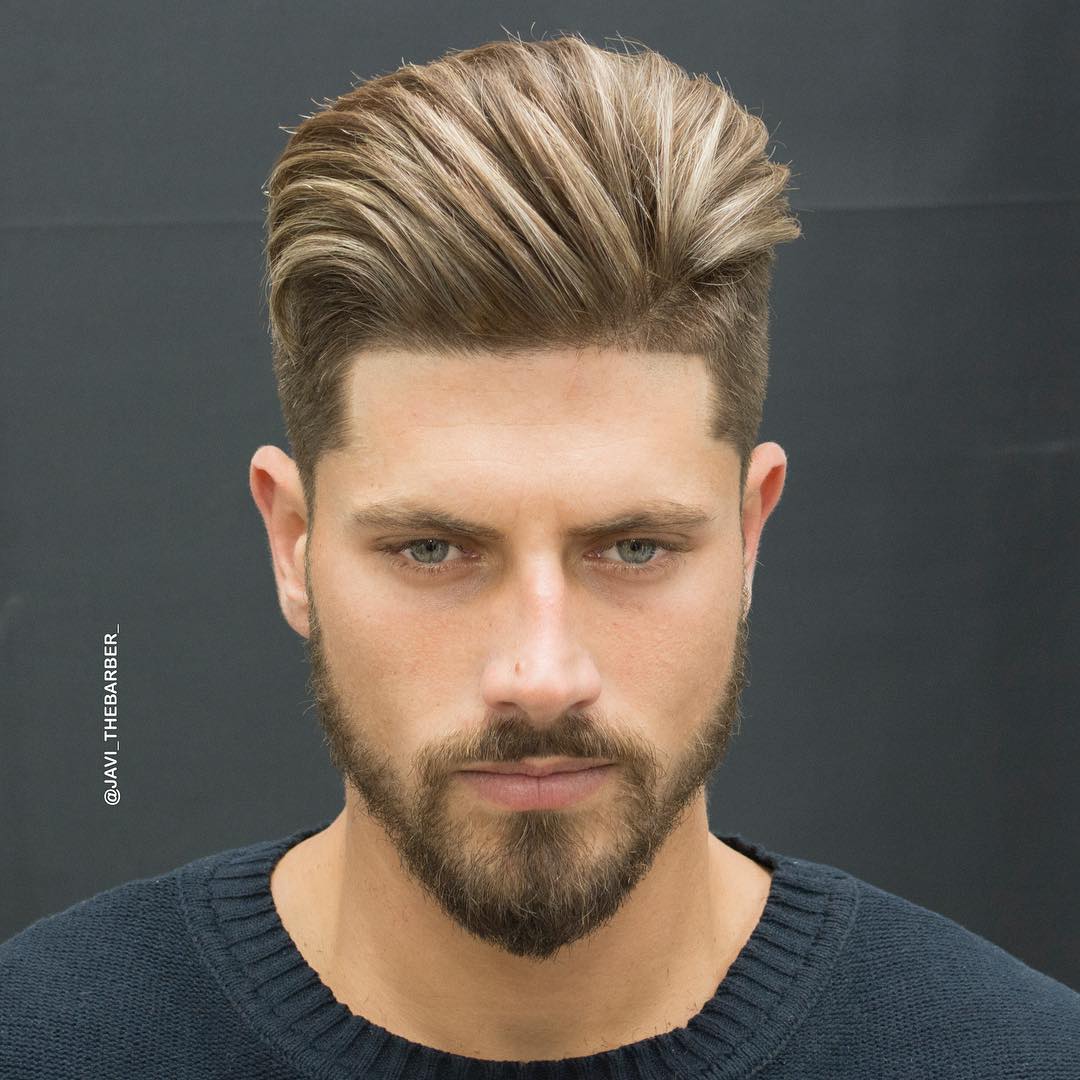 Haircut by Javi The Barber
A great looking line up in the front. To get the hair to look like this on top you need to use a blow dryer and brush. You can blow dry damp hair with or without a light to medium hold pomade.
20. Cool Hairstyle For Long Curly Hair + Drop Fade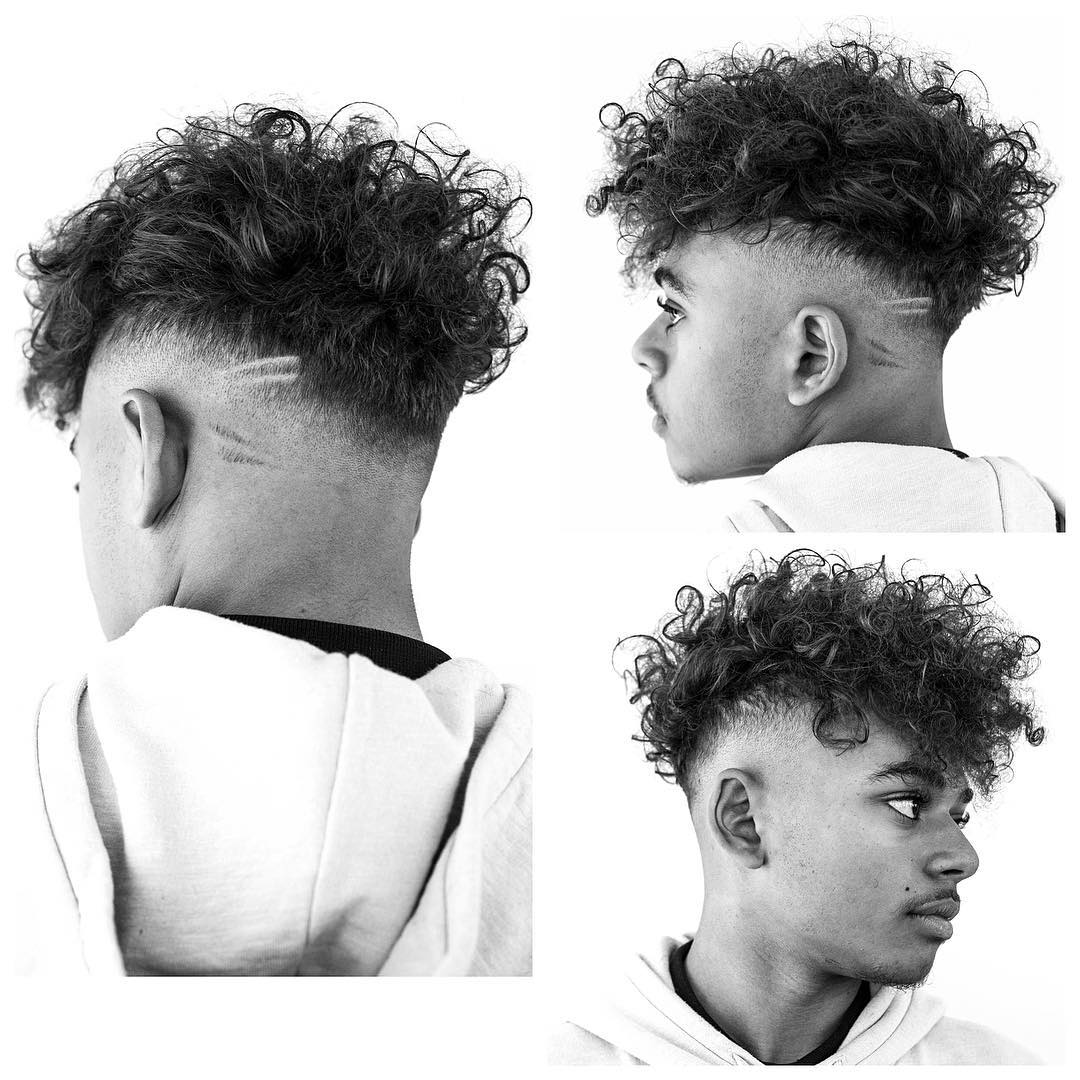 Haircut by Braid Barbers
A bald drop fade keeps things cool in the back and sides. Curly hair on top is left wild. Long fringe in the front. If you have thick curly hair this is a great look. Easy to style and maintain. Simply towel dry and go.
21. Comb Over Haircut + Side Part + Low Fade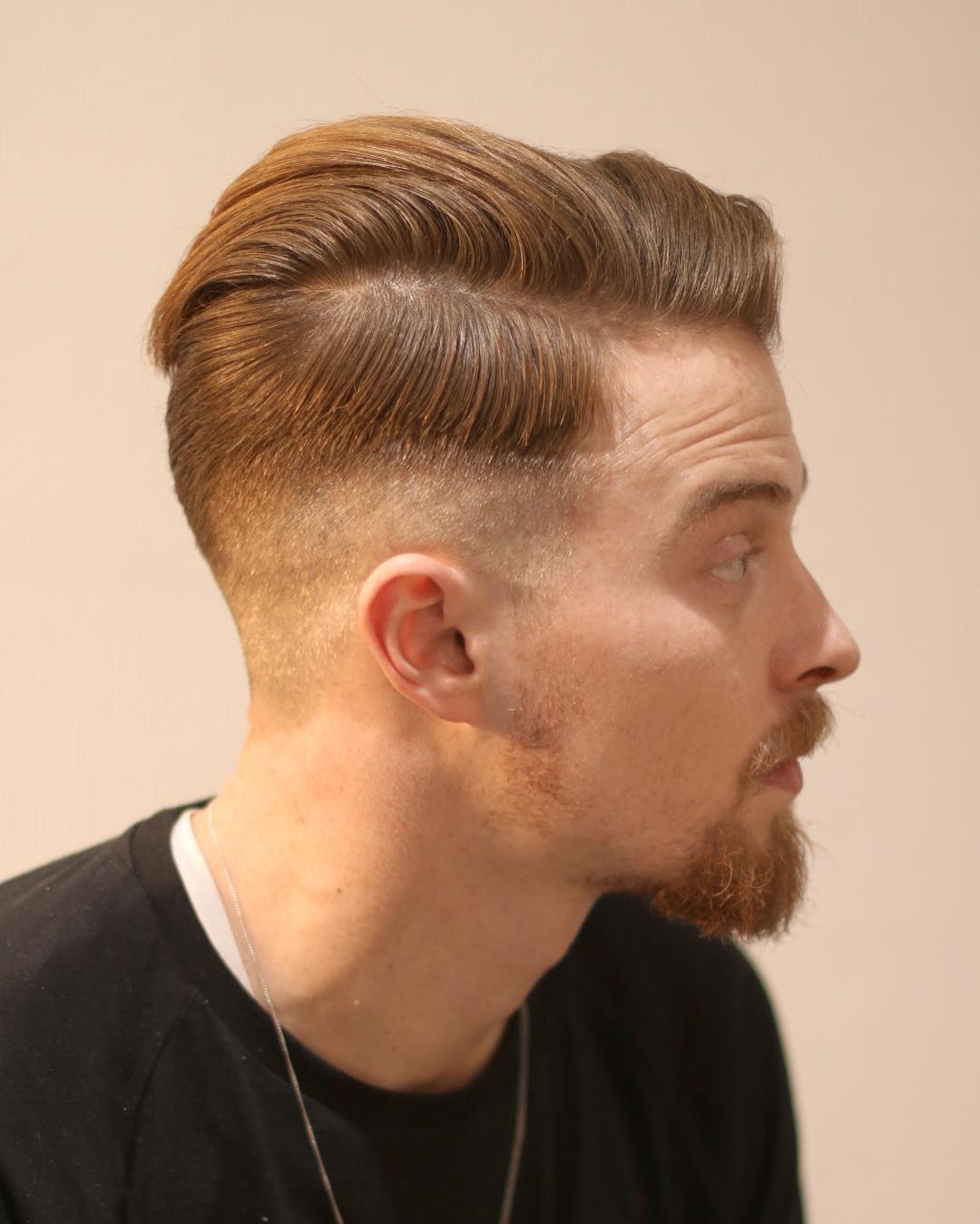 Haircut by Talitha 'Tils' Maddison
A nice classic men's haircut with a modern feel to it. A mix of a side part and pompadour hairstyle.
22. Medium Length Modern Classic Men's Haircut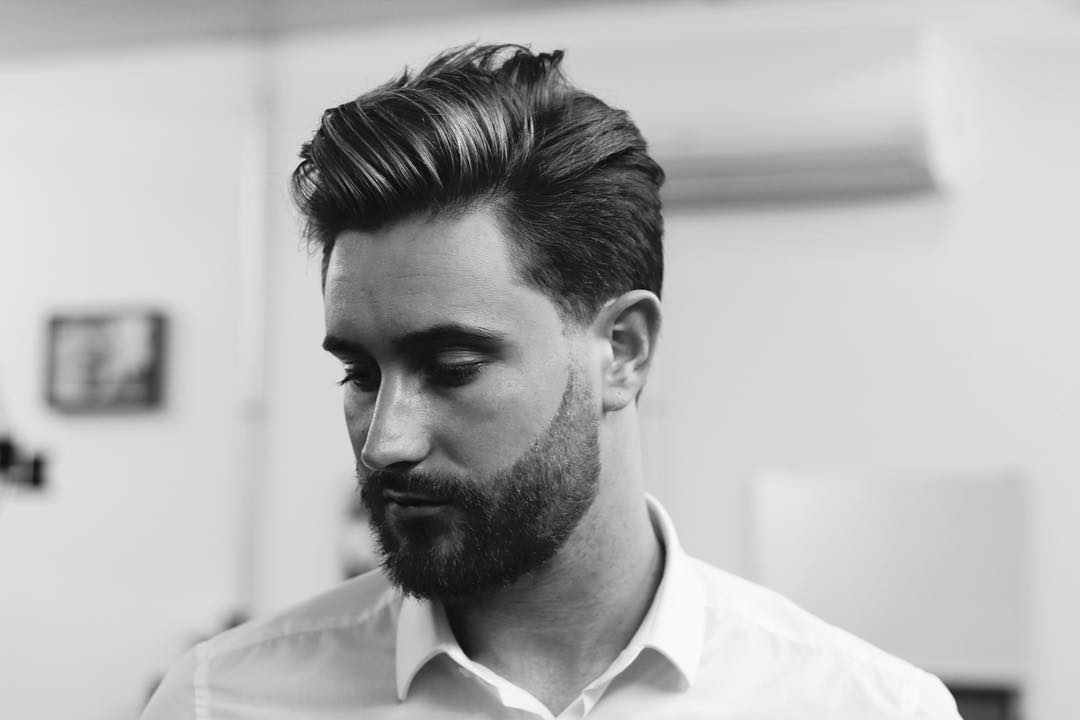 Haircut by Tom Baxter Hair
A great looking classic men's tapered haircut with side part. Short on the sides. Long hair on top.
23. Classic Men's Haircut Styled Back + Line Up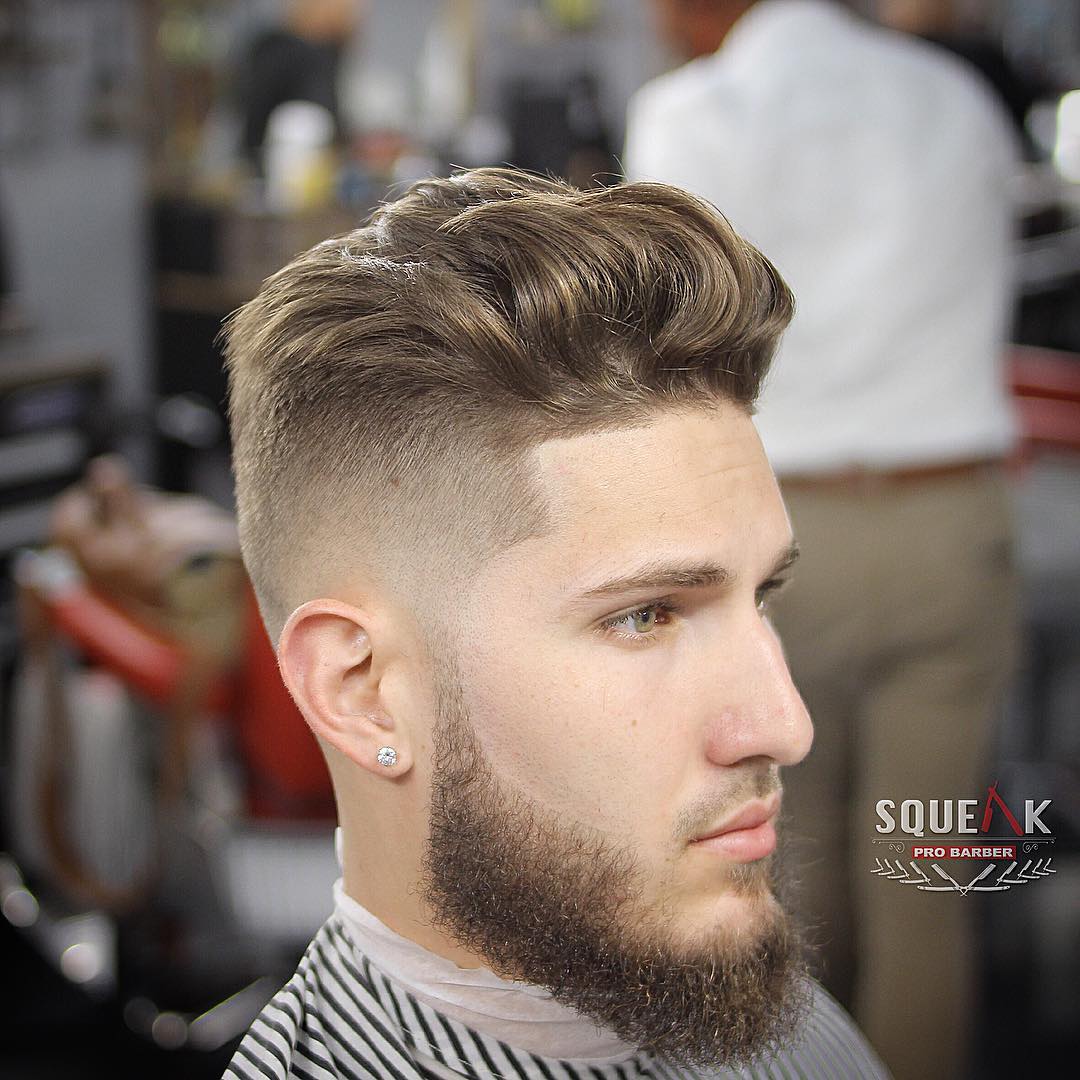 Squeak Pro Barber
This is such a great haircut for men to get. Super versatile. Easy to style. It features a high fade with medium length hair on top that can be styled in so many ways. Style a pomp, slick it back, comb into a side part hairstyle or just wear it dry and natural. So many options. To get this look use a light to medium hold pomade. Work a small amount of pomade into your hair when it is dry. Or, work it into damp hair and use a blow dryer and brush to get that movement and wavy look.
24. Cool Short Curly Haircut + Drop Fade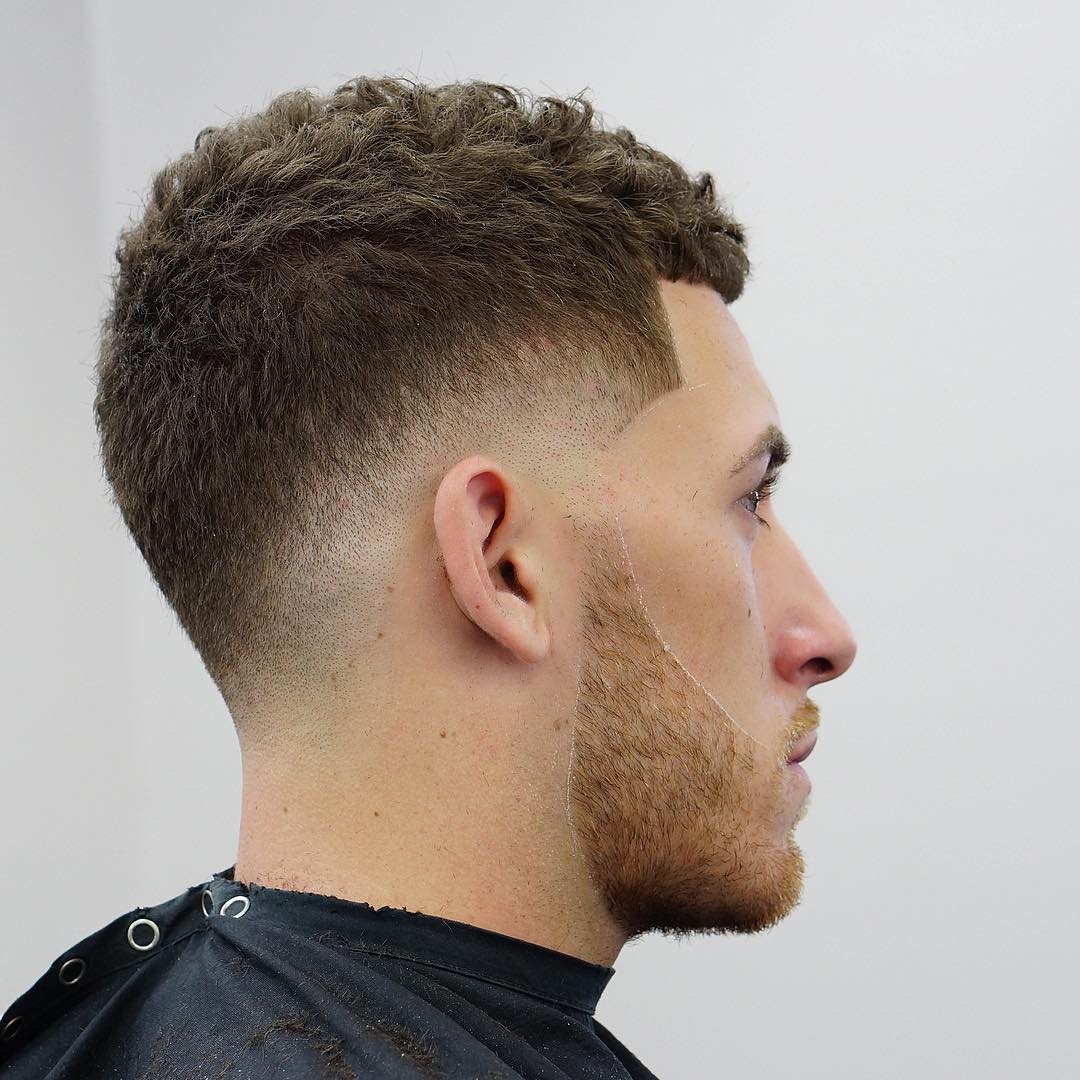 Criztofferson
This is such a great summer haircut for men to get. Works with any hair type. Hair has been cut short on top. Features a drop fade down to the skin and cool looking disconnected beard.
25. Cool Pompadour Undercut Haircut + Drop Fade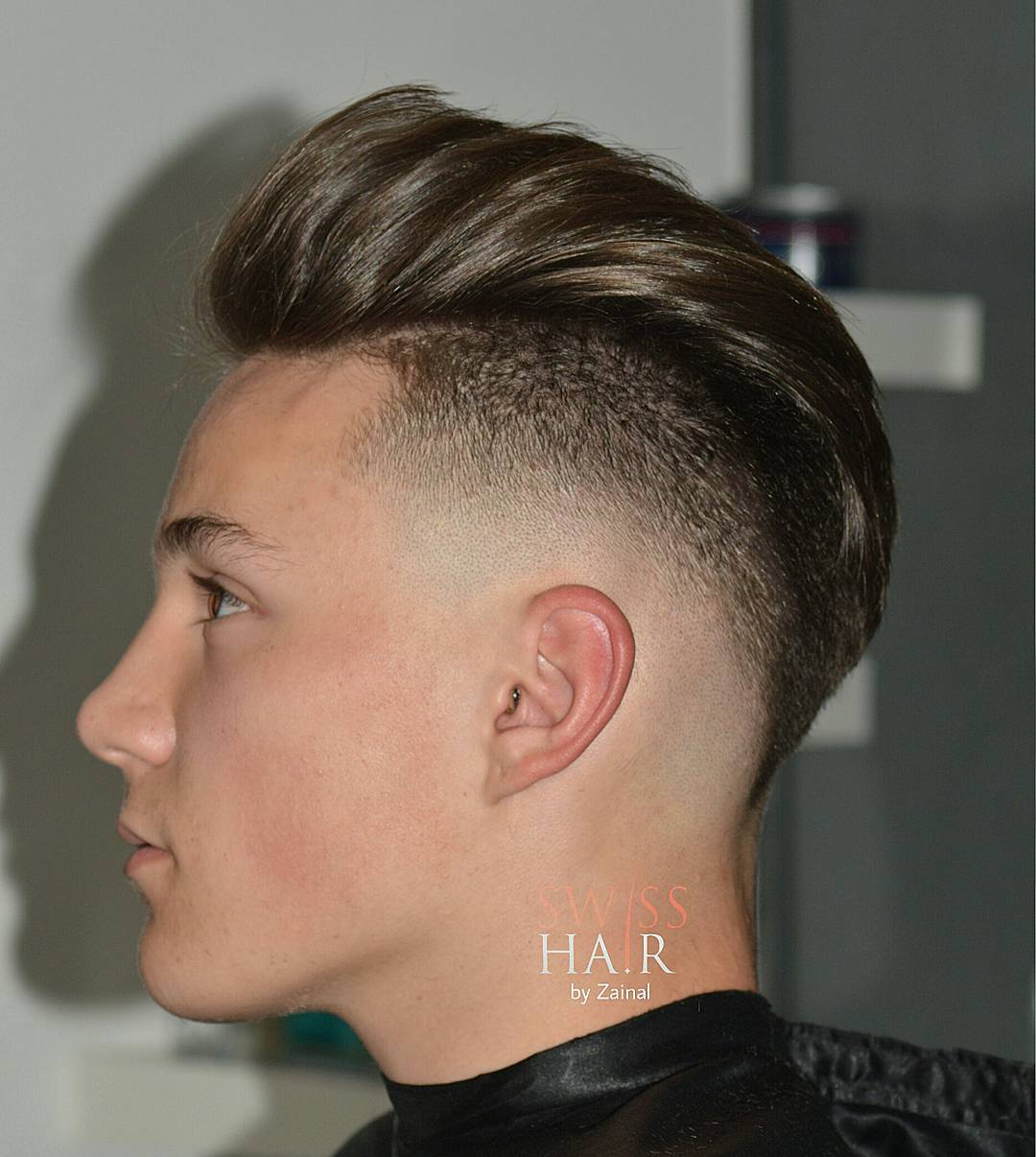 Swiss Hair by Zainal
This haircut is half pompadour half undercut. It features a drop fade down to the skin. To get this look you need a blow dryer. That is what will give the hair body, flow and movement. Brush and blow dry to the one side. Brush and blow dry front to back. It is amazing what just a brush and a blow dryer can do to give the hair big flow. You don't even need to use a product. However, a light to medium hold pomade will help to keep the hair standing up for more hours of the day.
26. Messy Undercut Hairstyle For Men With Thick Hair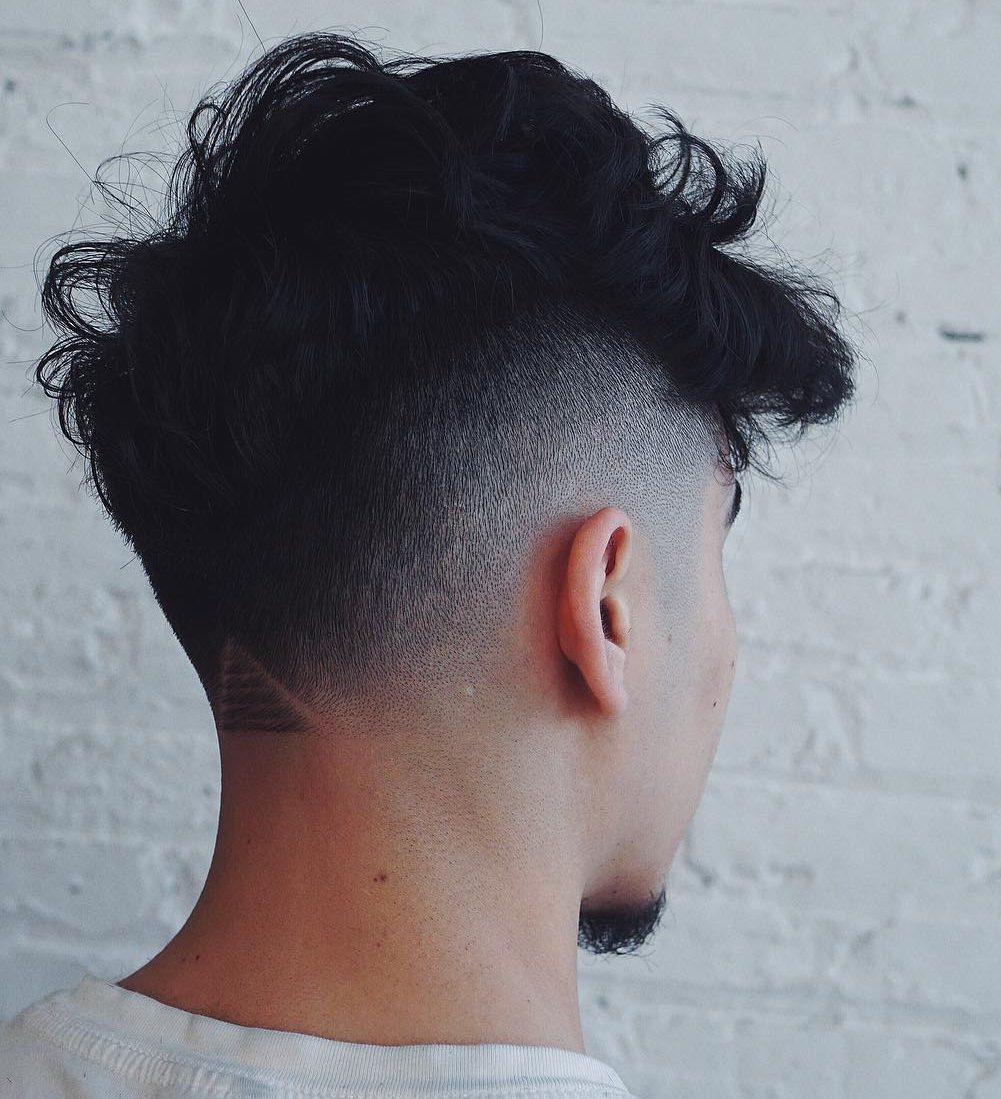 Dang Cuts Hair
Another great example of the modern undercut. Messy textured hair on top gives the undercut a modern feel.
27. Medium Length Haircut For Straight Hair + Low Fade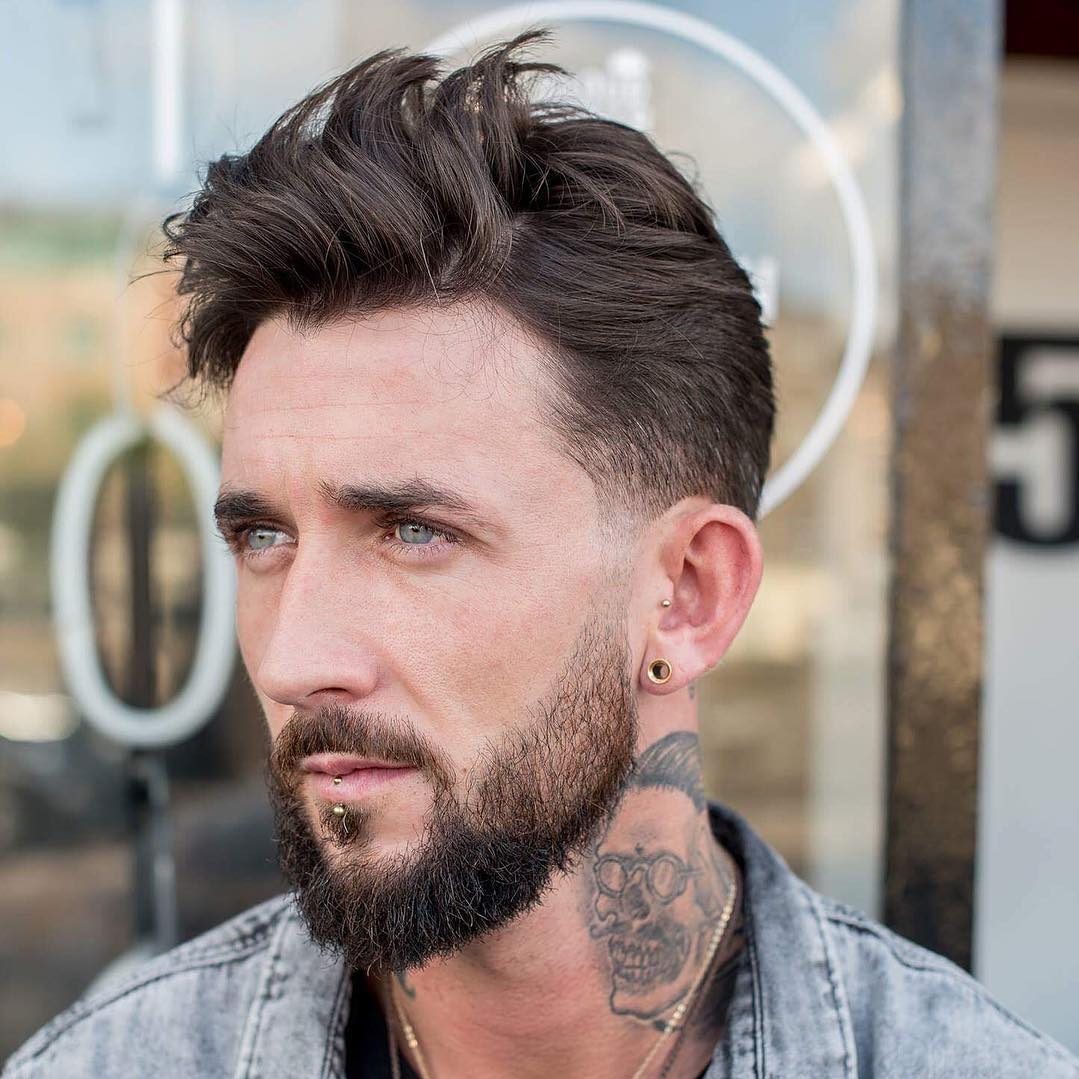 Conor Taaffe
A low fade to the sides and back with medium hair on top left to flow however it wants.
28. Long Curls + Cool Hair Design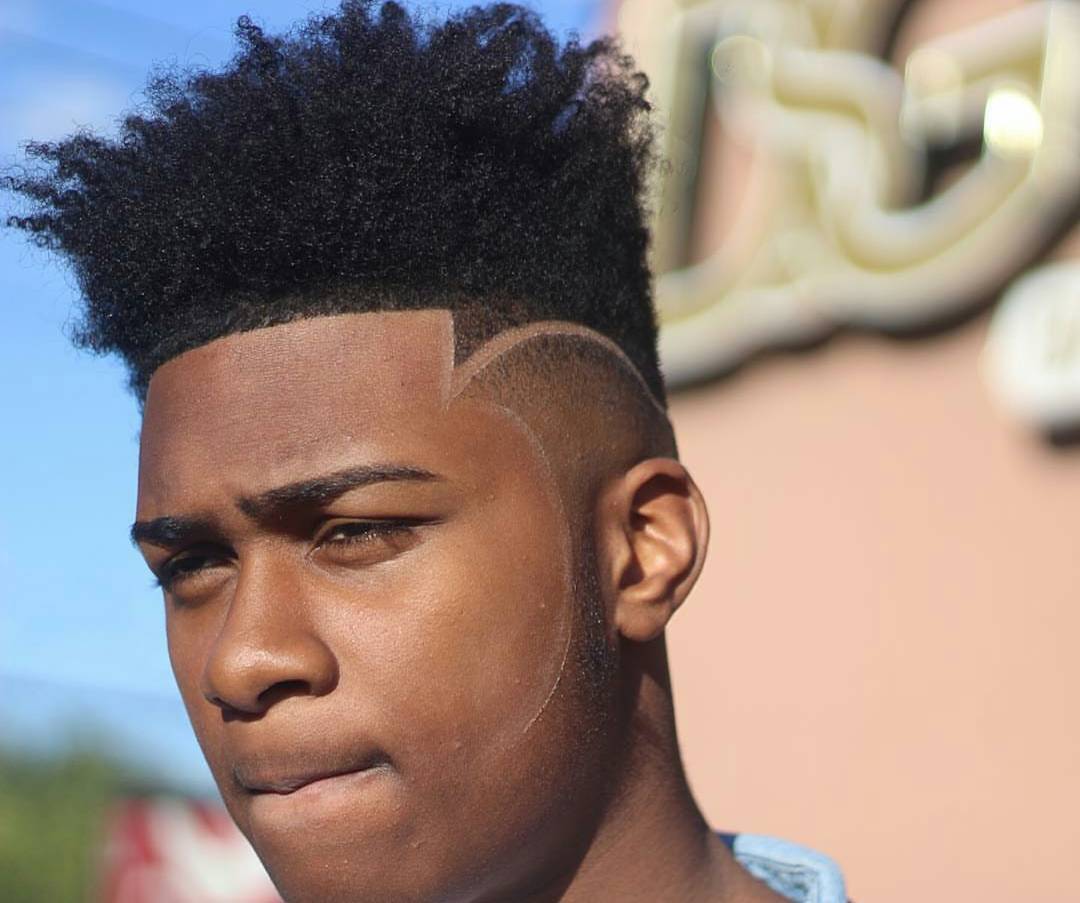 Dynasty Barbers
Cool side hard part accenting this high fade. Perfectly blended into longer natural hair on top.
29. Low Fade + Messy Longer Hair On Top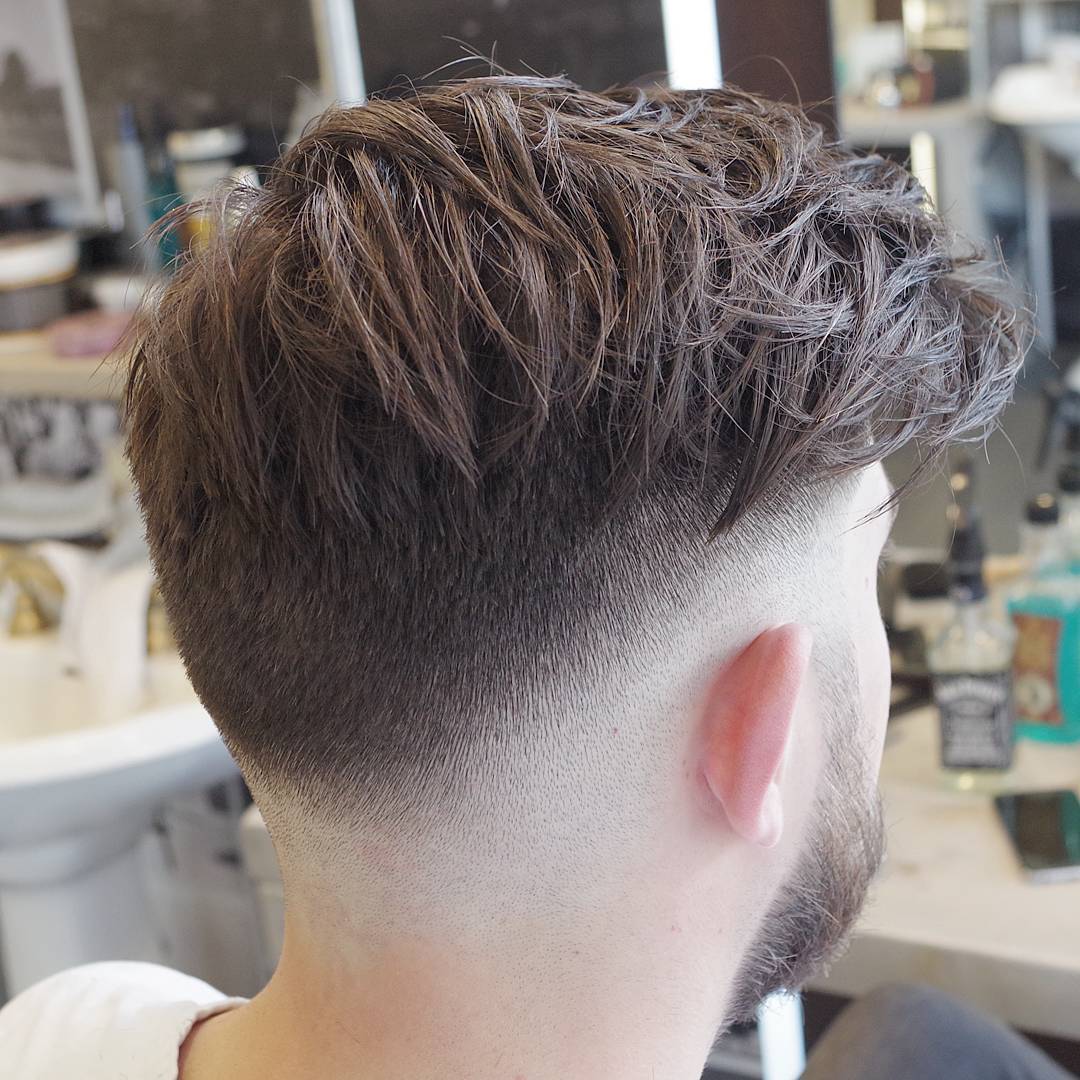 Men's World Herenkappers
An undercut with long messy textured hair on top. Super clean low fade.
30. Textured Wavy Haircut For Men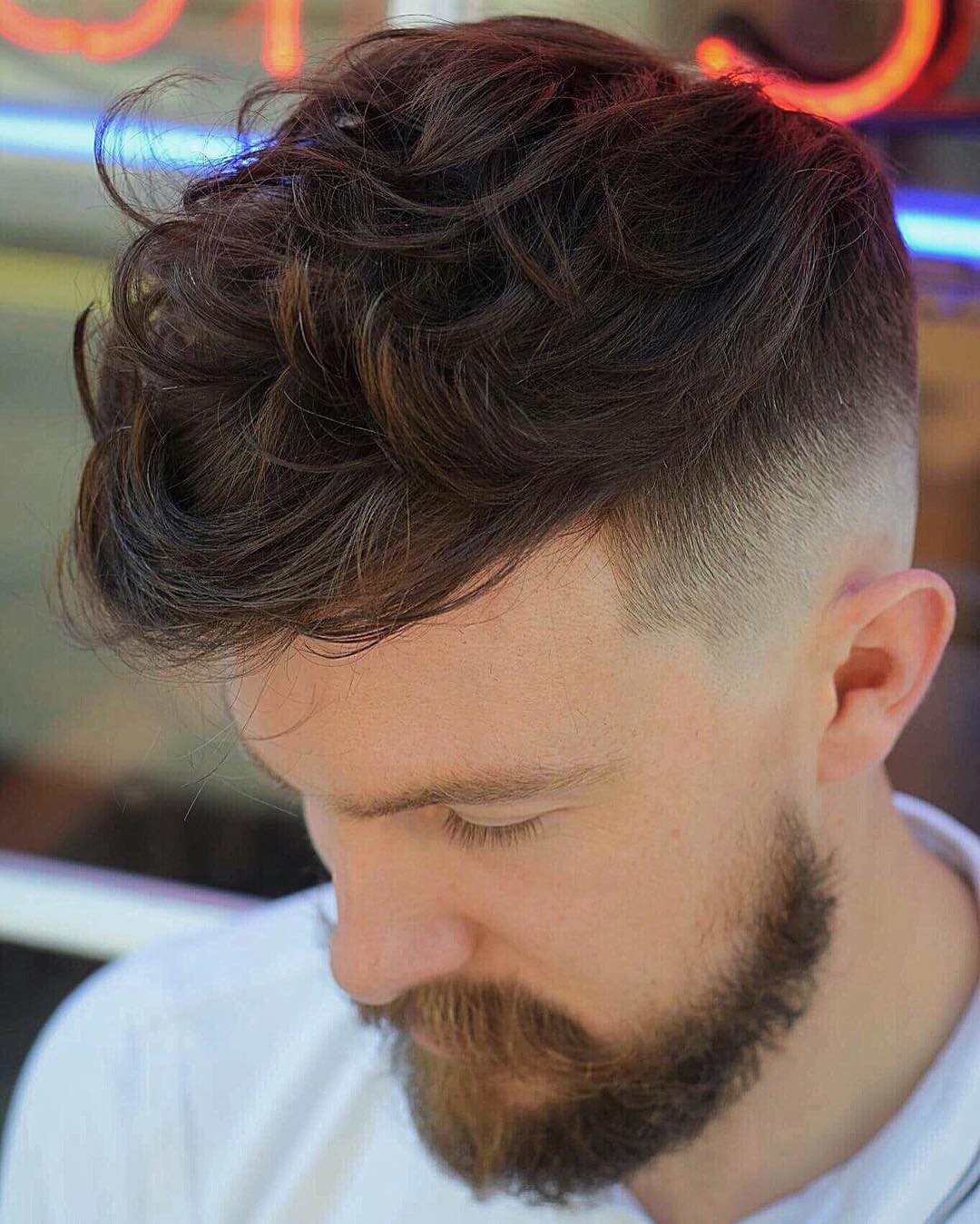 Toastie
A bald fade haircut with long wavy hair on top. Lots of contrast going on. One of the coolest men's haircuts you can get if you have wavy or curly hair.
31. Cool Side Part Haircut For Thick Hair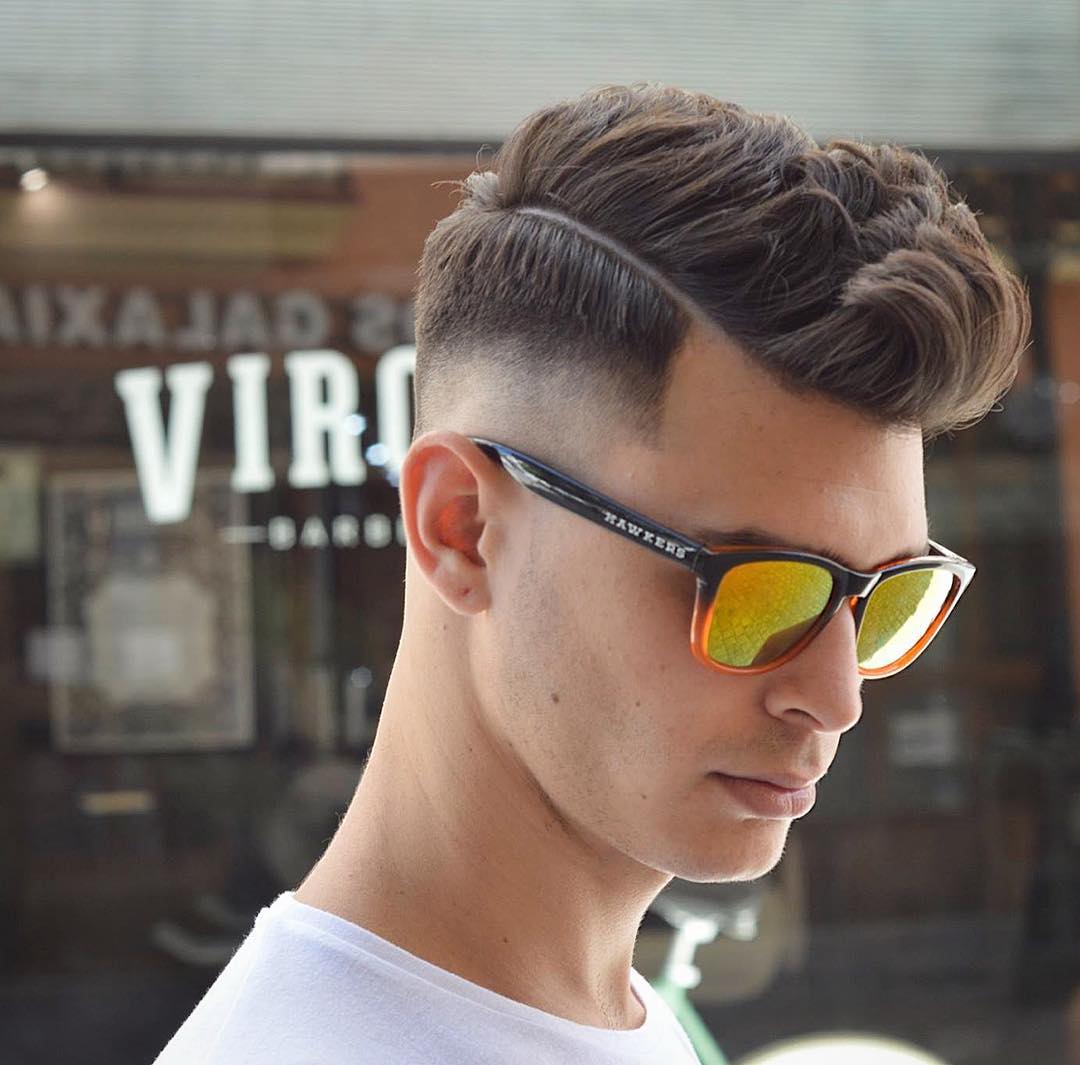 Viroga's Barber
Cool looking low fade, side part (shaved hard part). Great looking medium length quiff hairstyle.
32. Natural Curls + Textures + Hard Part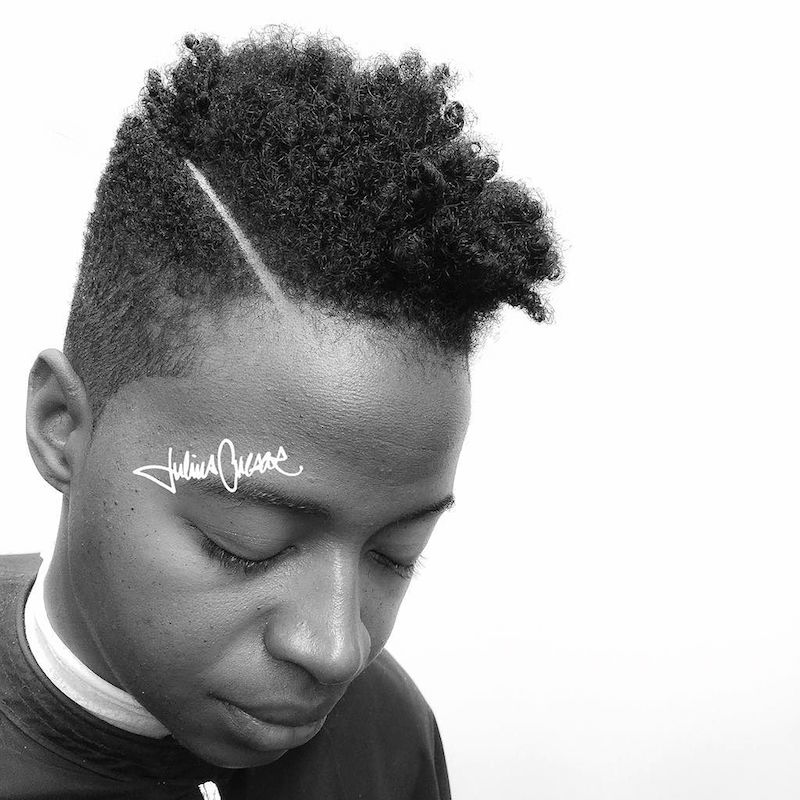 Julius Cvesar
Clean mid fade with natural curls on top. Hard part separates and contrasts the sides from the hair on top.
33. Stylish Curly Hair Haircut For Guys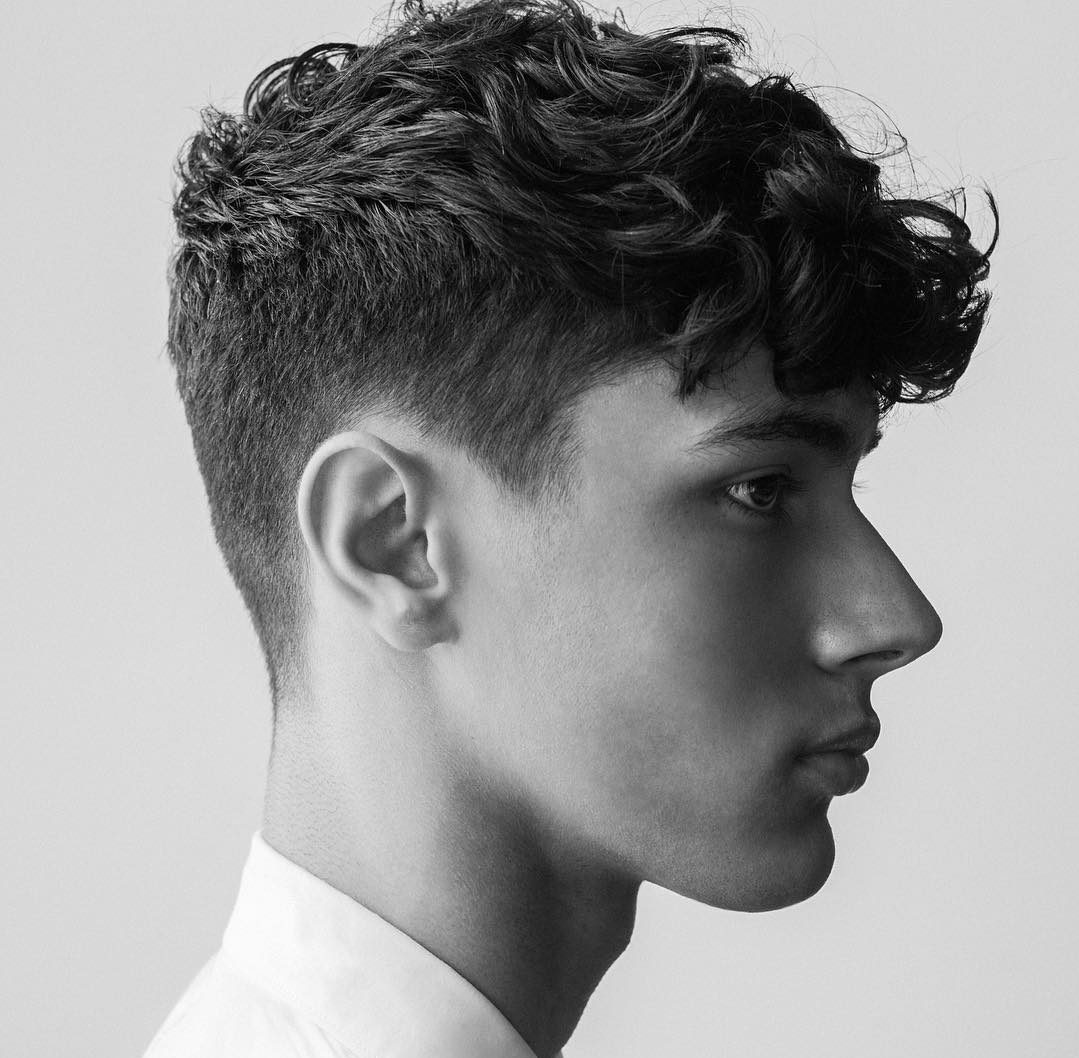 Whitney Vermeer and Ignite Models
Such a great looking haircut for guys that have curly hair. Super clean cut short sides blended into thick curly hair and longer fringe.
34. Long Beautiful Natural Curls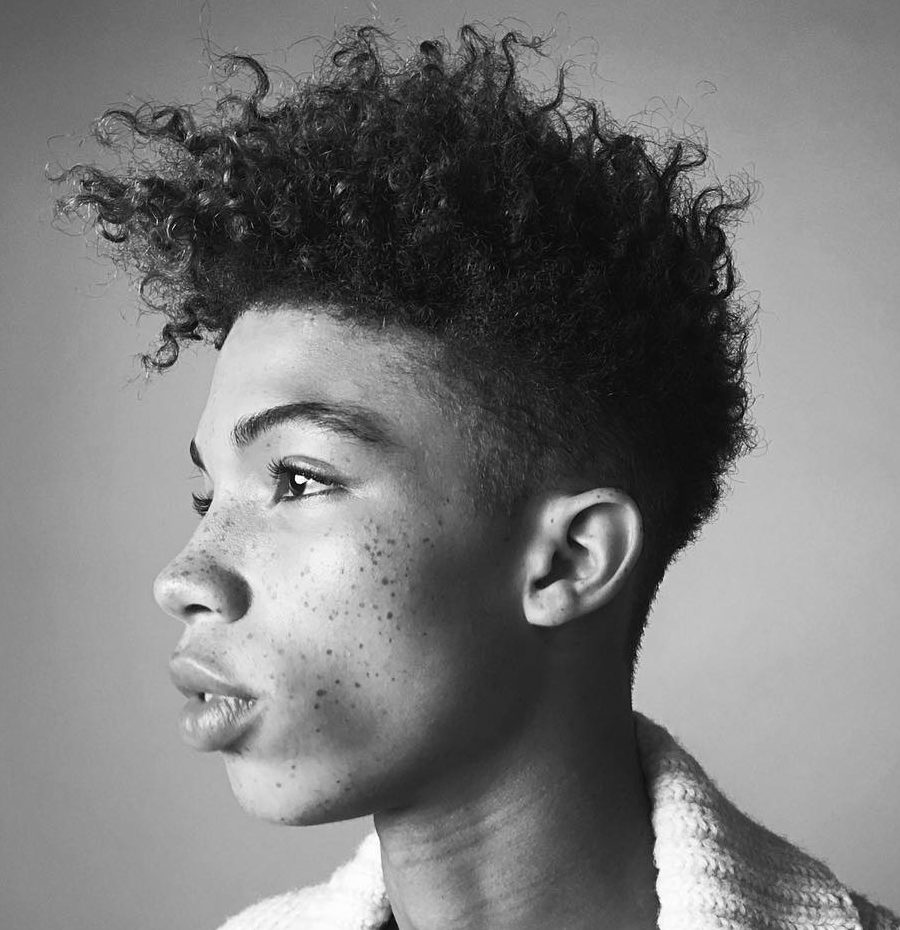 Whitney VerMeer
Another curly hair masterpiece. Nicely trimmed fresh looking sides. Hair on top is left to do its own thing.
35. Tapered Short Haircut For Curly Hair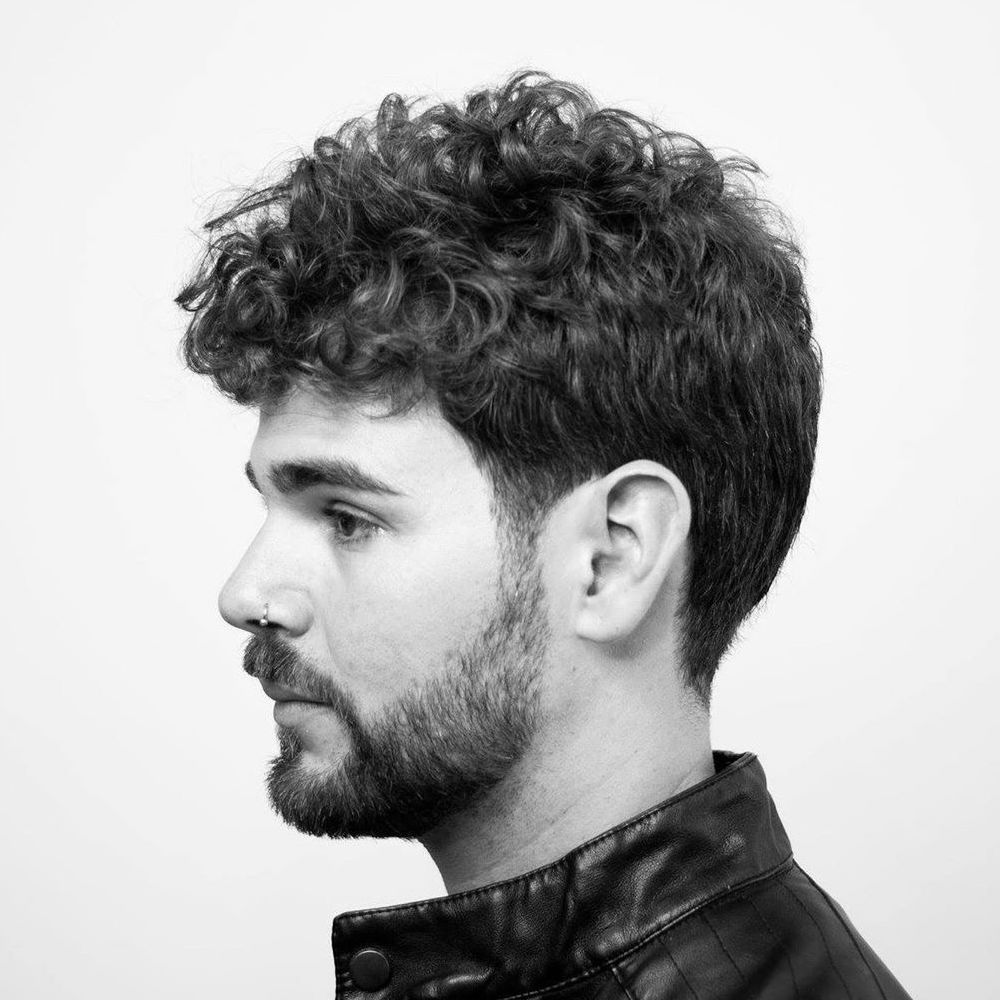 Surbarbers
A cool simple neck design carved into this great looking taper fade. Blended nicely into a short classic men's haircut. Use a small amount of pomade or just towel dry and brush into place. Super easy to style.
36. Short Haircut With Textured Curly Hair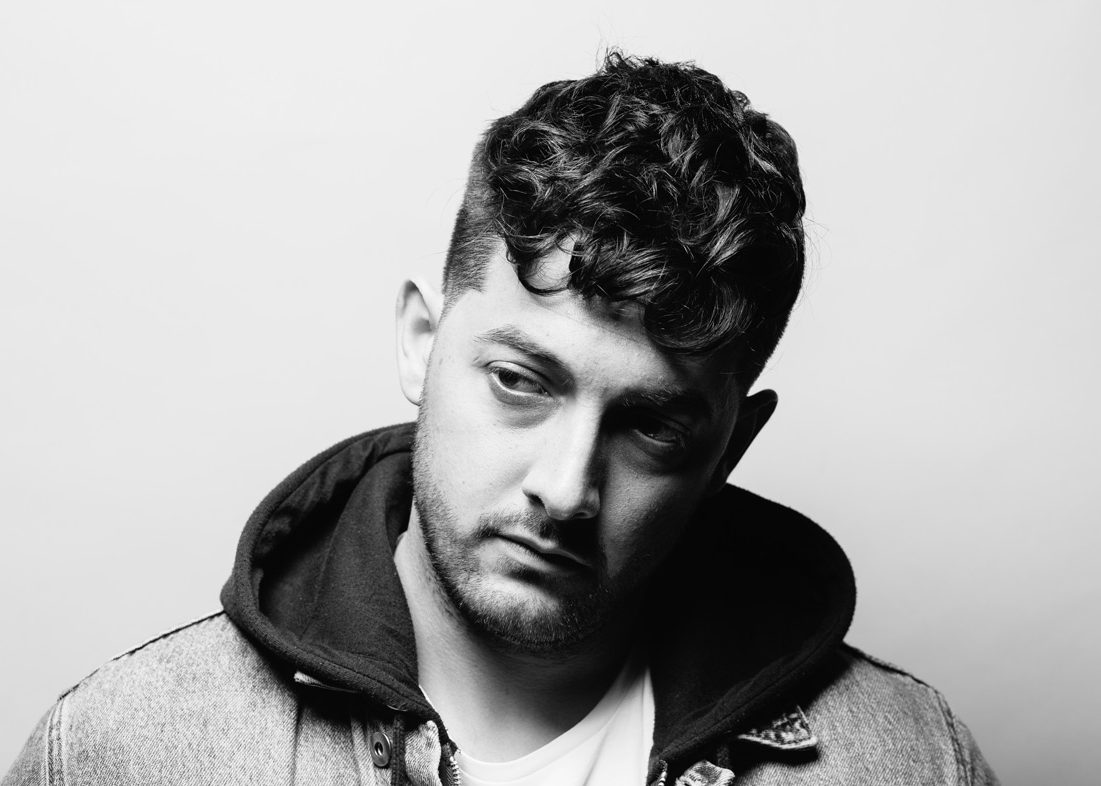 Tom Chapman
A cool thick textured hairstyle for men that have curly hair.
37. Pompadour Meets Modern Mullet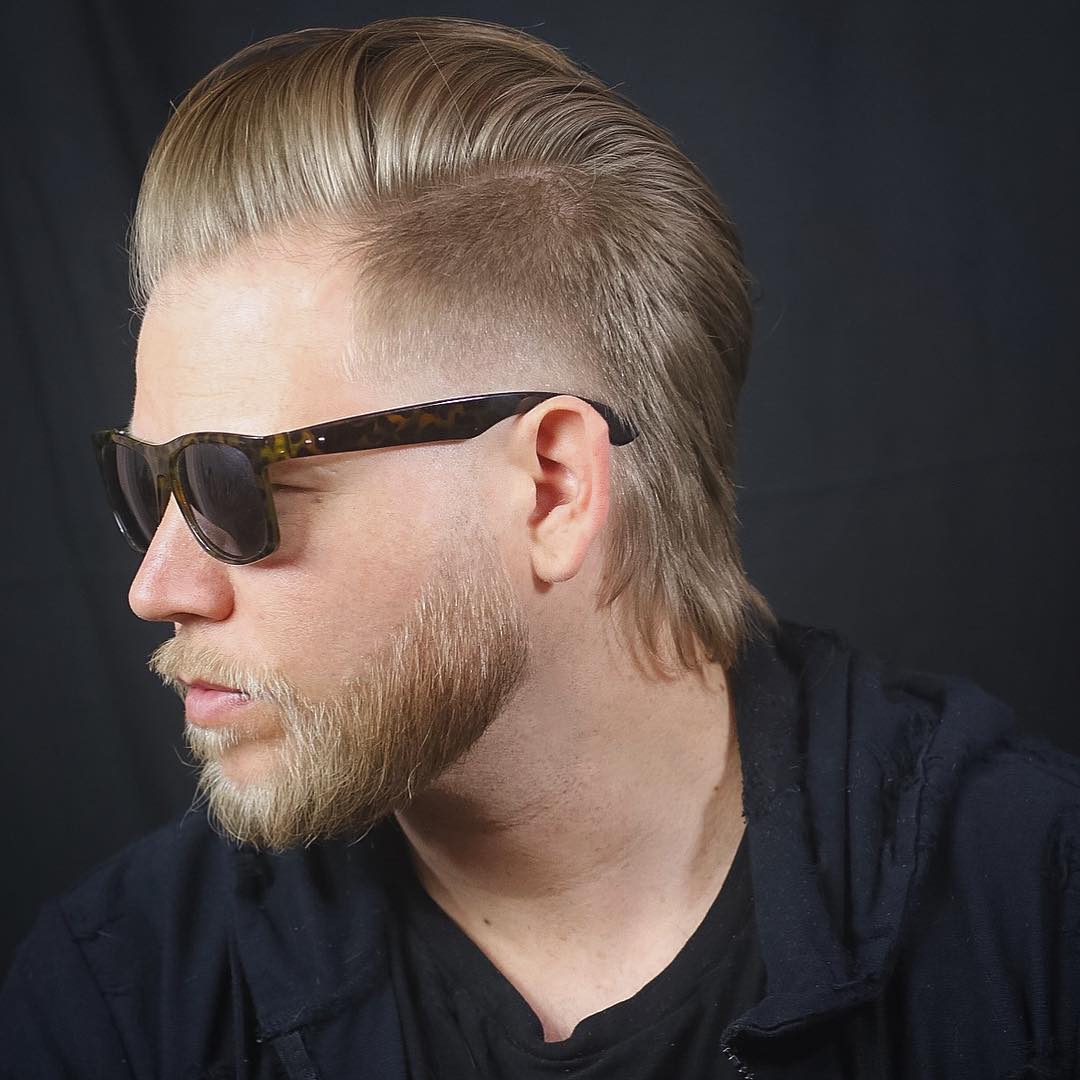 Juan Morales
Mullets are in. And will grow in popularity as we head towards 2020. This is a super cool undercut meets pompadour meets mullet.
38. Medium Textures On Top + Short Tapered Sides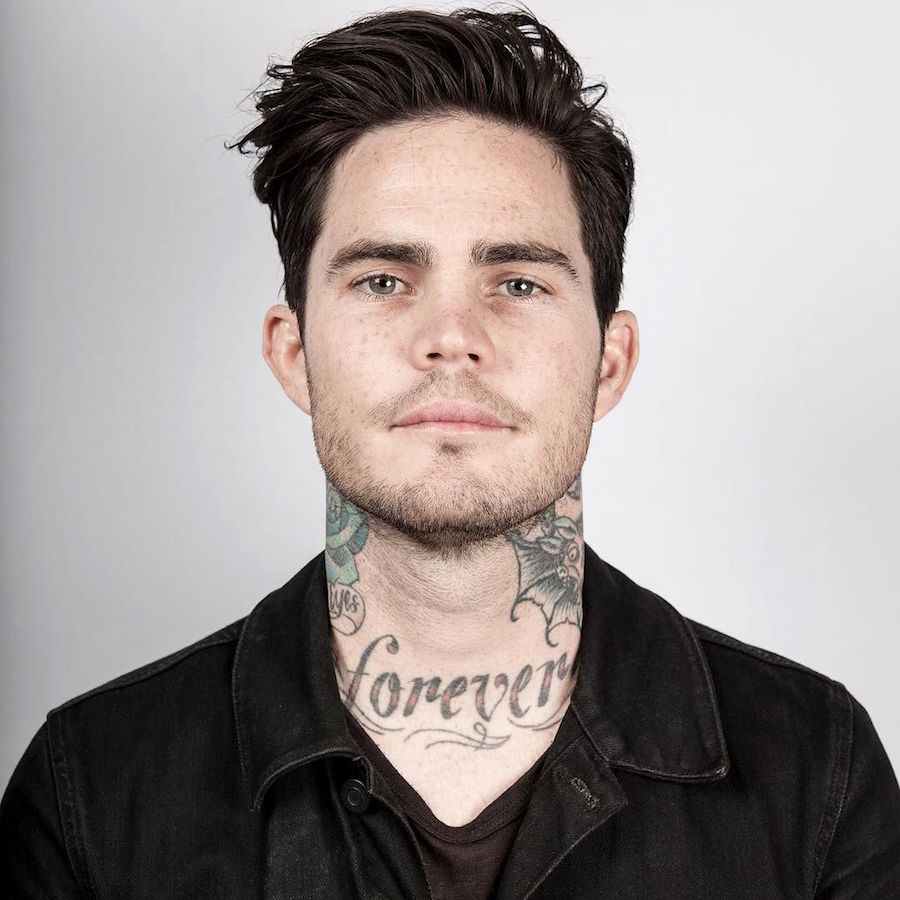 Morris Motley
If you have thick hair this is a great haircut to try out. Tapered short on the sides. Long hair on top styled back. You can style it into a side part look or just slick it back.
39. Slicked Back Modern Undercut Hairstyle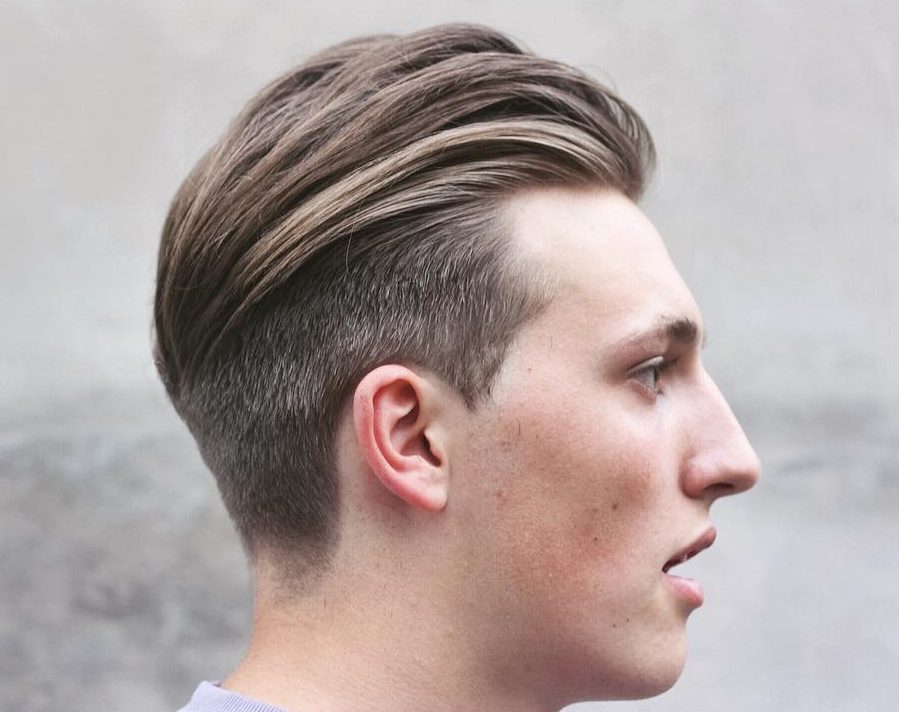 Josh Connolly
I like this haircut a lot. The undercut is not shaved as high as you normally see. Hair on top is slicked back. You can either brush and blow dry it back. Or you can go for a more slick look by using a shiny pomade, work it into damp hair, and simply brush or comb your hair back into place.
40. Scissor Cut Side Part Haircut For Thick Hair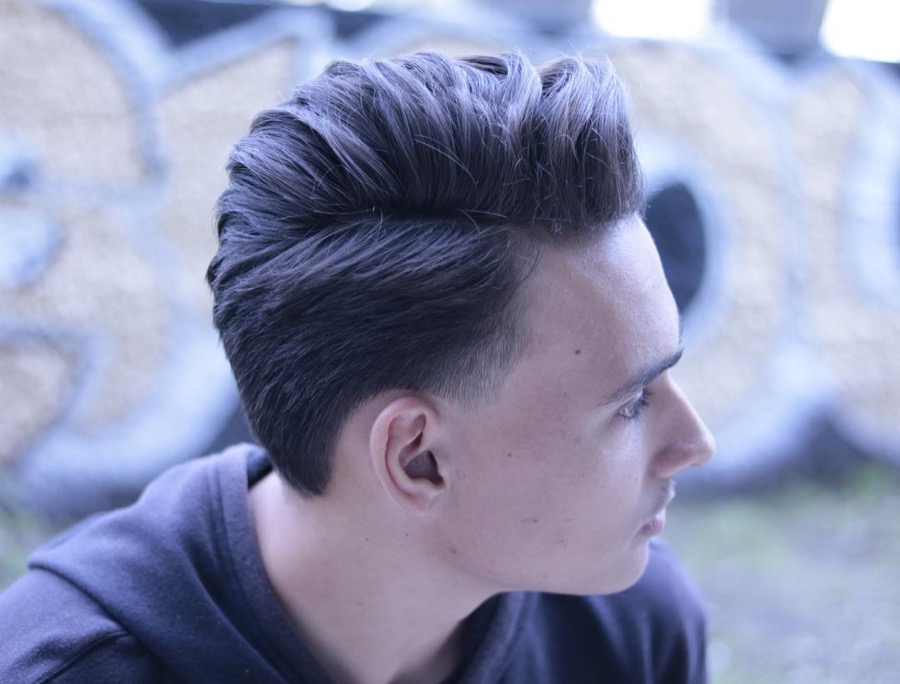 Underground Veria
Another great example of where things are headed. More flow, movement, and longer lengths of hair. A great looking tapered haircut for men. Short on the sides but no skin. Styled naturally into a side part.
41. Mohawk Bald Fade Haircut + Fresh Line Up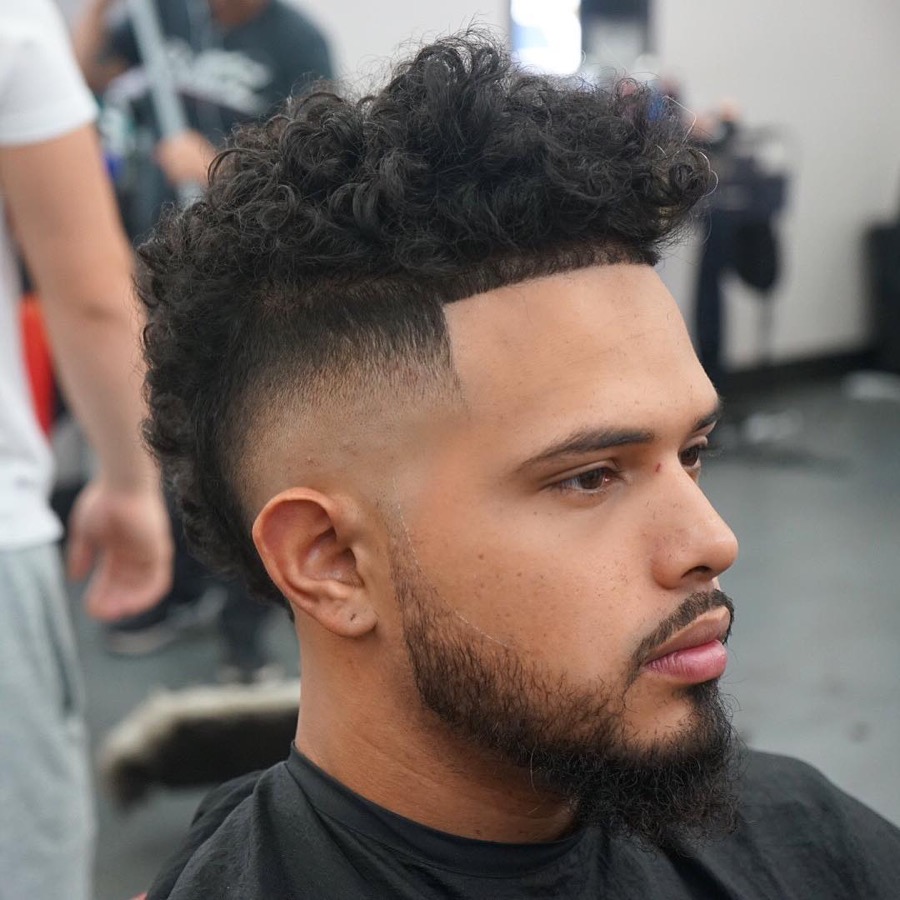 Level
Mohawks have become more and more popular lately. This cut features a bald fade, line up in the front to keep things looking clean and fresh, and the curls on top are left natural to do their thing.
42. Long Textured Fringe + Mid Fade Haircut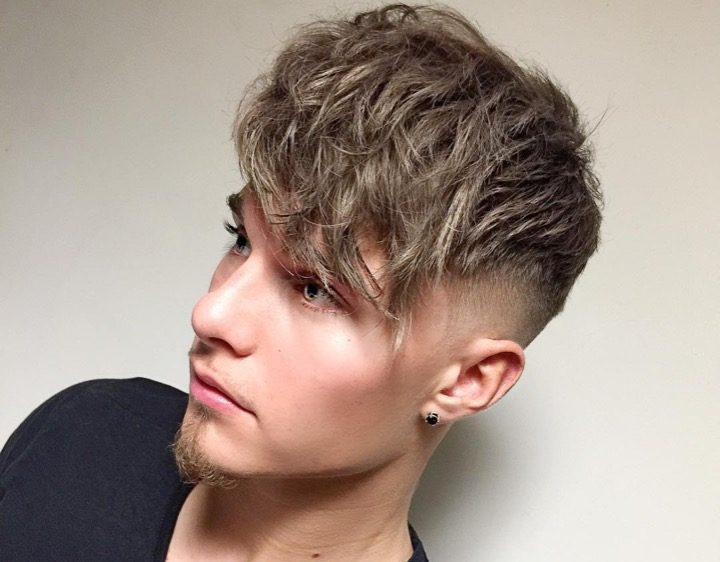 Mikey
A long fringe just looks cool. This is a modern take on the classic skater haircut for guys. Long textures are styled forwards into the flow of the fringe. The heavier hair length up front and on top contrasts perfectly with the mid fade to the sides and back.
43. Short Textured Quiff Haircut + Mid Fade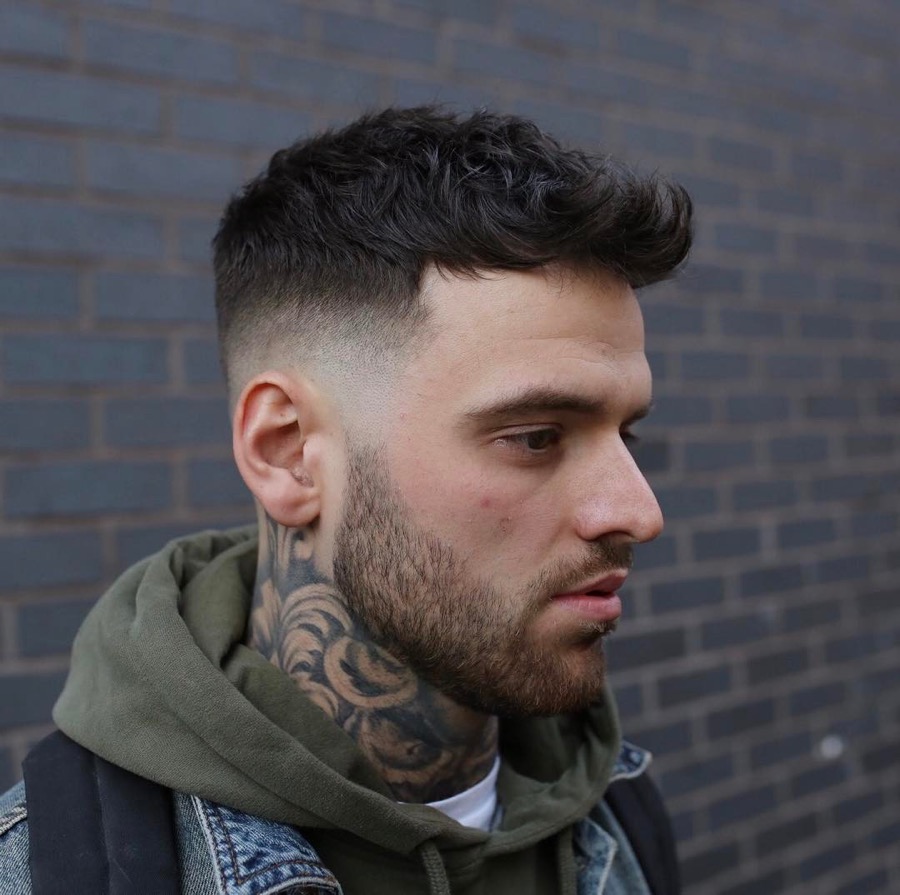 Ross Parlane Barbershop
Short haircuts for men never go out of style and always look great. This is a great haircut for guys that have thick hair and want to keep things clean and fresh. This look features a mid skin fade, and short textured hair on top styled into a quiff. The great thing about short haircuts is that they are super easy to maintain and style. Not much to it. Simply towel dry, work a small amount of pomade into damp or dry hair, and style into place using your fingers. One of the best short haircuts you could get.
44. Textured Quiff Meets Pompadour Haircut + Line Up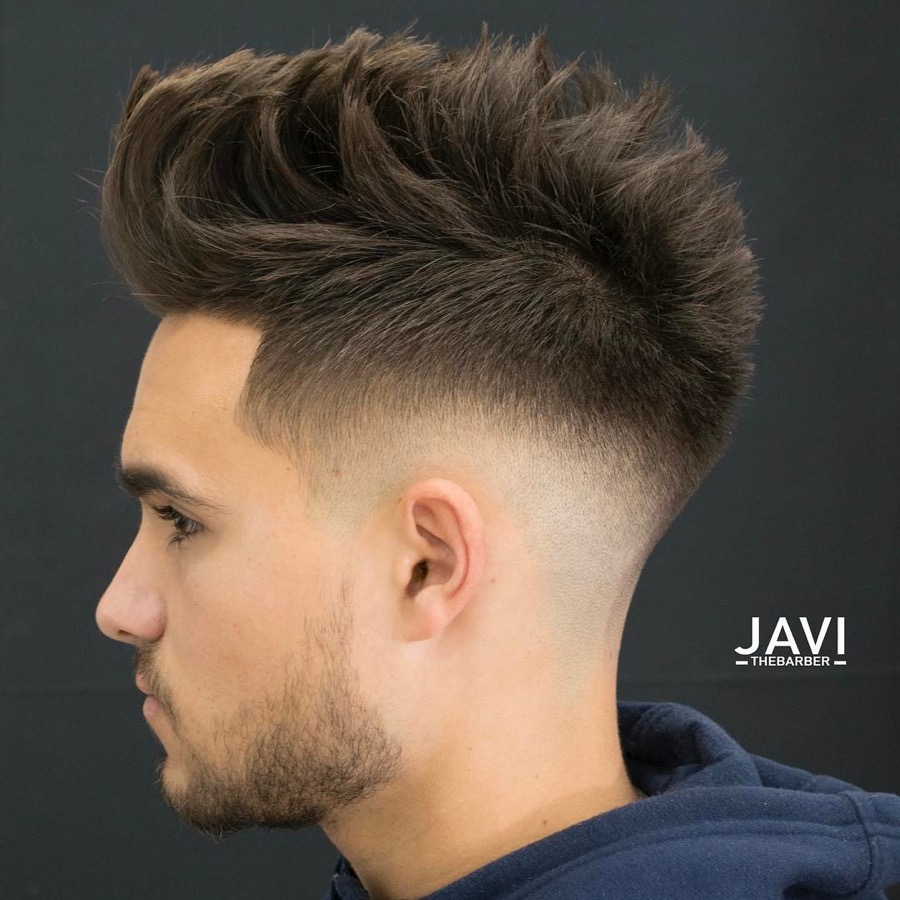 Javi the Barber
A totally cool haircut. Part mohawk, part quiff, part pompadour. It features a bald fade that places the emphasis on the wild loose hair on top. To get this look you need to use a blow dryer and a brush.
45. Cool Short Crop Haircut For Wavy Hair + Low Fade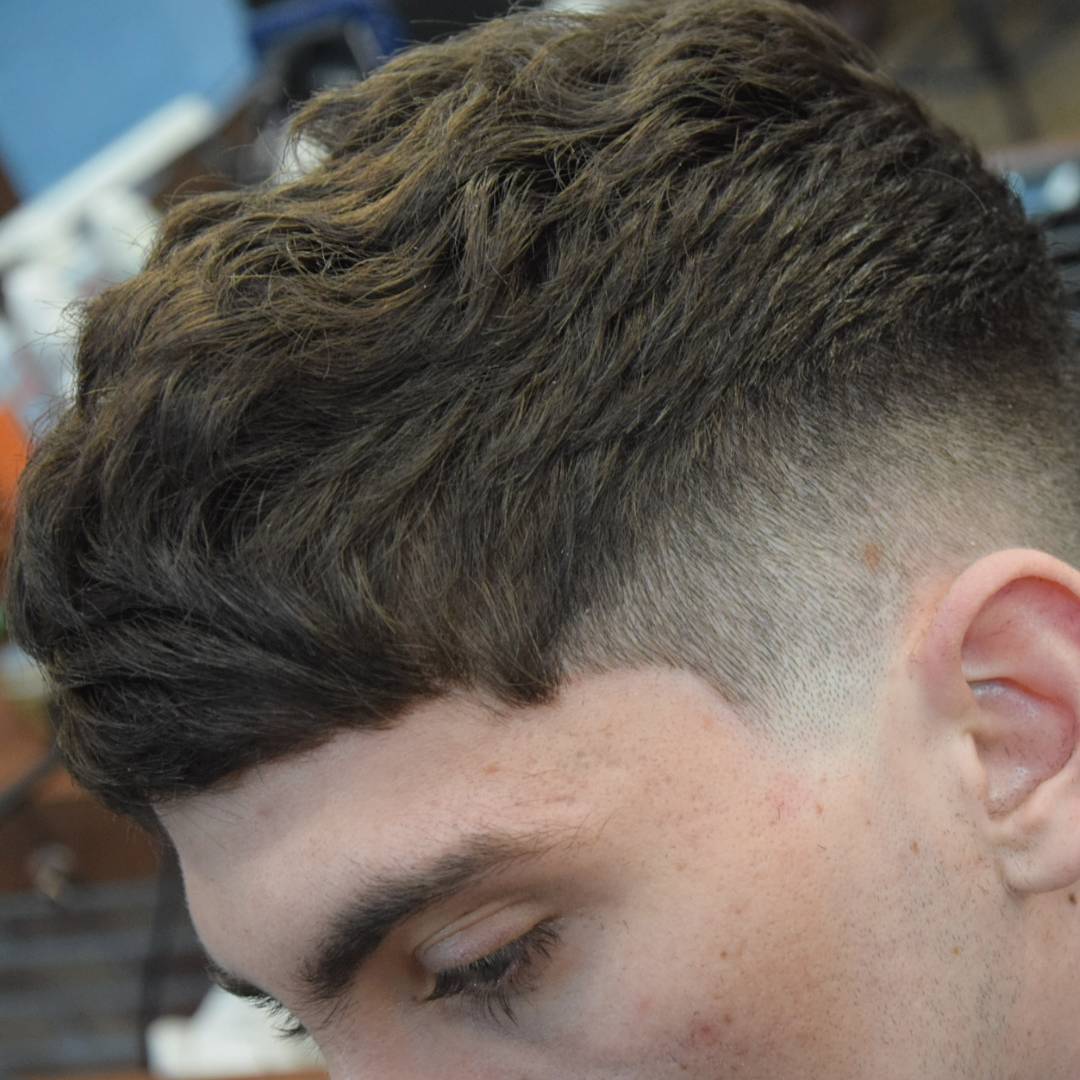 Alessio Bolognesi
Crop haircuts have been super popular. They are still going strong and will likely continue to be a top pick for guys that like a short haircut. Crop haircuts work for all hair types. At first we were seeing mostly blunt cut crops. These days we are seeing more textured and asymmetrical fringes. This one is kind of in between. This is definitely one of the best haircuts for men that want to keep their hair short. It is also one of the best haircuts for receding hairlines since the hair is styled forwards.
46. Natural Waves Medium Length Men's Haircut + Short Sides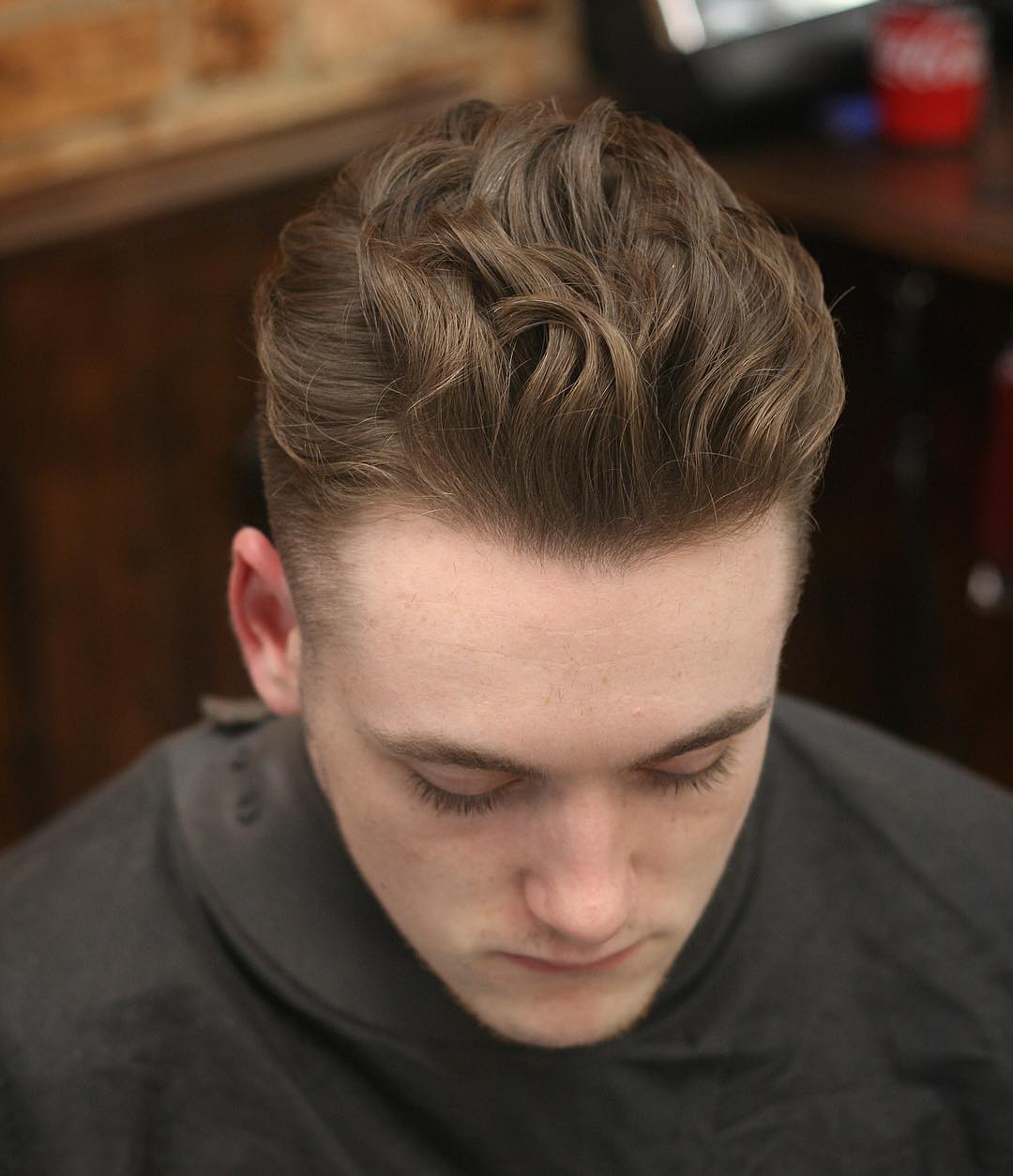 Hard Grind
A very natural looking classic men's haircut. Short sides, a bit longer on top, brushed back into place.
47. Slicked Back Wavy Men's Hairstyle + Bald Fade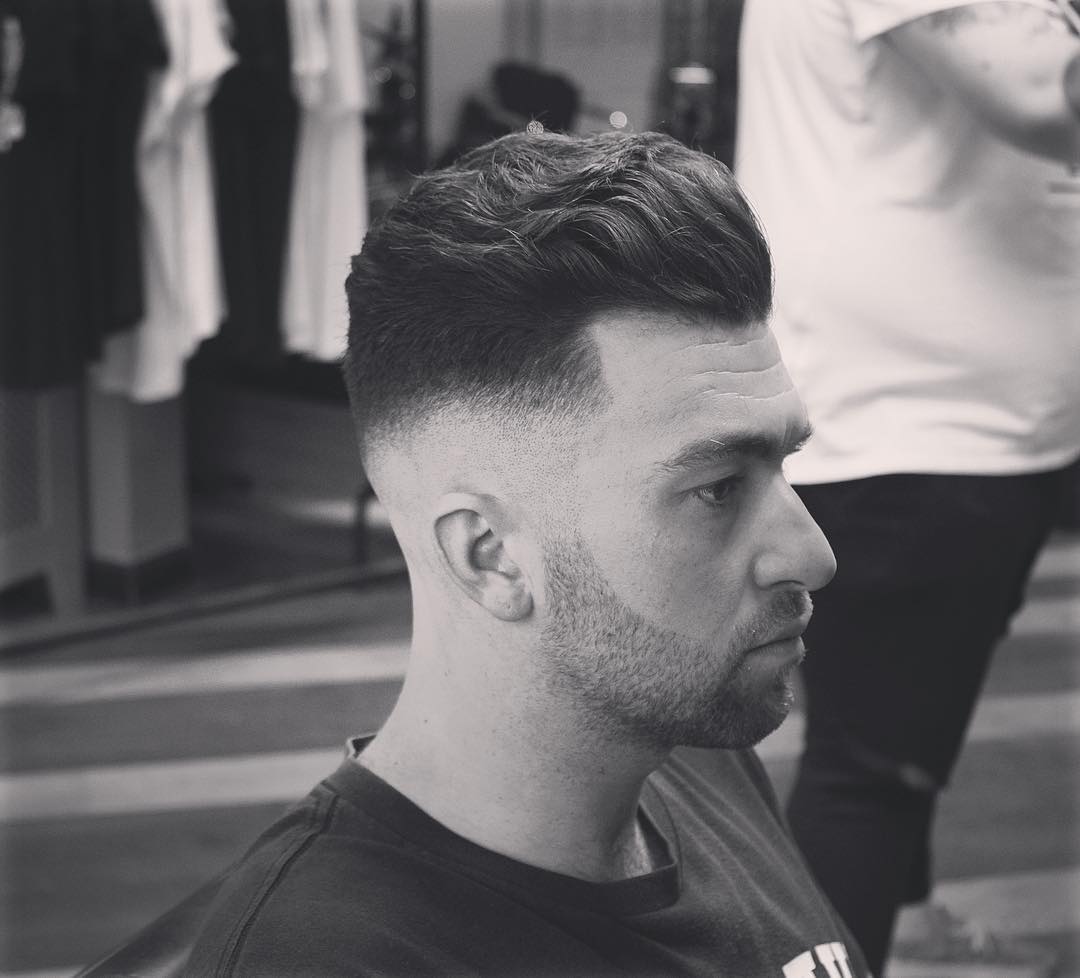 Jake's Barber Shop
Another good haircut for guys that have thick or wavy hair. A classic look with short sides and medium length hair on top. It can be styled back naturally as in this photo or slicked back with a strong hold pomade with shiny finish.
48. Modern Taper Fade Haircut For Men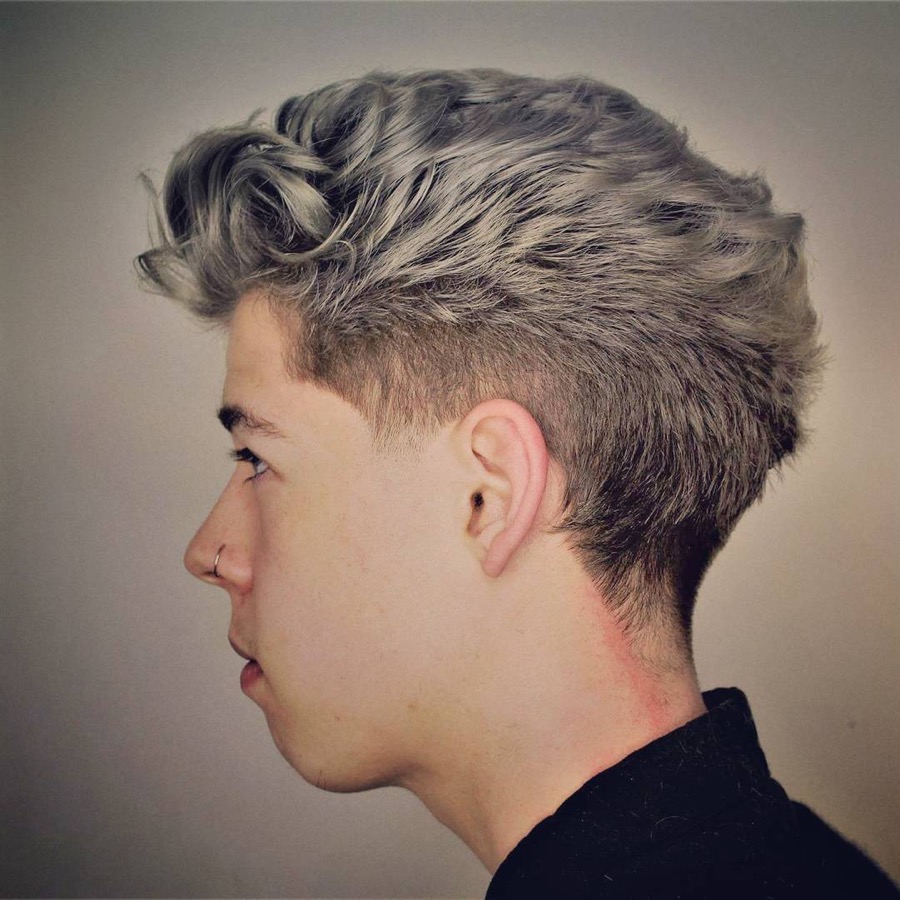 Adam O'Callaghan
A totally cool tapered haircut. The hair on top and in the back is kept longer to give the hair movement and flow front to back.
49. Longer Curly Hair Flow Haircut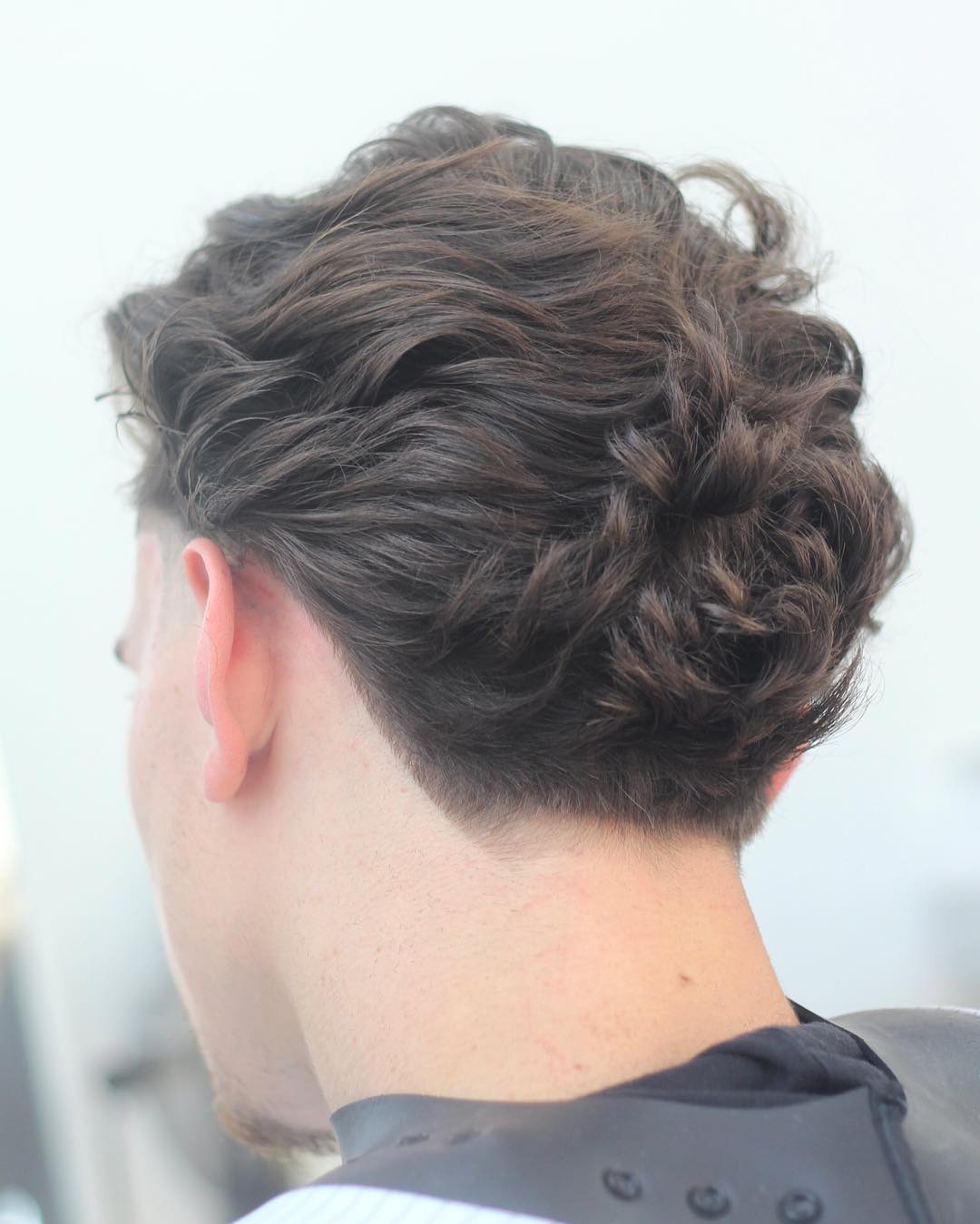 Alan Beak
This is the best haircut for curly hair. Things have been all cleaned up along the hair line with an awesome minuscule taper fade. The curly hair on top and in the back is left to flow naturally.
50. Cool Textured Thick Hair + Short Sides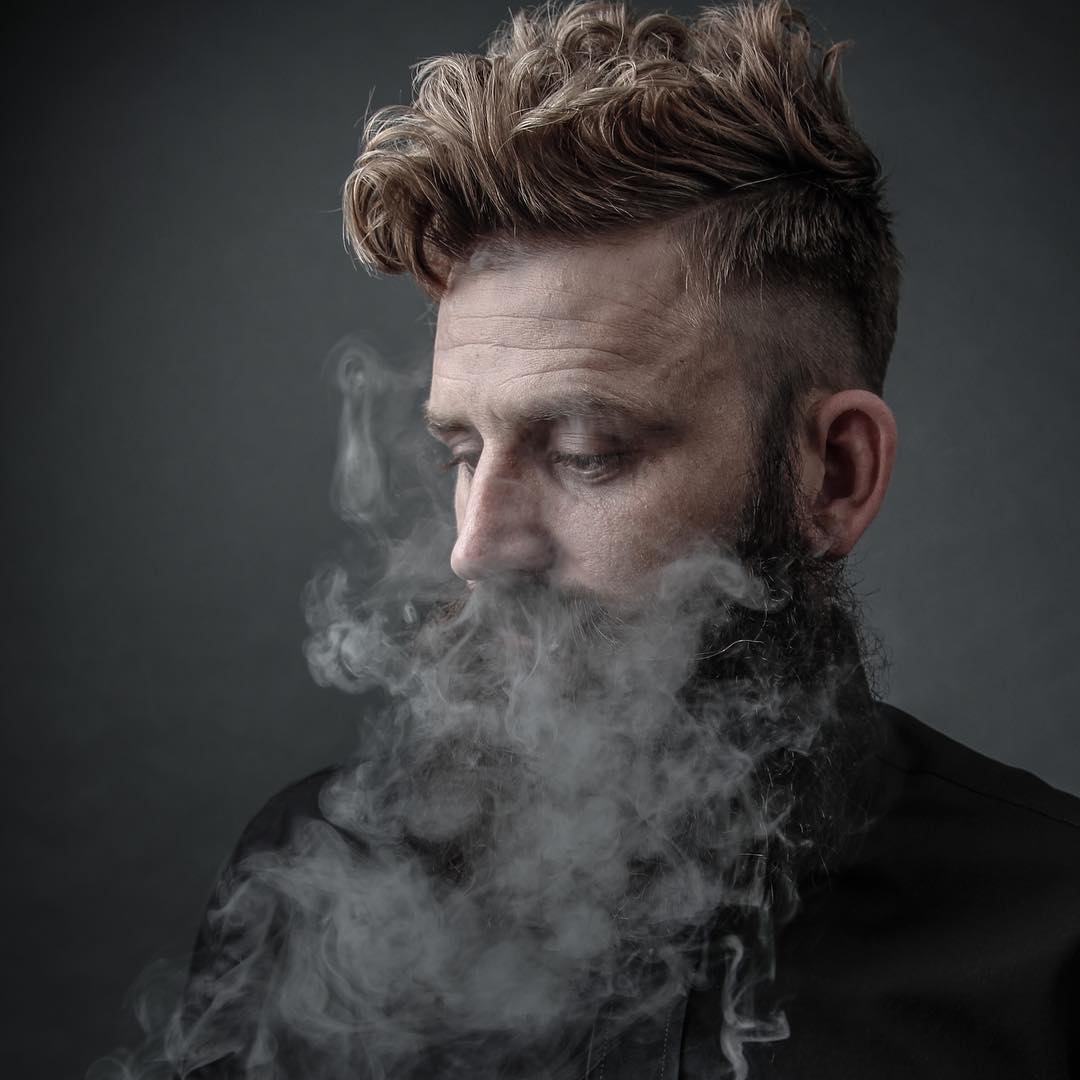 Ryan Cuts Hair
This is one of the best haircuts for thick hair or curly hair. Styled into a side part quiff. Super cool haircut for men.
51. Low Fade + Twisted Curls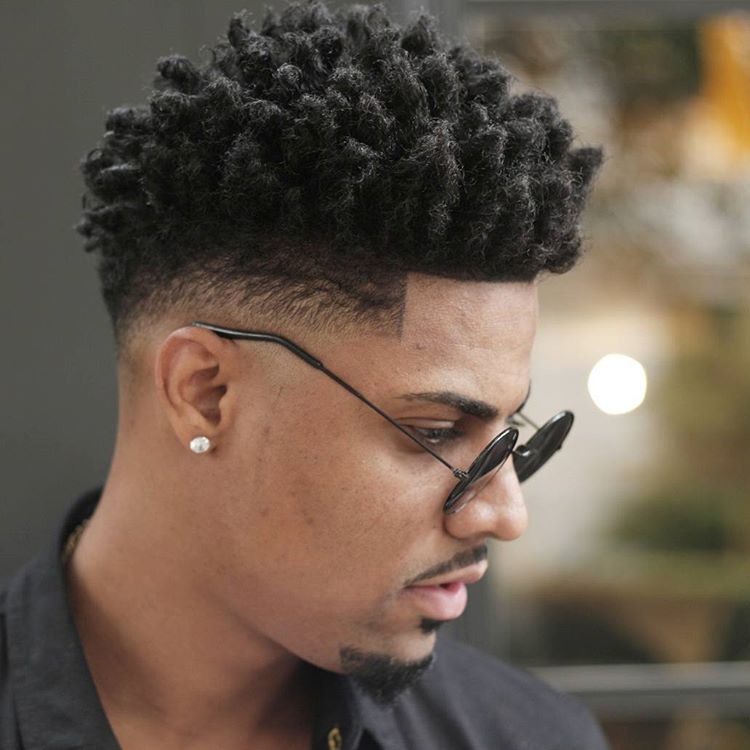 Dill Black
This cut features a low fade with natural curls on top that have been styled using a twist sponge.
52. Natural Slicked Back Haircut For Cool Guys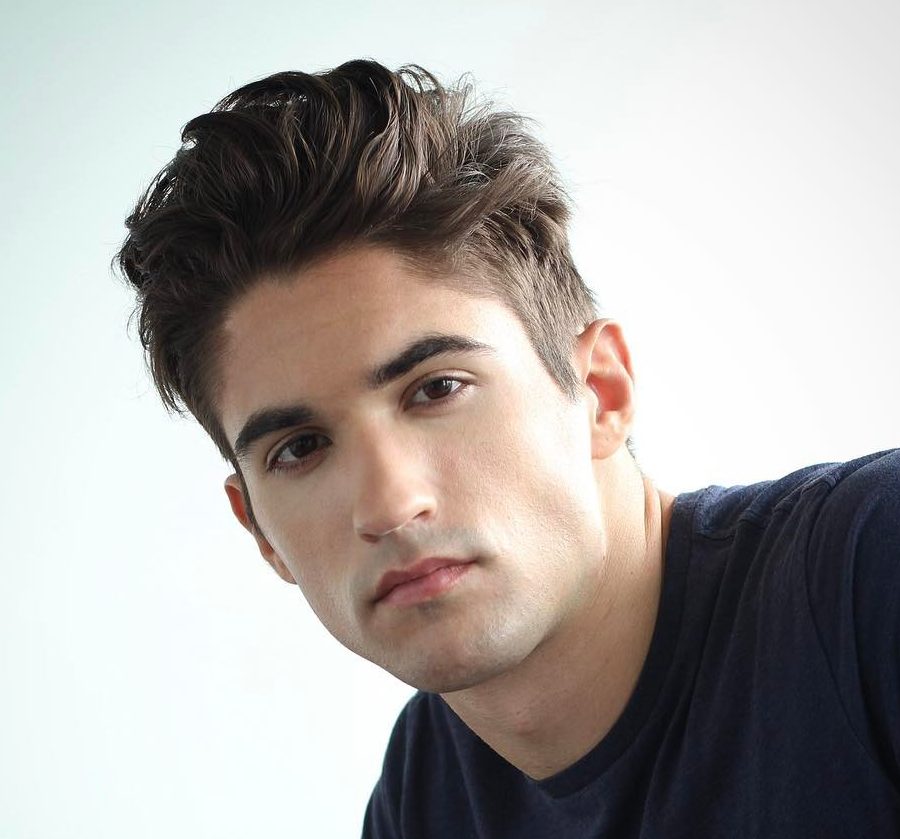 Carter Supply Co.
One of the best haircuts for thick wavy hair. This natural look is popular right now. Sides are cut short (but not faded) to emphasize the natural wavy flow on top. Fade haircuts are still super popular but more guys are opting for more natural looks like this one.
53. Tapered Men's Haircut + Side Part
Linus Jasper
Another amazing haircut for men with thick hair. A classic medium men's haircut that has been popular. Things are trimmed and cleaned up. But no clipper work. No shaved hair. No skin. This is what we will see more and more. More guys are opting for longer hair.
54. Tapered Haircut For Men + Long Fringe + Super Natural Flow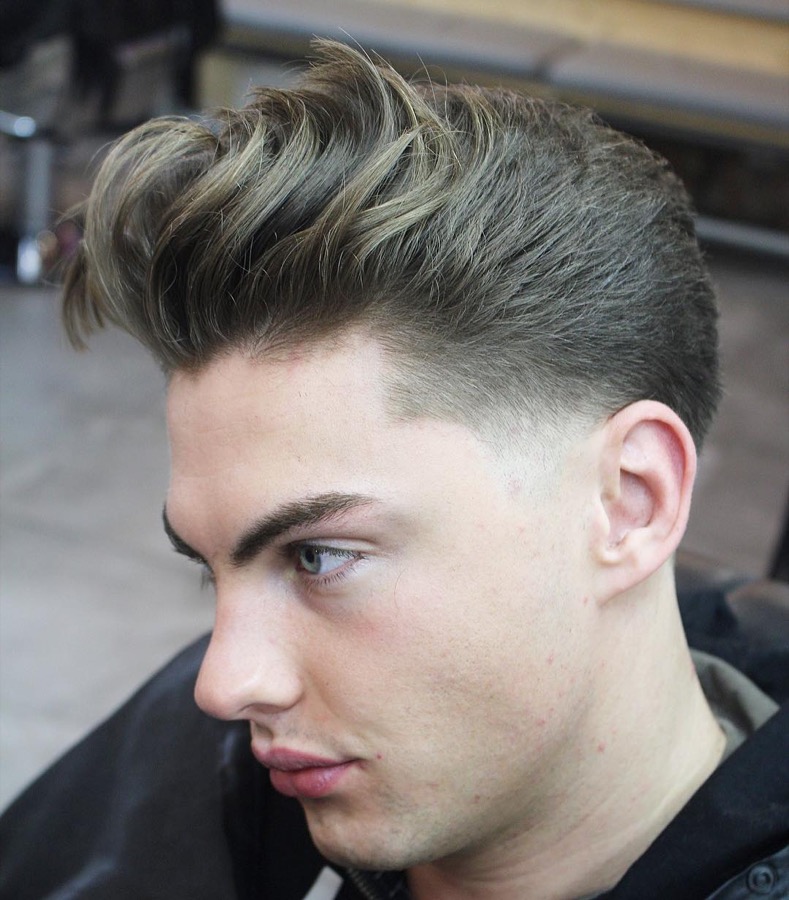 Josh Lamonaca
I love this haircut. This is one of the best haircuts for thin hair of fine hair. If you have less hair you want a haircut that keeps more but places the emphasis on what is left on top. This taper fade and short sides accomplish that. Blended perfectly into a medium length on top that has a tremendous amount of flow.
55. Super Cool Low Fade + Short Textured Hair On Top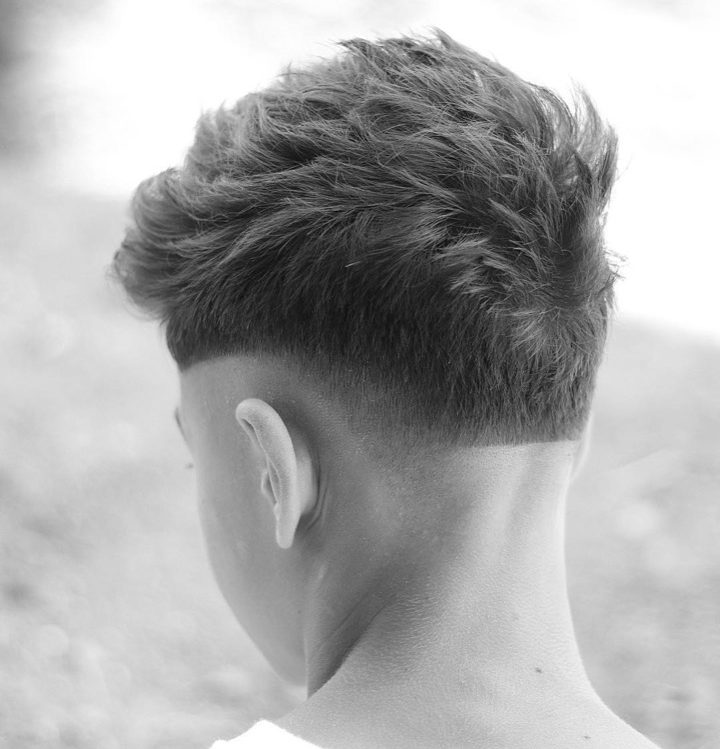 Underground Veria
This is one of my favorite haircuts that I have seen in the past year. I like fade haircuts that are not just your classic fade. This haircut shows off some cool 1980s design with hard lines in the back and sides to give the fade some extra detail. Very cool. I got this haircut myself after I saw it done by Rafa. On top, we have some nice soft looking medium textures.
56. Thick Hair Quiff Haircut With Textures + High Fade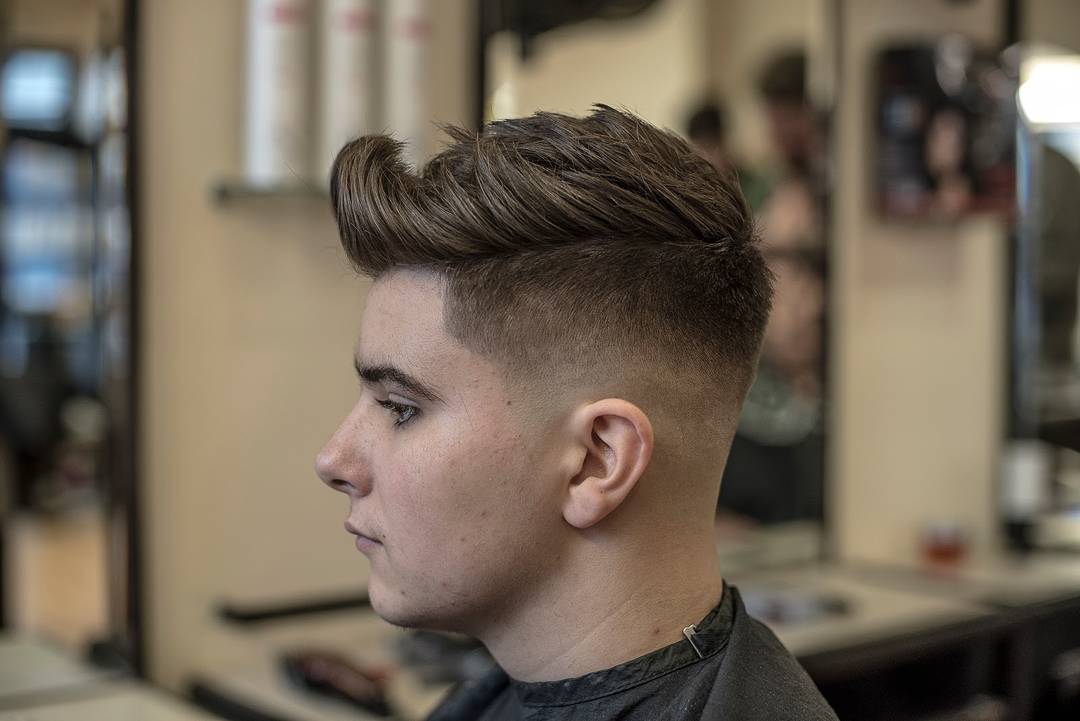 Shane Cronin
Another fantastic haircut. I love this choppy textured quiff haircut that features a high skin fade. To get this hairstyle use strong hold pomade. Work it into damp hair. Blow dry and brush the hair into place. This is a super cool disconnected undercut meets quiff.
57. Choppy Textured Medium Length Haircut For Men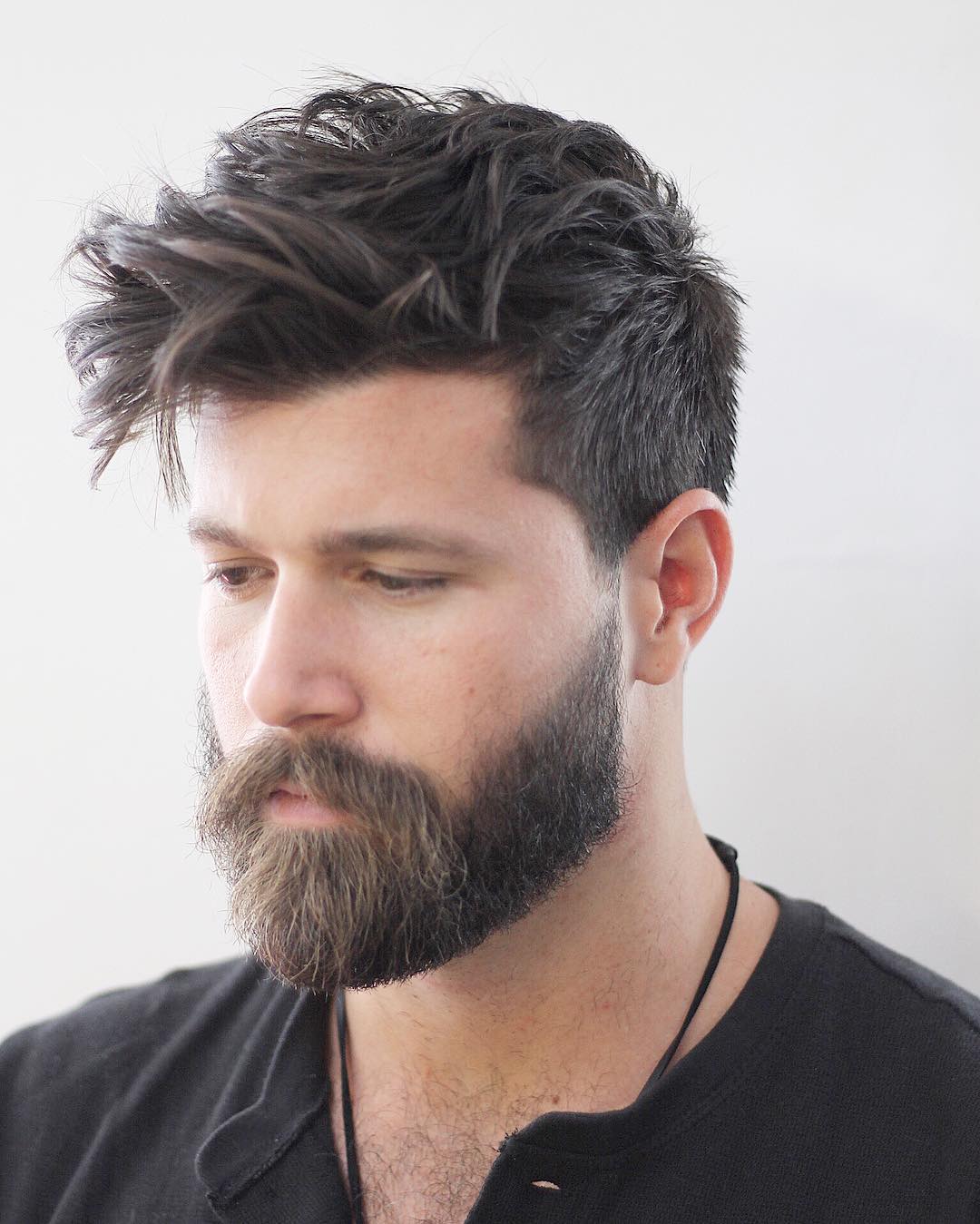 Mokum Barbers
A few years ago it was all about short textured haircuts. Then things evolved into longer textured haircuts like this one. This is a good haircut for guys that have thicker hair whether your hair is coarse or fine. The textured cut makes the styling part easier. You can towel dry or do a quick blast blow dry. Then simply work a medium to strong hold pomade into the hair to bring the textures alive. Every day you can get a different look depending on the direction you move the hair into place. That is what is awesome about textured haircuts like this one.
58. Beautifully Tapered Men's Haircut + Medium Length On Top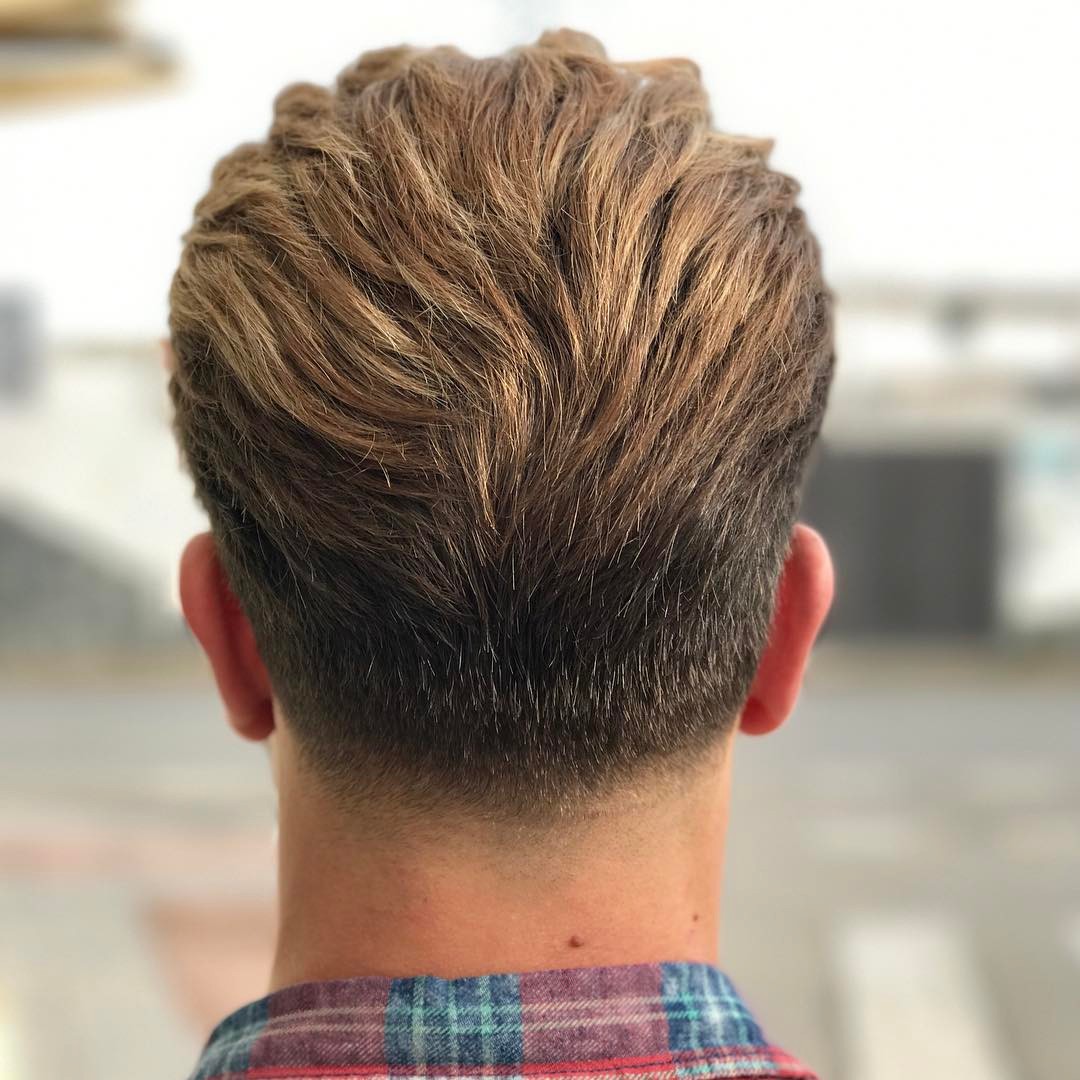 Javi the Barber
Such a great tapered haircut. Classic. Simply brush and blow dry front to back.
59. Simple Short Men's Haircut With A High Fade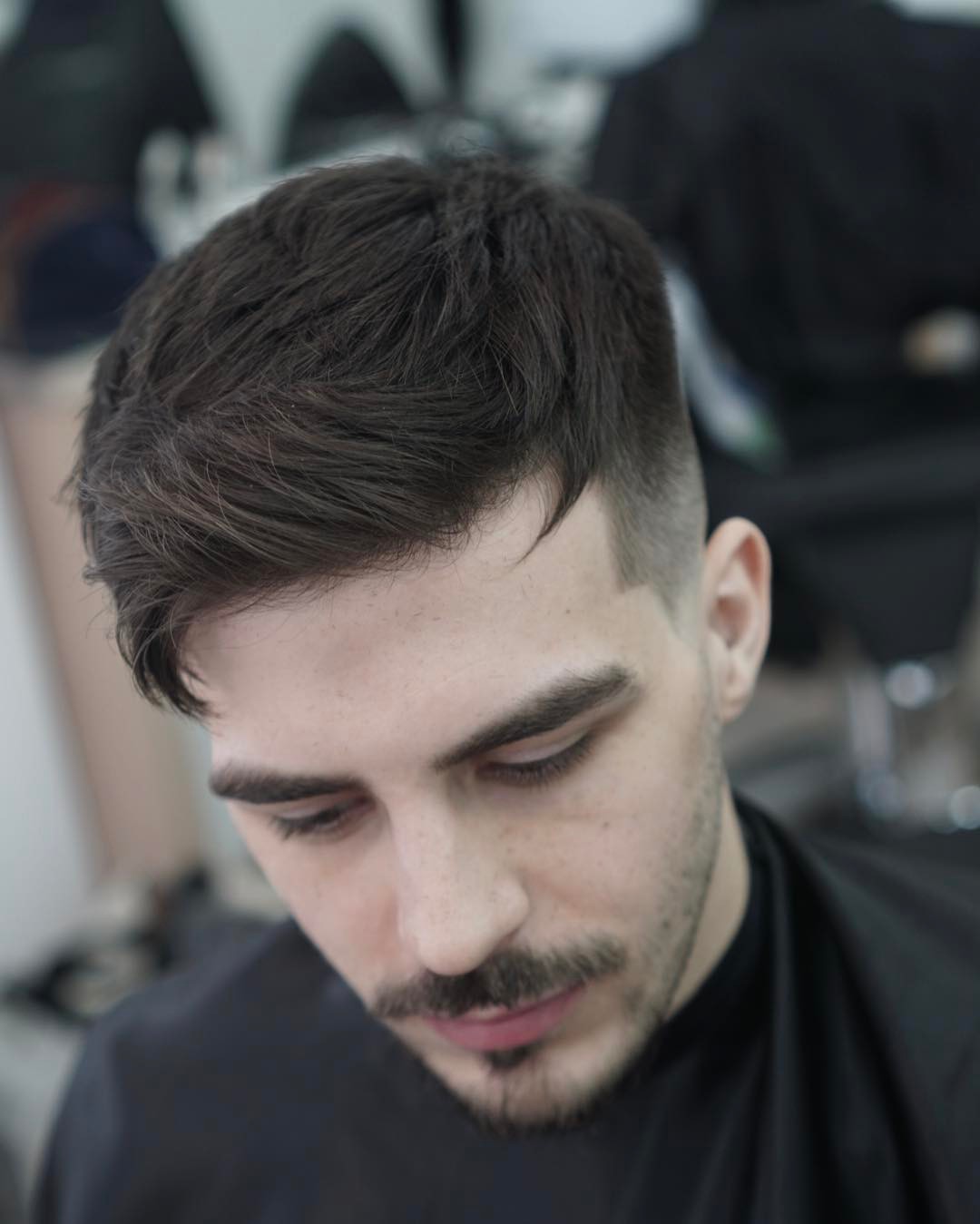 Glassbox Barbershop
A nice simple classic short haircut for men to get right now. The hair is styled a bit forward with a flip back and to the side in the front.
60. Temple Fade Haircut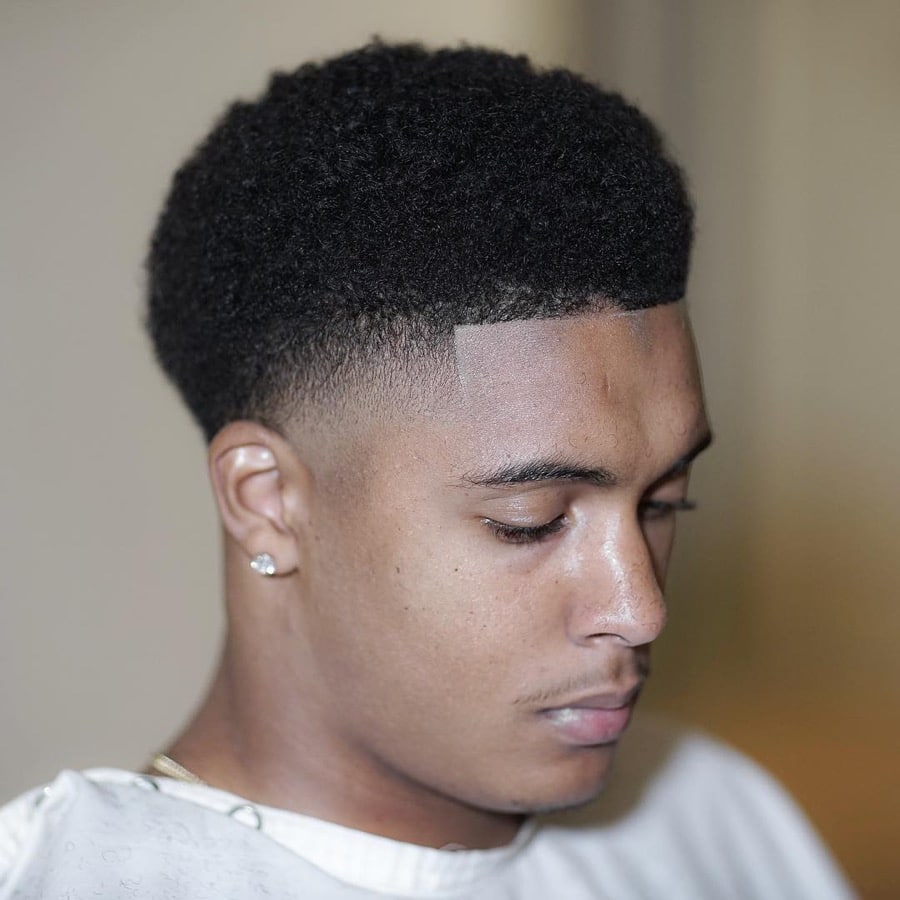 Pat Regan
A beauty temple fade haircut with natural curls shaped to perfection on top. This haircut is finished with a super clean shape up in the front
61. Low Bald Fade + Long Tall Curls (Jimmy Butler Styles)
Matt J.
Keep things cool in the summertime with a bald fade on the sides but a longer length of hair on top.
62. Short Textured Men's Haircut For Curly Hair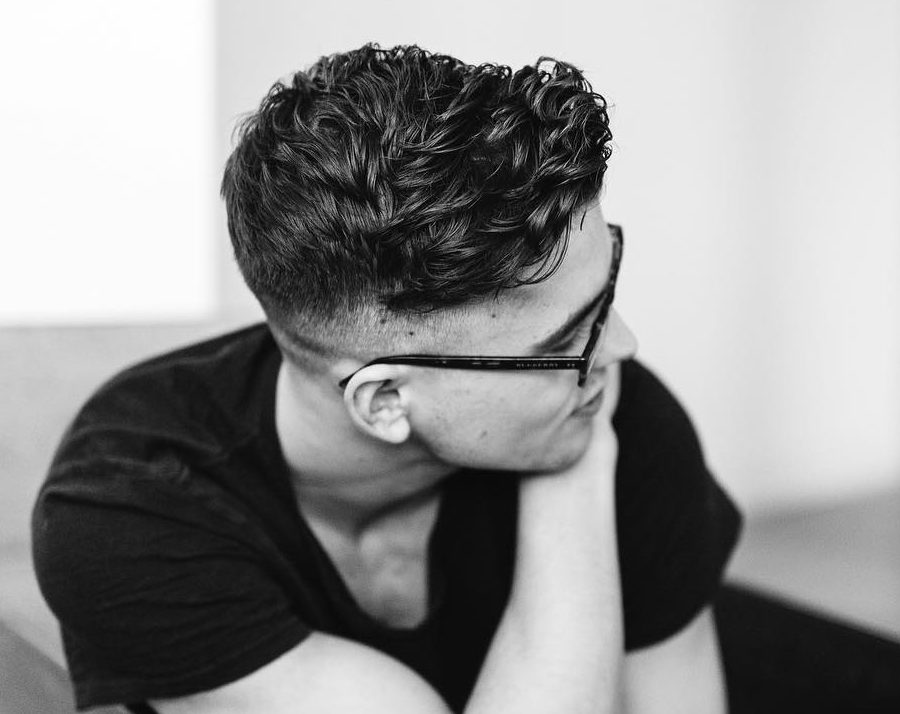 Whitney VerMeer
Whitney has put out some of the best men's haircuts for curly hair. Here she has beautifully textured the curly hair and cut it at a short to medium length.
63. Long Wild Messy Natural Curls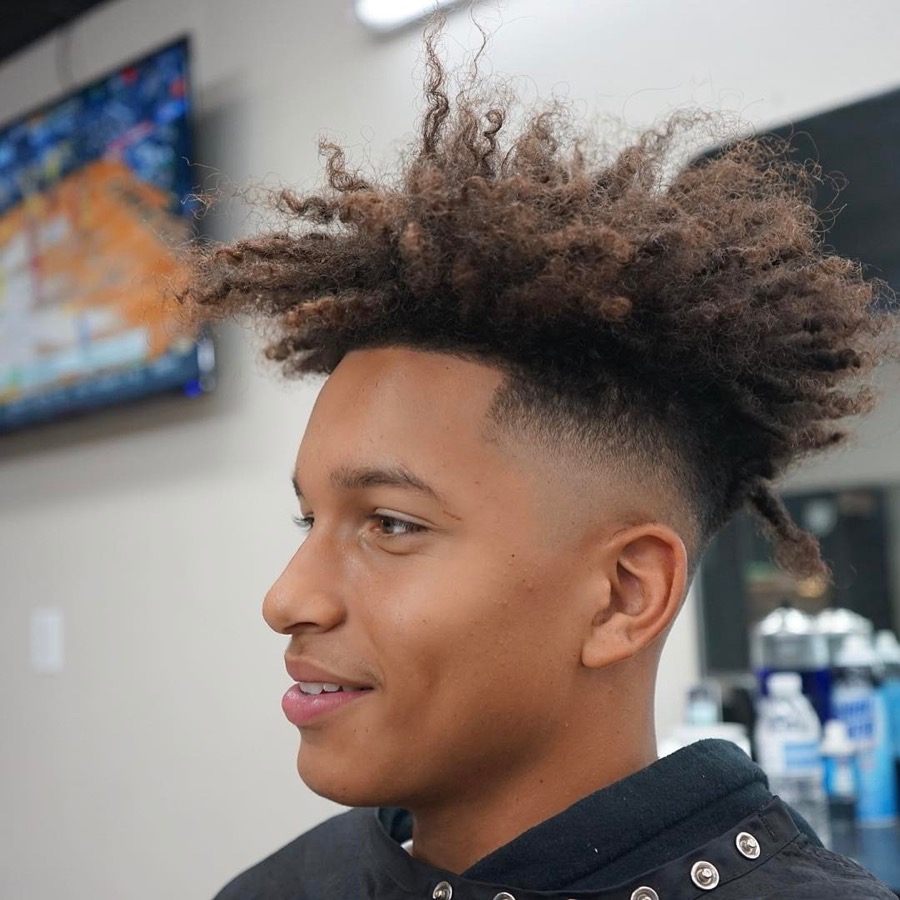 Level
Bald fade on the sides to keep things fresh. Wild curls on top.
64. Super Cool Long Surfer Hairstyle For Guys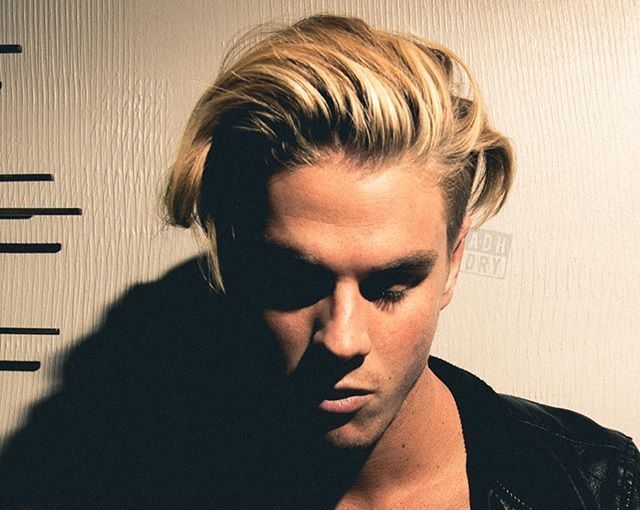 Andrew Does Hair
If you are thinking about growing your hair long this is a great cut that will take you in the right direction. Sides are short but not at all close to the skin. Hair on top is neatly trimmed and styled in a modern slick back look.
65. Beautifully Sculpted Modern Afro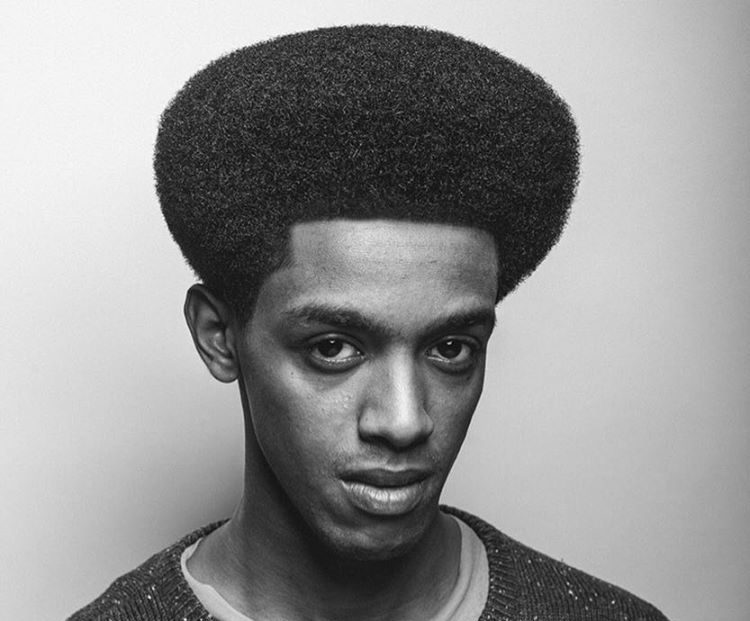 Nomad Barber LDN
Incredible shape. What incredible attention to detail.
66. Hairstyle For Long Wavy Hair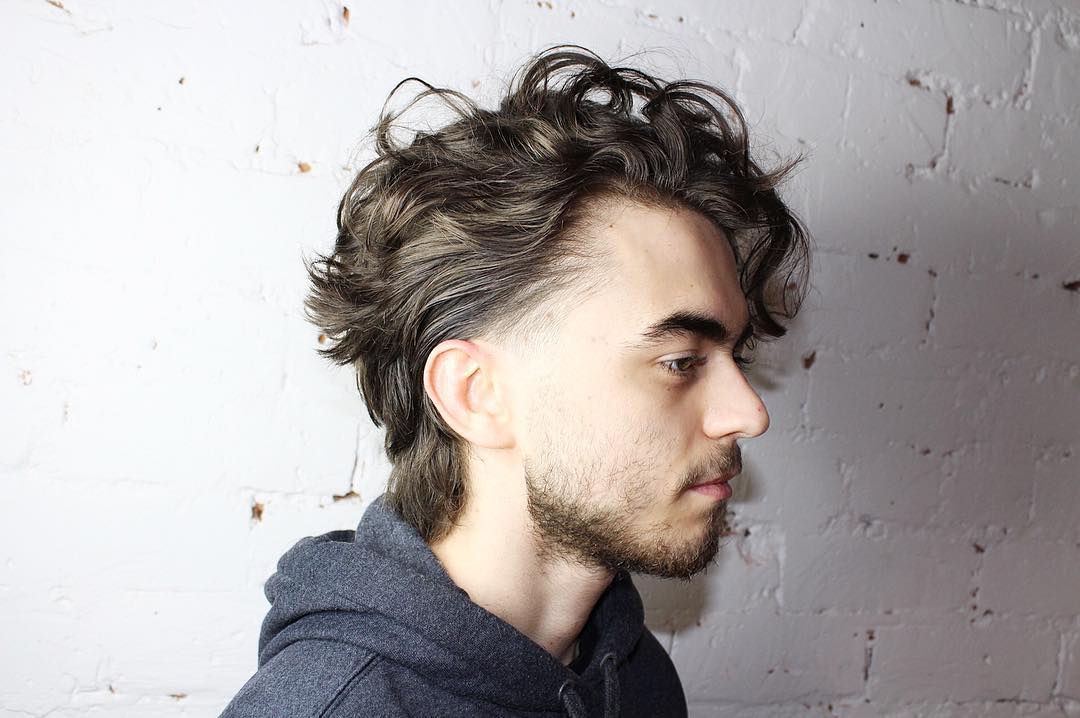 Simon Harvey
Another great haircut for men that want to work towards growing their hair out longer. The hair is scissor cut nice and neat and will allow for growing the hair out even longer over time.
67. Cool Long Hair Hairstyle For Men Tied Back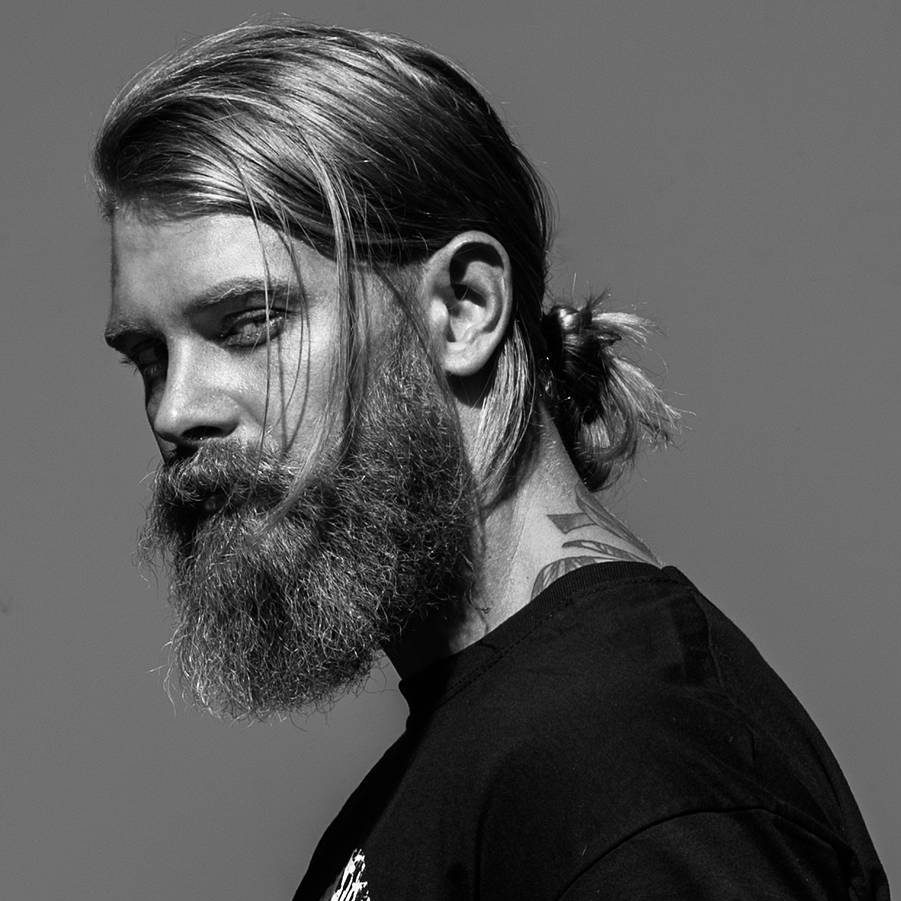 Spizoiky
Long hair is cool. More and more guys are growing their hair out. Looks great with the beard. Hair can be tied back into a bun, kept in a pony tail, or just let go loose and wild like.
68. Burst Fade Mohawk Haircut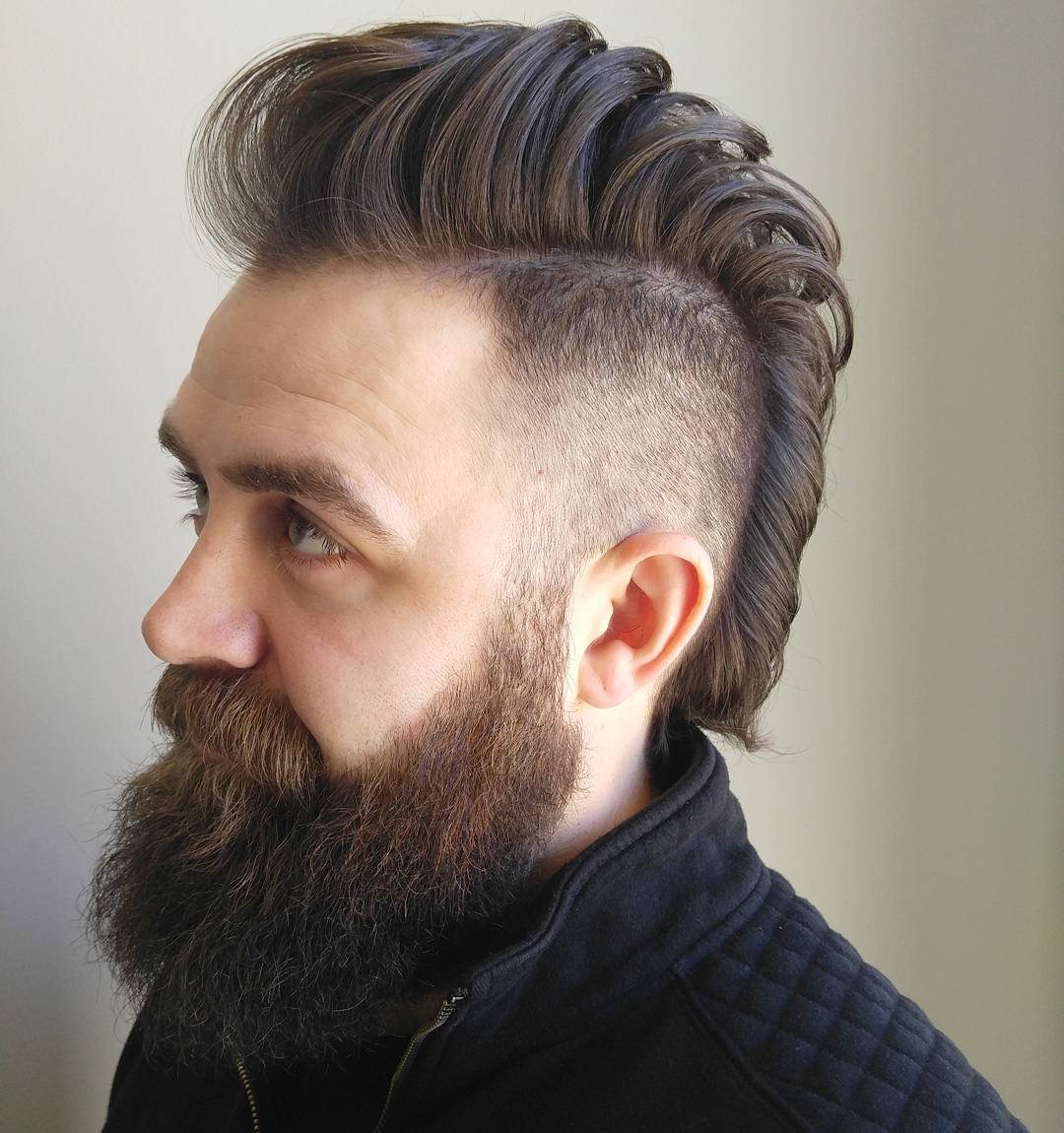 Erin Grommon
A cool mohawk pompadour hairstyle with a disconnected beard.
69. Low Fade + Longer Curls On Top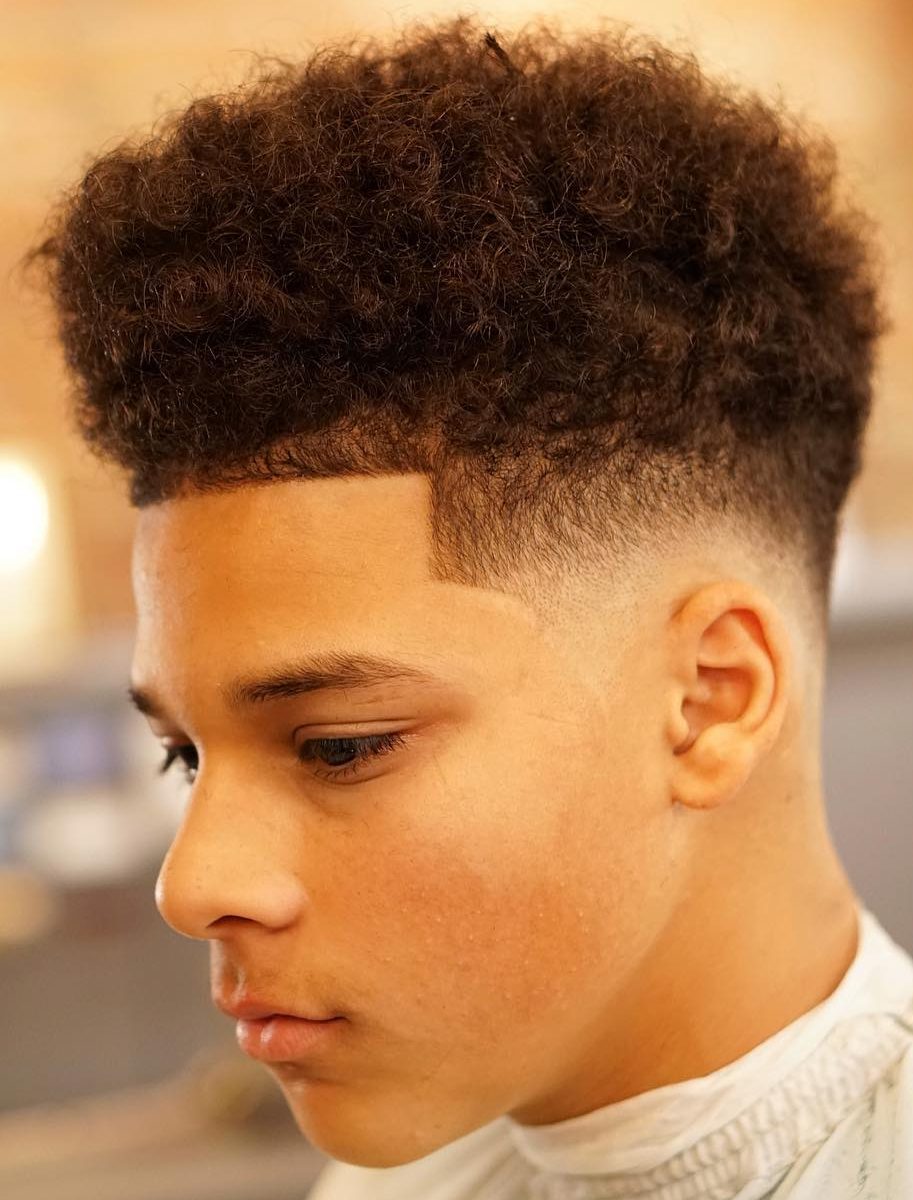 Sours: https://www.menshairstyletrends.com/best-haircuts-for-men/
Which men's hairstyles and trends defined 2021 and which celebrities did everyone want to look like? Here are a few hairstyles that were extremely popular over the past year, all inspired by a celebrity.
This post may have affiliate links, meaning we earn a small commission on purchases through the links (at no extra cost to you). This does not change our opinion but does help support the site. Thank you!
The Best Men's Haircuts for 2021
Best Short Men's Hairstyles
French Crop
It's related to the quiff, but it's significantly lower maintenance. Likely as a confluence of these factors, this haircut featuring a short length, a fade on the sides, and some fringe on top surged in popularity over the past year. Attesting to its adaptability, it delivers texture and that just-slightly-messy look with ease, and stays out of the way throughout the day.
Crew Cut
If you could sum up 2020 with one hairstyle trend, it's this: The classics are returning. While the quiff received most of the attention, the crew cut came in second, perhaps due to its light relationship with the French crop. Rather than keep it short all over, go for a modern update with faded sides and a bit more length on top.
Undercut
The undercut has proved to be one of the more versatile and adventurous cuts out there, and its grip didn't let up throughout 2020. In general, while the undercut can sport short to long hair on top, its definitive factor is the length distinction between both portions, and this leaves room for styling a quiff or adding fringe.
Low, Mid, and High Fades
If it's short on the sides, your hair is generally good to go. Fades have also dominated men's haircut trends throughout 2020, and they can be divided into three types. Low fades go for a nearly uniform length throughout, while a mid-fade adds a bit more body and length around the temples. A high fade approaches French crop territory, with a longer length that quickly tapers into a short length around the ears.
Taking this to extremes, the formal top fade offers enough length for styling – yet, it doesn't approach an 80s flat-top fade – and keeps things short and cropped on the sides.
Buzz Cut
Just take it all off. Zayn Malik, Frank Ocean, and other celebs did just that over the past year, perhaps adding a smattering of hair dye for some variation. It's the original no-maintenance cut, and is likely a reaction to the past few years of pompadours, quiffs, and longer locks.
Caesar Cut
Let's take a trip back to 1999 – but don't frost those tips just yet. A Caesar's essentially the midpoint between fringe and fade, and keeps things simple in the styling and maintenance departments. And, as the 90s and early aughts fashion trends are back in full swing, it seems like the right time to bring back this quintessentially late-90s do.
Best Medium to Long Men's Hairstyles
Quiff
Of course, this one will be right on top. There's no one right way to do a quiff, but its popularity is built on two principles: It's a lazy-man's pompadour (without making you look like you can't be bothered), and there's a version that flatters every face shape. And, maintenance varies, from the simple French quiff to the ducktail-like teddy boy. The sides are faded – but aren't quite an undercut – and most of the work goes into the front.
Faux Hawk
Speaking of early aughts looks making a return, this thing's back, but in a messier, less half-hearted form. Essentially an undercut taken to extremes, the modern faux hawk adds more length on top, brings the fade a little higher, and adds a ton of volume.
The Peaky Blinder
Who knew that a period piece – and its leading man's hair – would become so popular in the menswear circuit? Yet, Cillian Murphy's hair – in spite of the early 20th-century setting – ends up being quite modern with its long, slightly disheveled top and nearly shaved sides.
Curtains
Curtains is the 90s bowl cut by its proper name, and today, it's basically an undercut with more length on top and less volume. For a modern update, avoid any hard edges, yet keep it neat and textured – like rock icon hair without the all-night partying.
Men's Hairstyle Trends in 2021
Fringe
Amongst short- and medium-length cuts, fringe – or pieced bangs, to be more direct – was everywhere this year. At times, it appeared blunt, with a single uniform length all the way across, or it offered a secondary textural dimension through irregular lengths. Either way, we don't see fringe going away any time soon.
Side Parts
Comb it in or have it shaved, if you're being extra edgy. In all cases, side parts were one of the year's ubiquitous hairstyling trends. And, as it adds some definition to an even all-over mussed-up look, it's fairly versatile across short, medium, and long lengths.
Waves
Don't even think about using a curling iron – instead, you've got to let your hair grow out naturally. From there, embrace its naturally wavy character by highlighting it with a texturing paste for that just-out-out-of-the-ocean surfer-esque effortlessness.
Pompadour
Consider it the formal quiff with plenty of retro underpinnings. Although your barber needs to cut your hair in advance, the styling's up to you. These days, it's one way to style long hair without going the modern Grunge rocker route, and offers a more office-appropriate solution if you're looking to experiment with length.
Slicked Back
Or, rather than go through all the styling involved in upkeeping a pompadour, you can just slick it back. The key, here, is you need at least medium-length hair and have to pare down the amount of product used. Otherwise, by the time 3 p.m. rolls around, you're left with a flat, oily slick moving down toward your nape.
Blowout
It's how women with medium- and longer-length hair have styled their locks for years, so now, it's a prime opportunity for men to add volume and keep their shoulder-length -˜dos on point. You don't have to make bi-weekly appointments at the hairdresser's though; instead, learn to finagle a blow-dryer and round brush for the perfect windblown-yet-straight combination.
Comb Over
Due to the current political climate, this hairstyle has gotten a bit of flack in recent years. Yet, at the simplest level, it's a strong, exaggerated side part that creates an asymmetrical illusion – just make sure you have enough hair on both sides.
---
2021 Trend Forecast by Experts
Fades On Point
"Most of the shorter men's hairstyles for 2021 involve some kind of fade on the sides and back. I don't mean really long hair cut on the sides like Boy George in the 80s. But if your hair is long enough for a pompadour on the top, the faded look on the sides is just right for you.
You'll see any length shorter than that worn all kinds of ways – but still with that tight fade on the sides and back. From a tousled top to a crew cut, there's a lot of room this year to do what you want with your hair, while still being on trend."
– Ghanima Abdullah | Hair Expert | TheRightHairstyles.com
---
The Anything Goes
"Gone are the days of just a few hairstyles for men. Nowadays, there are so many trends for men to select from and 2021 will be its epitome. It seems as if it's going to be 'anything goes' this year with men's cuts.
We are seeing awesome buzz cuts that initially rose to prominence with the advent of manual hair clippers. Equally trending is the afro fade. Box braids and twist fades that range from high to low.
Long layers are another prime choice this season along with the slicked-back hair quiff. The quiff is best known for combining the 1950s pompadour hairstyle with the 1950s flattop, and sometimes a mohawk.
Another look taking the stage will be disconnected styles. Think of a disconnected hairstyle as two different hair cuts in one. The name is due to the varying lengths that aren't blended together in any way. This style tends to offer a lot of texture, and responds well to a messy, bold look, especially when the right products are used.
Finally, let's not forget hard parts and designs because they are here to stay for the foreseeable future. The great thing is that anything goes, it's no longer a one size fits all approach. Think lots of texture in 2021!"
– Gina Rivera | Hair Artist & CEO | Phenix Salon Suites
---
Texture Is In
"We are seeing a looser, more grown-out texture when it comes to men's cuts. They aren't going into the office as much and are feeling like they can express themselves through their hair working with more of their natural texture.
As far as shorter cleaner styles, we are dropping the weight distribution lower on head and face shapes and working the movement away from their face. They are also playing with some lighter interest pieces on color through where they have longer lengths.
A lot of the younger male clients are bringing in inspiration photos of women shag cuts from the late 70s."
– Holly Dear | Hair Artist & CEO | Dear Clark Hair Studio
---
Best Celebrity Men's Hairstyles
Blake Shelton
Good for Most Hair Types
Blake's hair has seen it all. He's rocked a mullet, curls, and longer hair. Most recently, his polished look features shorter cropped sides, while the top is left longer to be swept back with molding hair paste.
This cut is very flattering on most, works well from day to night, and is very easy to maintain.
Bradley Cooper
Good for Medium to Thick Hair
Bradley's natural wave is ideal for medium-thick hair. Its uniformed layers add a natural kink and is also easy to maintain. Learn about how he groomed for the Academy Awards.
Kumail Nanjiani
Good for Most Hair Types
Kumail short cut is a classic. The back is cut short, while the top features several layers to give the swept to the side look.
Luis Fonsi
Good for Most Hair Types (Including Thinning Hair)
This look is on-trend right now. Men seem to be going back to pushing their hair forward and up vs. the hard part and brush to the side. It's a cool look and even great for thinner hair.
The back and sides are cropped short, with top layers created for blending. All you need is a little hair paste for the front tips. This cut requires a trim every 4 weeks to maintain.
Jason Momoa
Good for Medium to Thick Hair
Jason has the right hair for a longer cut. Be sure to check with your stylist to see if your mane can handle the length. Just remember, the coarser the hair, the bigger and bushier it will grow out. Also, a longer cut will draw attention to receding hairlines.
Trimming is crucial if you want to grow your hair out. Also, you'll need to invest in a sulfate-free leave-in conditioner*.
---
Pin On Pinterest
Joanna Klubek Pereira is the salon manager and lead stylist at 18|8 Fine Men's Salon (Morristown, NJ). With more than a decade of industry experience, Joanna is known for her expansive experience in hair cutting, men's color correcting and barbering.
Sours: https://www.dapperconfidential.com/celebrity-inspired-hair/
Men's Hairstyles That Women LOVE \u0026 HATE - Girls React
.
Top hairstyles mens
.
🔥 SKIN MID FADE 🔥 $100 MENS HAIRCUT WITH MODERN TEXTURE / BARBER TUTORIAL
.
You will also like:
.
276
277
278
279
280