Lemon Sugar Cookies
These lemon sugar cookies melt in your mouth and have bold lemon flavor! This recipe takes a handful of pantry ingredients and transforms them into light, fluffy, lemony goodness. Every bite makes you think of sunshine! They're perfect anything from family gatherings to cookie trays and bake sales!
I love how the tangy flavors in fruit cookies surprise people when they bite into what looks like plain-Jane cookies. You're going to love these sugar cookies! They're moist, chewy, and lusciously lemony! 
If life gives you lemons, let's make lemon cake mix cookies, lemon crinkle cookies, and lemon white chocolate chip cookies!
Grab your mixer, and let's make some lemon cookies!
What I Love About Lemon Sugar Cookies Recipe
This cookie recipe is so versatile! It's perfect for Christmas, summer BBQs, and anything in between! I also love their:
The moist, chewy texture
Intense lemon flavor
Straight forward prep with simple ingredients
Makes over 2 dozen
Recipe Notes
This cookie is very simple to make, but here are a few reminders!
Chill time: To get thick, moist, chewy cookies, be sure to let the dough chill for at least 2 hours. Overnight is even better!
Don't overwork the dough: As you add the dry ingredients, stop mixing just as soon as there are no more streaks of flour. Scrape the sides and mix for one or two more rotations. That's it! When you are rolling out the dough balls, keep the dough as cool as possible by taking it out in batches.
Ingredient Notes
Butter: For sugar cookies, you cannot substitute margarine. You need good old fashioned butter for the best taste and texture!
Icing: I love these cookies without icing, but if you want to make lemon sugar cookies with icing, you can make a simple lemon glaze to top them.
Whisk together 2 1/4 cups powder sugar, 1/2 cup lemon juice, and some lemon zest. Add more juice to make it thinner. You could also consider using a cream cheese icing with these!
Shaping: I didn't intend for this to be a cutout cookie recipe, but if you want to try lemon sugar cookies cut out, I do think this dough will work. It might be a little soft, but as long as you don't over handle it, keep it cool, and liberally flour your rolling pin and work surface, it should work!
Storing Tips
Be sure to allow the cookies to cool completely before storing them in a well-sealed container. Keep them in a cool pantry for the longest shelf life.
Can You Freeze This?
These cookies freezes well. You can freeze the dough by rolling and flattening the dough as usual on the cookie sheet. Just stick the whole sheet in the freezer for about 2 hours. Put the frozen dough balls in a freezer bag.
You can bake them from frozen by adding a couple of extra minutes to their bake time.
The best way to freeze baked cookies is to individually wrap the completely cooled cookies in cling wrap and put them into a freezer container. A rigid container would be best for these cookies since they are a little bit fragile!
Make Ahead Tips
The dough for this cookie will keep in the fridge for up to 2 days!
How Long Can You Keep This?
According to food handling guidelines, baked cookies will keep in the pantry for about 5 days. Frozen dough is good for about 2-3 months, and frozen baked cookies should last close to 6 months.
Recipe Variations
Like this recipe, there are lots of variations on the classic butter cookie. Here are some ideas!
What Other Sugar Cookies Can I Bake?
Sugar cookies can sometimes be a little labor intensive with the required chill time and rolling out. To streamline the process, Sugar cookie barsskip the rolling out, and no chill sugar cookiesare designed to go straight into the oven!
They're great options when you want sugar cookies but are short on time. Another great option is my cinnamon sugar cookies!
What Other Desserts Can I Make With Lemon Flavor?*
I think lemon-flavored cookies are just the right amount of sweet and tart for a dessert after a big meal. Lemon Ricotta Cookies and lemon drop cookies are both chewy, moist, and loaded with lemon! Lemon meringue cookies are a fun twist on the classic pie! 
Can I Add Chocolate Chips?
Chocolate and lemon are a fun flavor combo! You could try stirring in about 1 cup of chips and see how it goes! If you want a great fruit and chocolate chip cookie, check out my banana chocolate chip cookies. They're ultra moist and super chocolaty!
I also love pumpkin chocolate chip cookiesand strawberry chocolate chip cookies. Make them all for a buffet of fruity chocolate chip cookies!
Would These Make For Good Christmas Treats?
This recipe is perfect for a Christmas treat! They'll go perfectly with decorated Christmas sugar cookies or lemon shortbread cookies. 
Can I Turn These Into Lemon Bars?
 The only thing I love more than lemon cookies is lemon bars! I can't get enough of their chewy, sweet/tart deliciousness! Lemon Cheesecake Bars take it to the next level with a tangy cream cheese filling. I also love my lemon coconut barswith their tropical flavors!
Lemon Sugar Cookies
Lemon Sugar Cookies take the classic cookie to a new level with a big lemon kick! This soft, moist cookie uses simple ingredients and is so easy to make!
Instructions
In a medium mixing bowl, whisk together flour, baking powder, and salt. Set aside.

In the bowl of a stand-up mixer, cream together butter and sugar until light and fluffy. Add egg, vanilla, and lemon zest and mix until combined.

With the mixer on low, gradually add the flour, just until incorporated (do not overmix). Flatten dough into a disk and wrap in plastic. Refrigerate for at least 1 hour or overnight.

Preheat oven to 350 degrees. Line baking sheets with parchment paper or silicone baking mats.

Roll dough on a lightly floured surface to 1/2 inch thick and Use cookie cutters to cut into desired shapes. Place on baking sheet 1 inch apart.

Bake in preheated oven 12-14 minutes. Cool on baking sheets for about 7 minutes. Remove and finish cooling on a baking rack.

When cookies are completely cooled, whisk together the confectioners' sugar, lemon zest and 1 tablespoon of milk, at a time, until glaze reaches drizzling consistency.

Place cookies on a wire rack set over a sheet of foil and drizzle with glaze. Sprinkle with jimmies or colored sugar as desired. Allow cookies to sit on the rack until the glaze is fully set, about 3 hours.
Fans Also Made:
None found
RATE THIS RECIPE
Nutrition
Serving: 1cookie | Calories: 144kcal | Carbohydrates: 21g | Protein: 1g | Fat: 6g | Saturated Fat: 4g | Cholesterol: 22mg | Sodium: 76mg | Potassium: 26mg | Fiber: 1g | Sugar: 12g | Vitamin A: 197IU | Vitamin C: 1mg | Calcium: 9mg | Iron: 1mg
© Gonna Want Seconds. Content and photographs are copyright protected. Sharing of this recipe is both encouraged and appreciated. Copying and/or pasting full recipes to any social media/website/blog is strictly prohibited.
More Sugar Cookies Recipes…
Tis the season for Sugar Cookies Recipes! Be sure to try these!
Pumpkin Sugar Cookies– ultra moist and perfectly spiced
Lofthouse Sugar Cookies – Just like the light and fluffy classic treats
Alton Browns Sugar Cookies – Scientifically proven to be delicious
Sour Cream Sugar Cookies – Sour cream makes them extra rich and moist
Halloween Sugar Cookies – Perfect for cutting out for any season
Conclusion
One of my favorite things about lemon sugar cookies is watching people take the first bite. They don't expect that lemony kick, and it always makes their eyes light up! I can't wait to hear what you think of them. Be sure to comment below!
cookies30 minutes meals, lemon cookies, sheet pan, sugar cookies, winter
Sours: https://www.gonnawantseconds.com/lemon-sugar-cookies/
Copy Cat Lofthouse Cookies
With Valentine's Day coming up, I thought I'd whip up an easy sugar cookie to share with you guys. The main reason why I love these cookies is because they don't require rolling and cutting like many sugar cookies. Oh, they're delicious too. That's another reason why I like them.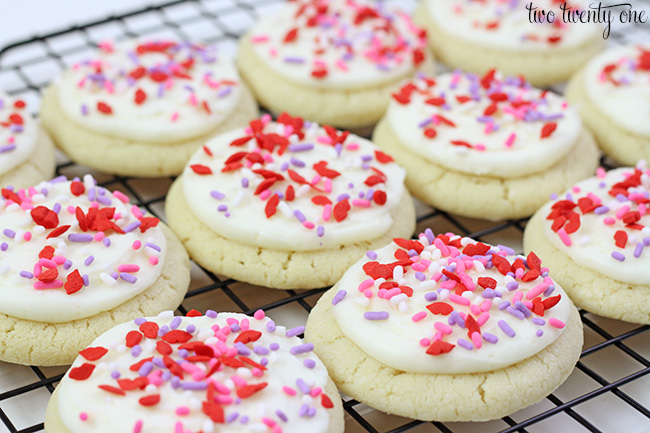 If you make these you're more than welcome to add some food coloring to the icing to jazz things up a bit. You can also eat half of the icing out of the bowl. I don't care what you do, and I'm not here to judge.

Valentine's Day Sugar Cookies
Soft, easy-to-make sugar cookies!
Keyword: sugar cookie, valentine's day
1cupbuttersoftened
1 1/2cupsugar
1 1/2teaspoonvanilla
1egg
2 3/4 cupall-purpose flour
1teaspoonbaking soda
1/2teaspoonbaking powder
1/2cupbuttersoftened
2 1/2cuppowdered sugar
2tablespoonsmilk
Combine flour, basking soda, and baking powder. Set aside.

In a separate bowl, cream butter and sugar together until smooth.

Blend in dry ingredients.

Roll dough into 1-inch balls, slightly squishing them flat.

Remove to wire racks to cool.
Add more sugar or milk to get desired consistency.
Happy baking, friends!
 Check out my other popular dessert recipes!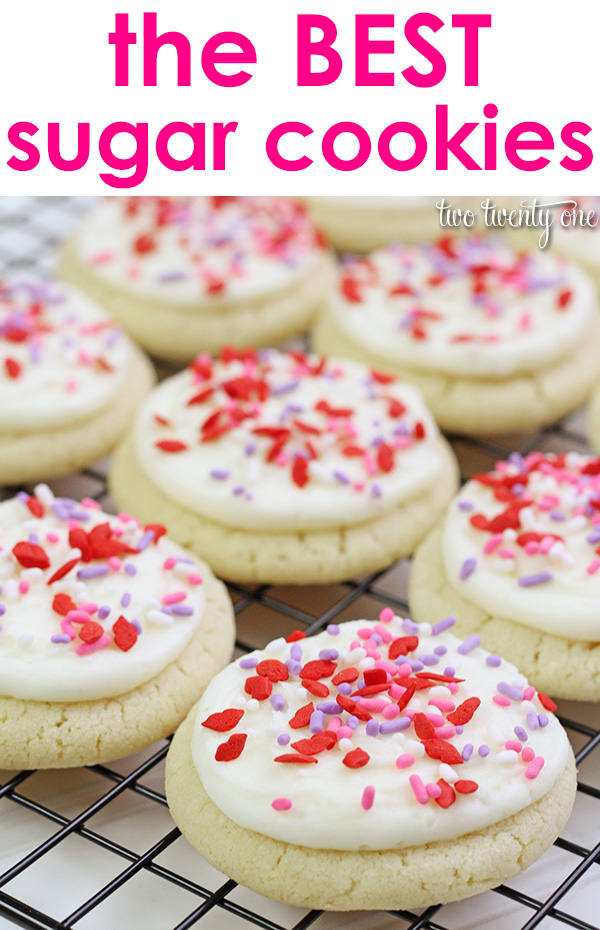 Filed Under: dessert, recipes, valentine's day
Sours: https://www.twotwentyone.net/valentines-day-sugar-cookies/
Ready to Reserve Your Wedding Cake?
Almond Cake - Gluten Free
20.00
Almond Chocolate Cake
0.00
Amaretto Chocolate Cake
0.00
Bailey's Chocolate Cake
0.00
Blackberry Cake - Gluten Free
30.00
Blood Orange Mimosa Cake
20.00
Champagne Cake - Pink
15.00
Champagne Cake - White
15.00
Chocolate Cake - Gluten Free
20.00
Chocolate Chip Cake - Gluten Free
25.00
Chocolate Chocolate Chip Cake
0.00
Chocolate Covered Banana Cake
15.00
Chocolate Praline Cake
0.00
Cinnamon Cake - Gluten Free
20.00
Coconut Cake - Gluten Free
35.00
Colored Marble Swirl Cake
15.00
Cookies & Cream Cake
10.00
Cream Cheese Pound Cake
0.00
Cream Cheese Pound Cake - Gluten Free
30.00
French Vanilla Cake - Gluten Free
20.00
German Chocolate Cake
10.00
Green Tea Matcha Cake
15.00
Hazelnut Chocolate Cake
0.00
Hazelnut Chocolate Cake - Gluten Free
25.00
Hazelnut White Cake - Gluten Free
25.00
Kahlua Chocolate Cake
15.00
Key Lime Cake - Gluten Free
30.00
Marble Cake - Gluten Free
25.00
Mint Chocolate Cake - Gluten Free
25.00
Neapolitan Cake - Gluten Free
30.00
Orange Dreamsicle Cake
15.00
Peach Cake - Gluten Free
20.00
Raspberry Cake - Gluten Free
30.00
Strawberry Cake - Gluten Free
30.00
White Chocolate Cake - Gluten Free
25.00
White Chocolate Strawberry Cake
15.00
White German Chocolate Cake
0.00
Sours: https://www.confectionperfectioncakes.com/shop-products/gucci-cookies-hol-125-127
Fun Fall Cookies
Recipe Excerpt From Melissa Weller's Cookbook 'A Good Bake': Chocolate Sugar Cookies
Musket Room knows the importance of a good holiday cookie. The Michelin-starred restaurant has teamed with James Beard award-winning pastry chef Melissa Weller, formerly the head baker at Per Se, Roberta's and Bouchon, for a one-day cookie pop-up on Dec. 13. Weller worked in collaboration with Musket Room executive chef Mary Attea to create a box of Japanese-inspired desserts, incorporating ingredients like yuzu, matcha, shiso plum jam and pocky. The box will be available to preorder via Resy and pick up from "MR All-Day," the restaurant's outdoor stand operating out of a vintage Harvester truck parked at 265 Elizabeth St. in SoHo. Musket Room's own pastry chef Camari Mick is also offering her own spin on a holiday treat box, which includes challah, eggs and traditional holiday cookies.
Drawing on her many years of working in the New York restaurant world — Weller also founded Sadelle's, and was a partner at High Street on Hudson — the baker penned her first cookbook, "A Good Bake." Below, a cookie recipe excerpt from the book, released in November.
Chocolate Sugar Cookies
Makes 16 to 18 (2-inch) cookies

These are everything I want in a chocolate sugar cookie: they're really chocolaty, not too sweet, ever-so-slightly salty, and a bit chewy. And they have that beautiful crackle on top that, for me, is the sign of a perfect rise-and-fall cookie. 
A rise-and-fall cookie refers to one that rises in the oven and then falls when you take it out. The rise-and-fall process is a result of the baking soda reacting with the cocoa powder and brown sugar before the cookie is set. When the cookies are removed from the oven, they fall, giving them that crackle top. How quickly the cookie rises before it sets up is the key to achieving that finish. For these cookies, to ensure they rise quickly, I don't refrigerate the dough before baking, which causes the cookies to rise more quickly than if the dough were cold. I use Valrhona cocoa powder to make these, which in my opinion is the best there is, but if you can't find Valrhona, the cookies will be delicious with whatever cocoa powder you use. And I make them with dark brown sugar in place of the more typical granulated sugar, which gives a depth of flavor to an otherwise straightforward cookie.
All-purpose flour — 2 cups (240 grams)
Cocoa powder (preferably Valrhona) — 1⁄2 cup (43 grams)
Baking soda — 1 teaspoon (5 grams)
Fine sea salt — 1⁄2 teaspoon (3 grams)
Unsalted butter, cubed and softened — 16 tablespoons (2 sticks) (226 grams)
Dark brown sugar — 1 1⁄2 cups (lightly packed) (300 grams)
Large egg — 1 egg (50 grams)
Pure vanilla extract — 1 teaspoon (5 grams)
Granulated sugar — 1⁄2 cup for rolling (100 grams)

Get prepared
Arrange the oven racks so one is in the center position. Preheat the oven to 350°F.
Line two baking sheets with parchment paper.
Make the dough
Put the flour, cocoa powder, baking soda, and salt in a medium bowl and whisk to combine the ingredients. Set aside.
Put the butter and brown sugar in the bowl of a stand mixer. Fit the mixer with the paddle attachment and beat on medium speed for 2 to 3 minutes, stopping to scrape down the sides of the bowl with a rubber spatula once or twice, until the mixture is light and fluffy. Turn off the mixer, add the egg and vanilla, and beat until the egg is thoroughly incorporated, 1 to 2 minutes, stopping to scrape down the sides of the bowl once during that time. Add the dry ingredients and mix on low speed until no flour is visible, stopping to scrape down the sides of the bowl once during the process.
Form and bake the cookies
Pour the granulated sugar into a small bowl. Scoop a 2-tablespoon (50-gram) portion of dough and roll it between the palms of your hands into a ball. Roll the ball in the bowl with the sugar to coat it all over. Place the ball on one of the prepared baking sheets. Continue scooping and rolling the dough, leaving about 2 inches between each ball.
When you have filled one baking sheet, place it on the center rack of the oven and bake for 12 to 14 minutes, until the cookies have puffed up and have cracked as they've fallen back down, rotating the baking sheet from front to back midway through the baking time. Remove the baking sheet from the oven and let the cookies cool to room temperature for about 2 minutes. Use a metal spatula to transfer them to a cooling rack to cool completely.
While the cookies are baking, roll 6 more balls and place them on the second baking sheet. While the first batch is cooling, put the second batch of cookies in the oven and bake them as you did the first batch. Repeat with the third batch of cookies.
Store the cookies in an airtight container at room temperature for up to 
one week or freeze for up to three months.
Excerpted from "A Good Bake: The Art and Science of Making Perfect Pastries, Cakes, Cookies, Pies, and Breads at Home" by Melissa Weller with Carolynn Carreño. Copyright © 2020 by Melissa Weller. Excerpted by permission of Alfred A. Knopf, a division of Penguin Random House LLC. All rights reserved. No part of this excerpt may be reproduced or reprinted without permission in writing from the publisher.
More From the Eye:
Momofuku Eyes the Grocery Aisle
Ojai Valley Inn Announces The Restaurant at Meadowood Winter Residency
Former Eleven Madison Chef Connie Chung Opens Milu
Sours: https://wwd.com/eye/lifestyle/melissa-weller-recipe-excerpt-chocolate-sugar-cookies-cookbook-a-good-bake-1234674338/
Cookies gucci sugar
Italian Fig Cookies (Cucidati)
This post may contain affiliate links. Please read my disclosure policy.
Italian Fig Cookies, Cucidati, Sicilian Fig Cookies, or Christmas Fig Cookies are a few of the names you might find for this deliciously moist, tender and sweet, fruit filled cookie.
With notes of citrus from fresh orange juice and lemon zest, the unique and richly spiced filling is wrapped inside a buttery sugar cookie dough that's a dream to work with. Baked in strips then sliced into individual cookies when warm from the oven, this method couldn't be easier. Once cooled the cookies are drizzled with a lemon glaze and traditional holiday nonpareils (sprinkles.)
What are figs anyway?
We all often assume figs are a fruit because they grow on a tree. But interesting enough, figs are actually an inverted flower! The flowers bloom inside the pod – isn't that cool! Figs also have plenty of health benefits, and both dry and fresh figs are good for you. Figs are one of my favorite treats. Their natural sweet flavor satisfies even the biggest craving for dessert. The moist and lightly sweet filling in these Italian Fig Cookies is made by gently cooking the figs with chopped dates, or raisins, a touch of rum, orange juice, cinnamon and lemon zest. Chopped almonds are added at the end, then the thick mixture is cooled before spreading on strips of tender vanilla cookie dough.
Italian Fig Cookies are much easier to make than you'd think.
Once each of the components are prepared, the cookies bake up quickly. I love a multi-step baking processes that looks like you worked hard all day, but is super easy.
Can you freeze Italian Fig Cookies?
In addition to having a wonderful flavor, these cookies freeze well and travel wonderfully when properly packed. The unique flavor is like no other with the spicy, aromatic, fruity filling and simple sugar cookie dough. A must try for your holiday table!
We're almost done with our holiday cookie tour with the last recipe posting on Friday. Pictured above are the Vanilla Pretzel Cookies, Roczki Cookies (Kolacky), chocolate dipped Tuile Cigar Cookies (Pirouettes), and this Italian Fig Cookie.
Thanks for PINNING!
Let's be baking friends! When you try our recipe please feel free to leave a comment on this post. I'm sure your experience and insights will help all our readers, and me too. Also, if you're on Pinterest feel free to leave a comment and photo there if you have one! If you share on INSTAGRAM tag @savingroomfordessert so we can stop by and give your post some love. And we'd be very happy if you'd FOLLOW Saving Room for Dessert on FACEBOOK| INSTAGRAM| PINTEREST | TWITTER and subscribe to our YOUTUBE channel for all the latest recipes, videos and updates. Thank you!!!
PRINT THE RECIPE!
Italian Fig Cookies (Cucidati)
Total Time: 3hrs57mins
PRINT RECIPE
Italian Fig Cookies, Cucidati, Sicilian Fig Cookies, or Christmas Fig Cookies are a few of the names you might find for this deliciously moist, tender and sweet, fruit filled cookie.
Ingredients
For the dough:
½ cup unsalted butter room temperature (113g or 4oz)
¼ cup granulated sugar (55g)
¼ cup light brown sugar packed (56g)
1 large egg room temperature
1 teaspoon vanilla extract
1 ¾ cups all-purpose flour (226g)
¼ teaspoon baking soda
½ teaspoon salt
For the fig filling:
1 cup dried Calimyrna or Mission figs stems removed and diced (6 or 7 ounce package)
½ cup chopped pitted dates finely chopped (or substitute raisins if preferred)
½ cup orange juice fresh squeezed (about 1 orange) (4oz)
⅓ cup diced candied orange peel
2 tablespoons granulated sugar
1 teaspoon lemon zest
¼ teaspoon ground cinnamon
⅓ cup blanched almonds chopped fine
2 tablespoons dark spiced rum or Grand Marnier orange liqueur
For the lemon glaze:
1 cup powdered sugar sifted (115g)
2 teaspoons fresh lemon juice (add more if needed for desired consistency)
Sprinkles for decoration if desired
Instructions
To prepare the dough:
In a large mixing bowl beat the butter on medium-high speed using an electric mixer until smooth and creamy, about 1 minute. Add the granulated sugar and brown sugar and mix until combined. Add the egg and vanilla and blend just until incorporated. Scrape the sides of the bowl and beat again for a few seconds. Whisk together the flour, baking soda and salt. Add the flour mixture to the dough in three additions, mixing on low to incorporate.

Divide the dough in half and form each into a small rectangle. Wrap the dough in plastic wrap and refrigerate for at least 3 hours or up to overnight.
To prepare the filling:
In a small saucepan, combine the figs, dates, orange juice, candied orange peel, sugar, lemon zest and cinnamon. Bring the mixture to a boil over medium-high heat. Reduce the heat to medium-low and simmer for 5 to 8 minutes or until fruit is soft and the mixture is thick. Remove from the heat and add the chopped blanched almonds and 2 tablespoons Grand Marnier, if using. Set aside to cool to room temperature. Cover with plastic wrap once cooled until needed.

To assemble and bake the cookies, preheat oven to 375°F. Line a baking sheet with parchment paper and set aside. Remove the dough from the refrigerator and allow it to rest for 10-15 minutes before rolling out.

Place a piece of wax or parchment paper (at least 14x10 inches) on a clean work surface. Generously dust the paper with flour. Roll one portion of the dough into a 10x8-inch rectangle. Cut each rectangle into two 10x4-inch strips. Portion 1/4 of the filling down the center of each strip (in a rounded mound). Chill the dough for 10-15 minutes before rolling. Use the parchment paper as a guide and bring one long side of the dough up and over the filling. Repeat with the opposite side forming a tube and enclosing the filling. The dough should overlap slightly on top of the filling. Gently seal the edges.

Carefully transfer the filled strips to the prepared baking sheet placing them seem side down on the pan. Bake for 12 minutes or until lightly browned.

Remove from the oven and immediately slice each strip (using a large thin knife) diagonally into 1-inch pieces. Transfer the cookies to a wire rack to cool.
For the lemon glaze:
Combine the powdered sugar and lemon juice in a small bowl and whisk until smooth. Drizzle on each cookie then top with colored sprinkles if desired.
Recipe Notes
Chopped candied orange peel can be found in the section of your grocery store with fruit cake ingredients.
We use Grand Marnier in this recipe.
Nutrition information is calculated using an ingredient database and should be considered as an estimate. In cases where multiple ingredient alternatives are given, the first listed is calculated for nutrition. Garnishes and optional ingredients are not included.
Adapted from a Better Homes and Gardens recipe published in Christmas Cookies, 2003
Nutrition
Calories: 104kcal | Carbohydrates: 17g | Protein: 1g | Fat: 3g | Saturated Fat: 2g | Polyunsaturated Fat: 1g | Monounsaturated Fat: 1g | Trans Fat: 1g | Cholesterol: 11mg | Sodium: 45mg | Potassium: 69mg | Fiber: 1g | Sugar: 12g | Vitamin A: 96IU | Vitamin C: 2mg | Calcium: 15mg | Iron: 1mg
Recommended – SRFD's Favorite Cookie Sheet:

We love these AirBake Natural Cookie Sheets for baking cookies. The air insulation prevents the top sheet from overheating which prevents burning. My favorite feature is being able to slide an entire sheet of parchment onto a cooling rack, with cookies still attached! Slide the next sheet of cookie dough filled parchment onto the pan and bake. They're inexpensive and easy clean too!
*Saving Room for Dessert is a participant in the Amazon Services LLC Associates Program ~ I earn a small commission, at no additional cost to you, which I use to pay for web hosting and services for this blog. Thanks for supporting SRFD!
Here are a few more holiday cookies you might enjoy – from all around the world!
Thanks so much for stopping by … and for following along as we bake our way through the holidays!
Tricia
SaveSave
SaveSave
Sours: https://www.savingdessert.com/italian-fig-cookies-cucidati/
Easy Sugar Cookie Recipe - Rolled Sugar Cookies for Christmas
.
Now discussing:
.
219
220
221
222
223