Malware disguised as Minecraft modpacks discovered on Google Play store: Report
FP TrendingJun 22, 2021 17:34:35 IST
Minecraft, a popular and best-selling game, has not only attracted the attention of gamers globally but also scammers. In November 2020, Kaspersky had found over 20 malicious applications being advertised offering additional features in Minecraft. Though these malicious apps were deleted from official stores, Kaspersky experts have found newly developed ones, which exploit the game to further fraudsters' objectives.
Researchers at Kaspersky found various malicious apps stealing social media credentials of users and spreading adware. Many of such apps claimed to be game modpacks (user-created packages with additional gameplay elements) and can be downloaded from Google Play store.
As per the research, the discovered apps can enable your browser, Google Play Store's app pages, or Youtube Video Links to suddenly pop up while loading extra modules to hide icons. They can disrupt the smooth functioning of your smartphone or tablet.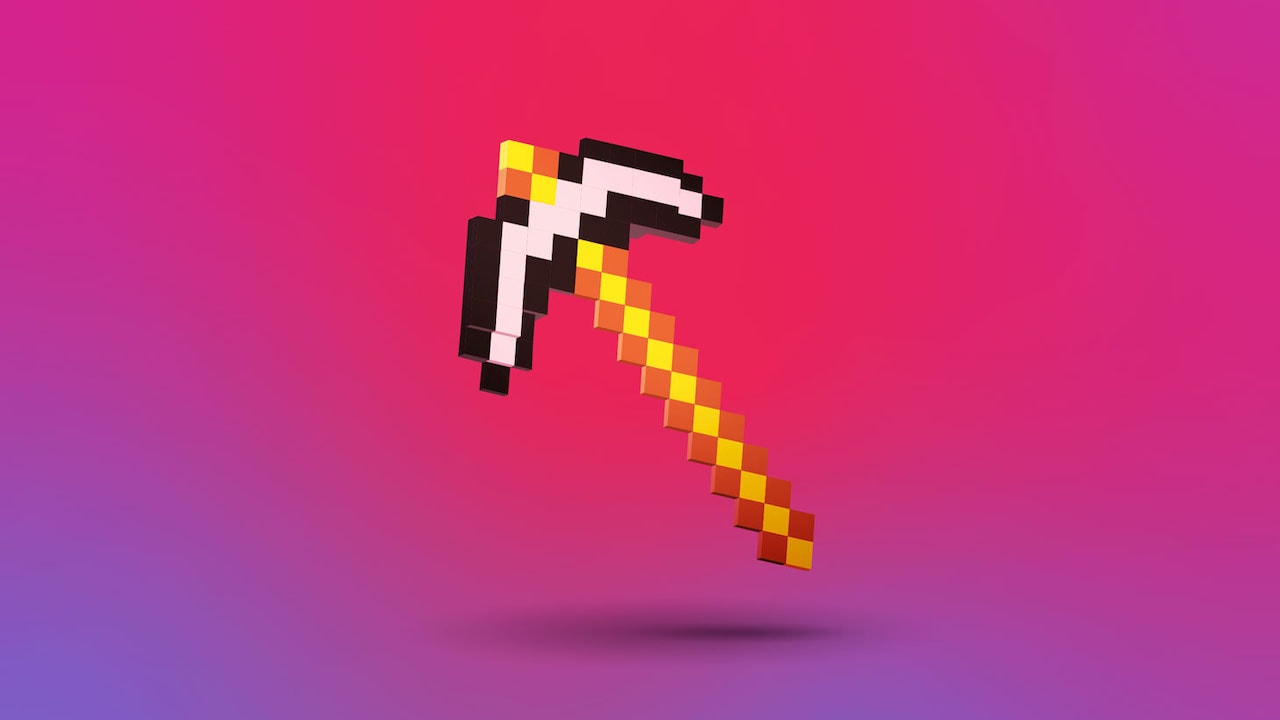 Image: Kaspersky Daily
Secondly, researchers have identified two modpacks with basic features where an app displays full-screen ads even when the application is not open on your screen. Unfortunately, they cannot hide the icon and launch a browser, YouTube, or Google Play. The developers use the "In-App Purchase" feature for additional monetization through apps.
"Unfortunately, deleting applications from official stores does not always lead to victory over the malware. We see that the developers upload new modified versions to the store - under different names and different developer accounts. This is why we strongly recommend installing a reliable security solution that will prevent the download of dangerous programs. Acting at this early stage will help you to bypass potential threats and focus on enjoying the game," said Igor Golovin, security expert at Kaspersky.
Researchers recommended various ways to keep your devices safe from such malicious apps:
Users must not download mods from suspicious sites or pirated software because attackers are aware of people's tendency to go for free stuff
An antivirus solution like Kaspersky Internet Security can be installed on the smartphone. Users must be mindful of not turning off their antivirus when playing
In case any malicious app is discovered, rather than reinstalling the browser or changing the settings, users need to identify the app which is causing problems. The device will display a full list of apps under settings, (Settings → Apps and notifications → Show all apps). Delete the app in order to remove the malware
Lastly, purchase games only after carefully checking the reputation of the application and distribution account before downloading a game
Sours: https://www.firstpost.com/tech/news-analysis/malware-disguised-as-minecraft-modpacks-discovered-on-google-play-store-report-9742951.html
Malware in Minecraft mods: story continues
Although we recently reported finding 20 apps in Google Play posing as Minecraft modpacks — the most popular with more than a million downloads — Minecraft-themed malware continues to pop up in Google Play. Instead of doing anything they claimed, the apps turned users' smartphones and tablets into extremely intrusive advertising tools.
To be clear, the apps were totally useless from a user perspective. Instead, after the first run they hid their icons and repeatedly opened the browser to flash ads. They could also play videos from YouTube, open Google Play app pages, and more. The version we analyzed, for example, opened the browser every two minutes, rendering the device essentially unusable. The thing was especially troubling, because it was extremely hard for a user to figure out what was going on, which app was responsible for the troubles and how to stop it.
We notified Google about our find, and the malicious apps were quickly removed from the store.
New versions of malicious apps
Deletion from Google's app store does not necessarily defeat malware; historically, its makers simply upload new, slightly modified, versions using different names and from different developer accounts.
One example of the cycle comes from the VK Music Trojan, which stole VK user accounts and, despite being reported, dug in to Google Play for severalyears.
Mindful of that, we revisited the case of the harmful Minecraft modpacks in Google Play to find out whether reporting had helped. To that end, we launched a search for similar apps — and found some.
New, improved versions
First, we found several apps using the abovementioned approach, but with some improvements. In a basic scenario the apps accept push message commands from the attackers to show full-screen ads (no user interaction required). The apps are designed to download an extra module as well. With that module downloaded, more functions become available, enabling the apps to hide their icons, run the browser, play YouTube videos, open Google Play app pages, and so forth.
This time, the list of compromised apps included, in addition to Minecraft mods, a file recovery utility called File Recovery – Recover Deleted Files. Version 1.1.0, available from Google Play until February 2021 had a malicious payload. That version has been removed, and version 1.1.1, which is now on Google Play, is safe.
Simplified version with paid subscription on Google Play
Second, we found a couple of Minecraft modpacks with basic functionality, a configuration in which the apps occasionally show full screen ads, even with the app inactive, but are unable to hide their icons or run the browser, YouTube, or Google Play. For extra monetization, the in-app purchases function is used.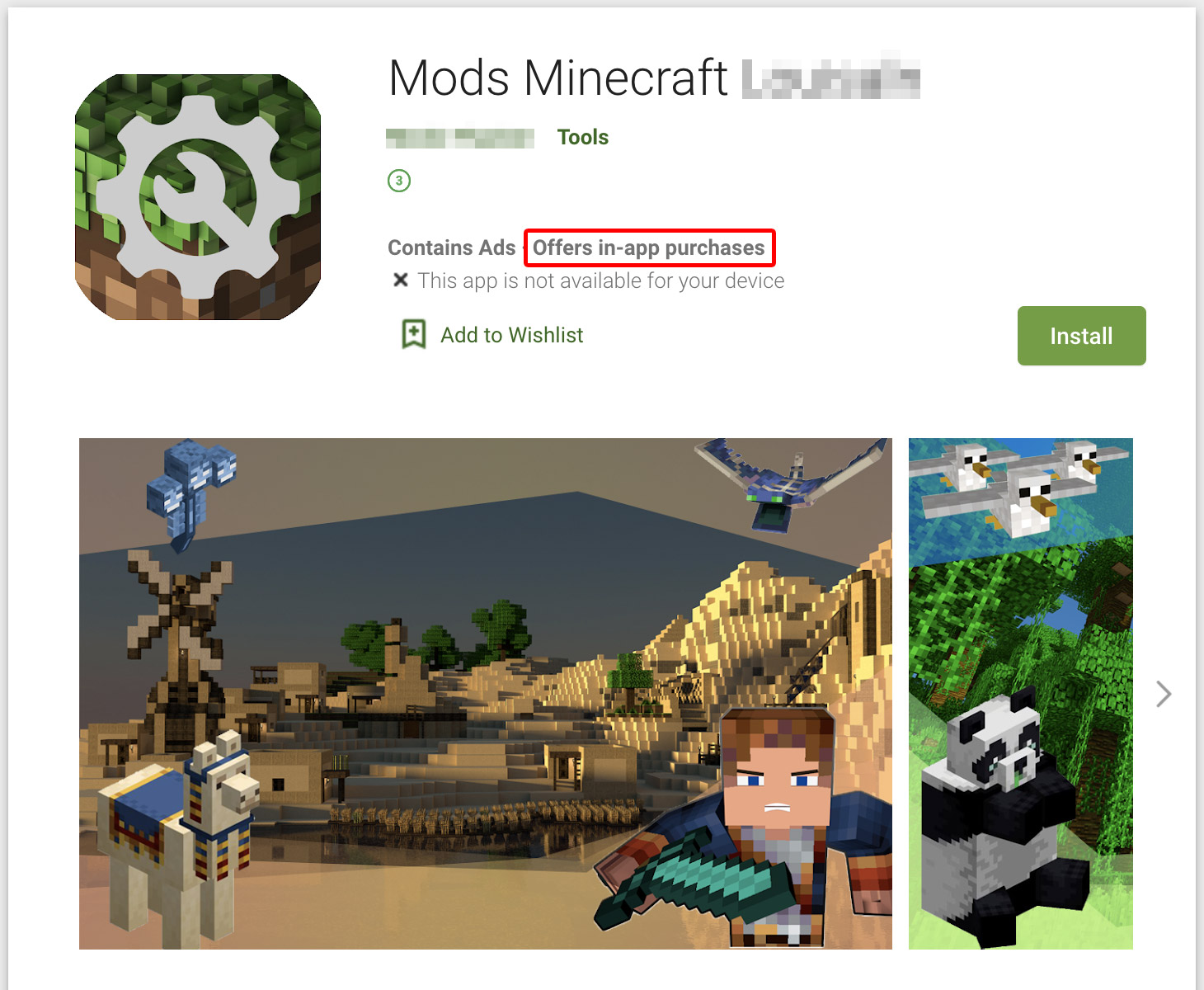 One of the malicious Minecraft modpacks in Google Play
Interestingly, one of the apps is now available from the store as a "basic" version and with in-app purchases enabled, whereas a couple of months back it relied on the extra downloadable module. From this we conclude that their owners are continuing to experiment with monetization options.
Facebook-account-stealing version
Third, we found several more apps were found in which the described above malicious functionality was not the core one. A while ago, for example, Google Play carried a fake Madgicx advertising network app and a fake TikTok ad-management app that would insistently prompt for the user's Facebook account data and, if user provided it, would steal the account.
Apps from alternative stores
Finally, many such apps remain available from alternative stores even after Google removes them from its store. Which is no surprise; even Google, with vastly more resources than the average company, can't always promptly moderate the great volume of existing apps. Yet we decided to mention this aspect here, as it provides clear evidence that alternative stores are unsafe to use. If still intending to use them for whatsoever reason, at least install a reliable mobile antivirus to protect you against dangerous apps.
That said, as we see from this story, as well as manyotherepisodes of malware gettinginto the official Google app store, even if you download your apps only from Google Play, you are still better off with an antivirus on your smartphone.
Sours: https://www.kaspersky.com/blog/minecraft-mod-adware-google-play-revisited/40202/
Minecraft
Explore infinite worlds and build everything from the simplest of homes to the grandest of castles. Play in creative mode with unlimited resources or mine deep into the world in survival mode, crafting weapons and armor to fend off dangerous mobs. Create, explore and survive alone or with friends on mobile devices or Windows 10.

EXPAND YOUR GAME:
Marketplace - Discover the latest community creations in the marketplace! Get unique maps, skins, and texture packs from your favorite creators.

Slash commands - Tweak how the game plays: you can give items away, summon mobs, change the time of day, and more.

Add-Ons - Customize your experience even further with free Add-Ons! If you're more tech-inclined, you can modify data-driven behaviors in the game to create new resource packs.

MULTIPLAYER
Realms - Play with up to 10 friends cross-platform, anytime, anywhere on Realms, your own private server that we host for you. Try a free 30-day trial in-app.

Multiplayer - Play with up to 4 friends with a free Xbox Live account online.
Servers - Join free massive multiplayer servers and play with thousands of others! Discover gigantic community-run worlds, compete in unique mini-games and socialize in lobbies full of new friends!

SUPPORT: https:///www.minecraft.net/help
LEARN MORE: https:///www.minecraft.net/
Sours: https://play.google.com/
CZYTANIE KOMENTARZY ZE SKLEPU GOOGLE PLAY edycja MINECRAFT z SZYMEQ XDD
Screenshots
Description
Explore infinite worlds and build everything from the simplest of homes to the grandest of castles. Play in creative mode with unlimited resources or mine deep into the world in survival mode, crafting weapons and armor to fend off dangerous mobs. Create, explore and survive alone or play with friends on all different devices.

EXPAND YOUR GAME:
Marketplace - Discover the latest community creations in the marketplace! Get unique maps, skins, and texture packs from your favorite creators.

Slash commands - Tweak how the game plays: you can give items away, summon mobs, change the time of day, and more.

Add-Ons - Customize your experience even further with free Add-Ons! If you're more tech-inclined, you can modify data-driven behaviors in the game to create new resource packs.

Minecraft Realms auto-renewable subscription info:

Minecraft now comes with the option to buy Minecraft Realms. Realms is a monthly subscription service that lets you create your own always-online Minecraft world.
There are currently two subscription options to choose from depending on how many people you want to invite to play in your realm simultaneously. A realm for you and 2 friends costs 3.99 USD/month (or local equivalent) and a realm for you and 10 friends cost 7.99 USD/month (or local equivalent).
A 30-day trial of Minecraft Realms for you and 10 friends is available. Any unused portion of a free trial period will be forfeited when the user purchases a subscription.

The payment will be charged to your iTunes account at confirmation of purchase and the subscription automatically renews unless auto-renew is turned off at least 24-hours before the end of the current period. Your account will be charged for renewal within 24-hours prior to the end of the current period, at the subscription price option you have previously selected.

Your subscription can be managed by the user and auto-renewal may be turned off by going to the user's Account Settings after purchase. There is also a button in-game that take you to these settings. If you cancel after your subscription has activated, you won't be refunded for the remaining active period of the subscription.

Here are links to our privacy policy and terms of use:
- Privacy policy: https://account.mojang.com/terms#privacy
- Terms of use: https://account.mojang.com/terms
What's new in 1.17.34:
Various bug fixes
Ratings and Reviews
4.5 out of 5
493.5K Ratings
Editors' Choice
If you can imagine it, you can create it—anything from monolithic towers to cavernous rollercoasters. That's the idea that sparked a world-building phenomenon in Mojang's amazing Minecraft. Since the game's release on the App Store, a steady stream of meaningful updates has kept this cube-filled universe fun, fresh and jam-packed with exciting features.
Weird custom skin glitch
I've been playing Minecraft PE since 2011 and it's awesome! But ever since Character Creator has been added to the game, my custom skins have been looking off. I use slim-armed skins because I prefer them over classic skins but the glitch only occurs on slim-armed skins. Let's say you have a slim-armed skin, and you wanted a unique design on each leg. Like different-lengthened socks, or a flower on one and a star on the other. Then when you upload the skin on the game, whatever way you designed the right leg (it looks like the left leg if you look straight at the skin) gets copy and pasted automatically onto the left leg (right leg if you look at the skin straight at the face). It looks distorted, as I don't know if other players can or cannot see the error besides yourself, but it's basically both legs are symmetrical while a lot of skin designers like not making symmetrical, and the second layer on the leg that gets changed to looking like the other stays. So basically the glitched leg looks exactly like the other leg that looks perfectly fine, but has second layer on it. Like then both legs would have like a flower on it but the star's second layer is stuck on top of the copy and pasted flower. Pretty odd right? For me it makes me feel like I have OCD, I can't stand skins that have something off on it, sorry. It doesn't do the glitch on classic skins though. So, if you can fix it, please do.
The old days..
Yes, it's true, I'm an OG. I've been playing cave game, now Minecraft for as long as it's been out. I remember how you could press g or h and you could "Clone" yourself. The old days of classic. I remember when there was a girl in Minecraft, and the old avatars.. (Notch messed up a bit..) it's a fun and awesome game. The days of beta were the best. I remember surprise Friday or Friday surprise, but then it stopped. Until an exception- Surprise Saturday. Ah yes. I remember why polar bears were added in the game, and the reason. Jeb's wife (I think it's Jeb's..) liked polar bears, so that's why they were added. The original Mobil lite version, and I remember when Minecraft PE was free. All this time it's been downloaded in my cloud storage, so I never had to buy it. (Heh) This game never stops improving. But of course, I'm more of a Java version myself, of course. The days of me and the boys, staying up all night, gaming, building whatever we could. I also remember the day when Microsoft bought Mojang, or did they buy Minecraft? Anyways. The first minecon was about 30 people, mostly Notches' family. The good ol days of Minecraft. A few things could be changed though. The shooting speed of skeletons is very high, I dislike that, I have some other things, but I don't want to keep you from doing your jobs. Thanks so much for these amazing 12 years of Minecraft! You guys rock! I can't wait for the cave update! :)
The developer, Mojang, indicated that the app's privacy practices may include handling of data as described below. For more information, see the developer's privacy policy.
Data Linked to You
The following data may be collected and linked to your identity:
Purchases
Identifiers
Usage Data
Diagnostics
Data Not Linked to You
The following data may be collected but it is not linked to your identity:
Privacy practices may vary, for example, based on the features you use or your age. Learn More
Information
Seller

Mojang AB

Size

349.6 MB

Category

Games

Compatibility

iPhone

Requires iOS 10.0 or later.

iPad

Requires iPadOS 10.0 or later.

iPod touch

Requires iOS 10.0 or later.

Languages

English, Danish, Dutch, Finnish, French, German, Italian, Japanese, Korean, Norwegian Bokmål, Polish, Portuguese, Russian, Simplified Chinese, Spanish, Swedish, Traditional Chinese, Turkish

Age Rating

9+ Infrequent/Mild Cartoon or Fantasy Violence

Copyright

© Mojang AB

Price

$6.99

In-App Purchases

Minecraft Store Item 2$1.99
Minecraft Store Item 6$5.99
Realms Plus:10 Friends w/trial$7.99
Supports
Family Sharing

With Family Sharing set up, up to six family members can use this app.
Featured In
More By This Developer
You Might Also Like
Sours: https://apps.apple.com/us/app/minecraft/id479516143
Play minecraft google
.
BELI GAME MUDAH DAN CEPAT - CARA BELI MINECRAFT PAKAI VOUCHER GOOGLE PLAY
.
Now discussing:
.
15
16
17
18
19