Thinking about getting a Stihl HT 56 C-E pole saw? If you're like most homeowners, you have at least a few trees on your property that need a proper trimming. Professional tree trimming can be expensive. Also, heading up the ladder with a chainsaw is just as dangerous as it sounds. So, what do you do when you have branches to cut on a tall tree?
This is where a pole saw comes in. A pole saw, which is essentially an ultra-lightweight chainsaw on a stick. Allows you to quickly and safely trim overgrown trees from the ground. Stihl makes some of the best options on the market, and today, we'll cover the Stihl HT 56 C-E Pole Saw.
Before you begin shopping, there are a few critical considerations to make. Depending on your needs, these factors will help point you in the right direction. This is so you can select the best saw for yourself.
Manual or Powered
The most economical pole saws are manual versions which feature a saw blade attached to a long pole. These are ideal if you only need to trim a few branches occasionally. But, if you have multiple trees to cut or a lot of trimming to do on one tree, it can get tiring working with a hand-powered saw.
Electric and gas versions are essentially a chainsaw blade mounted to a long pole. The motor sits at the end of the pole. These saws allow you to make quick work of all your trimming needs. They're the ideal choice if you have a lot of trimming to do, or if you cut your trees often.
Electric or Gas
If you choose to go with a powered pole saw, you'll need to decide between an electric or gas model.
Electric models are ideal for lighter duty work. While gas-powered models are best for bigger jobs, and tree trimming professionals.
With electric pole saws, you'll find battery powered models and models which must be plugged into power to work. The battery-powered models allow for complete freedom of motion. However, you can only work for as long as your battery holds a charge. Corded electric models don't have this issue, but you can only work as far away as your extension cord allows.
Gas powered pole saws are the industry standard, and they're well suited for any kind of tree trimming work.
Telescoping Pole
Whether you go the manual, gas, or electric route, it's best to look for a saw which features a telescoping pole. This will allow you to reach higher branches without having to contend with a ladder.
Self Lubricating Chain
With all powered pole saws, a self-lubricating chain is a key feature. A chain that lubricates itself requires less maintenance. It will also do a better job of cutting through thicker branches without binding. Binding can damage your saw.
Stihl HT 56 C-E Pole Saw Overview
The HT 56 C-E from Stihl is arguably the most popular pole saw for homeowners that have a relatively large amount of pruning to take care of.
This pruner is packed with desirable features. It is designed to make it easier than ever for homeowners to do their own tree trimming. It's also exceptionally lightweight. While this pole saw boasts some features that you won't find on other trimmers from competing brands, it's still an affordable alternative to most quality pole saws.
The HT 56 C-E boasts a 27.2cc engine and measures in at 9'2" long, making it the ideal size for most residential trimming jobs.
This pole saw is backed by a two-year warranty from Stihl. Even if you use the saw for commercial purposes. This means you'll have peace of mind knowing you're covered if there are any issues with your saw.
What We Like
Easy to use right out of the box
Made in the USA
Lots of high-end features
Self-lubricating chain
Pole comes apart for easy storage
Room For Improvement
Doesn't have an extendable pole
Difficult to find replacement chains
Replacement chains are expensive
Features & Benefits
Let's discuss the meat & potatoes of this pole saw. This pole saw has all of the unique features and benefits that the saw includes.
Easy2Start System
One of the most helpful features of this pole saw is its starter, which has many advancements designed to make it easier than ever for anybody to start the tool. Except for an electric start function, you'll be hard pressed to find a power tool that starts quicker or with less effort than a tool equipped with Stihl's Easy2Start System.
Made in the USA
With so many manufacturers moving production overseas to take advantage of more affordable parts and labor, there's something to be said for the companies that continue to make their tools in America. While foreign and domestic parts are used, this pole saw is entirely assembled in the United States.
Reduced-Emission Engine Technology
One of the main drawbacks of gas-powered tools are the emissions they release into the atmosphere. This trimmer's engine produces significantly fewer emissions than what's required by the EPA and CARB, and it's also quieter than models without this technology.
OILOMATIC Chain
A properly lubricated saw chain is the key to a clean cut and extended chain life. This pole saw features Stihl's patented OILOMATIC chain, which lubricates itself during use to reduce friction and chain wear.
A self-lubricating chain will save you time and money over the life of your saw, so you can spend more time working and less time fussing with a dull chain.
Lightweight Gearbox
One of the most important aspects of a pole saw is its weight. Fatigue is quick to set in when you're working with a pole saw, and the heavier your saw is, the harder your job will be.
Thankfully, this pruner comes in at an exceptionally lightweight 5.8lbs thanks to its lightweight components and gearbox.
Two-Piece Pole
The HT 56 C-E features a two-piece pole design which allows you to functionally split the tool in half when it's time to pack it up for storage. At nearly ten feet in length, it can be difficult to find room to store an assembled pole saw, and this feature makes it much easier for you to stow away your pruner when not in use.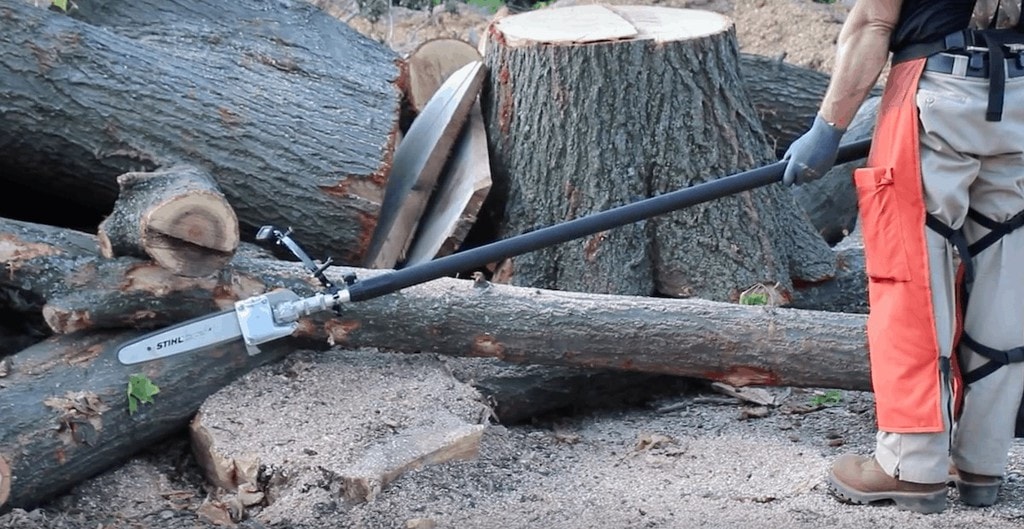 Alternatives
The Stihl HT 56 C-E is one of the most popular pole trimmers for discerning homeowners, and it may be a great choice for you, as well. But, there's no one-size-fits-all option when it comes to pole saws or any product for that matter, and you may find there are other options that fit your needs better.
If you're looking for a higher-end commercial saw that's capable of tackling even higher branches with it's 16' telescoping pole, the Stihl HT103 may be a great option for you.
Stihl's top-of-the-line offering, the HT250, is also a great alternative, especially if you're a gearhead who enjoys having the best of everything.
Of course, if you'd like to look into other brands outside of Stihl, you'll find plenty of options there as well. Remington has quickly developed a reputation for making great tools that are also exceptionally affordable, and their RM25CS pole saw delivers impressive features without the hefty price tag.
Last update on 2021-07-27 / Affiliate links / Images from Amazon Product Advertising API
Finally, if you'd like to avoid a gas engine altogether, you'll find plenty of quality electric pruners, like the full-featured and affordable Sun Joe SWJ803E.
Last update on 2021-07-27 / Affiliate links / Images from Amazon Product Advertising API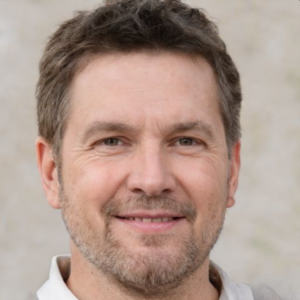 About Brandon Potters
Hi, I'm Brandon and I can't express how excited I am that you chose The Saw Guy as your resource for project ideas, tool reviews, and all-around guide to the world of DIY. I spent years in the construction industry refining my knowledge of various trades and even spent a few years working at a major hardware store. ​If there is anyone who can help you make a well-informed, unbiased, budget-conscious decision, it's me and my team.
Sours: https://www.thesawguy.com/stihl-ht-56-c-e-pole-saw/
Comparison Review: Husqvarna Pole Saw vs Stihl Pole Saw
Introduction
Sometimes you just need to cut something higher or farther from you. A circular saw won't reach that far while a handsaw won't give you a lot of power. This is where a pole saw comes in handy.
Think of a pole saw as a long pole with a circular saw at the end. It has a long reach, therefore, it can cut branches, vines, and wires that are just too high for you to do so. A pole saw is mostly used for gardening or landscaping and aside from reaching up high, you can also use this saw to cut up low like shrubs and grass. With a handy pole saw, you will be able to efficiently work in a large yard or garden without breaking your back.
I never knew that a pole saw would become handy in gardening until I used one this year. My neighbor showed me how easy and how efficient it was to cut high branches and thick shrubs with a pole saw. This was a gas operated model and it was quite loud. But despite this flaw, I found it flawless. It was able to cut branches quite fast and safe too. It ripped through thick vines and was able to shape thick shrubs as well.
I was so amazed that I purchased my own pole saw and as they say, the rest was history. I now enjoy a manicured lawn with the help of my heavy duty pole saw. And to share my good fortune, I bring you two top pole saw brands: the Husqvarna pole saw and the Stihl pole saw good choices. Shopping for the ideal lawn and garden tool? Then you will surely find the power cutting features of these pole saws the best among the rest.
The most updated Husqvarna pole saw is compact, lightweight and balanced. It will let you work comfortably in your garden or backyard because of its flexible and ergonomic design. This saw comes with an E-TECH II 24.5 cc engine that is so powerful it can help you cut anything in one pass.  This comes with a rear impact guard to protect the engine from damage and wear. This is a gas-powered pole saw so you can work longer and non-dependent from a power cord. This Husqvarna pole saw could be the one you need for your landscaping and yard maintenance work.
Meanwhile, Stihl gives you a variety of options when it comes to pole saws. Stihl has battery-powered pruners, gas-powered pole saws, and corded pole saws. You can also purchase professional pole pruners, homeowner pruners, and genuine pruner accessories for your power tool. The latest gas-powered Stihl pole saws have a low-emission, fuel-efficient engine. A Stihl pole saw, therefore, runs cleaner than regular engines. This power tool has automatic oiling OILMATIC saw chains and EMATIC guide bars. These features improve cutting efficiency and reduce the saw's wear and tear. All Stihl precision pole saws have long life high-carbon tool steel blades. These steel blades will stay sharp longer and can be replaced or sharpened in case these become dull.  Stihl pole saws also have ergonomic handles so you can easily raise the saw up to 18 inches above the ground.
Husqvarna Pole Saw vs Stihl Pole Saw
| | | |
| --- | --- | --- |
| Product | Husqvarna Pole Saw | Stihl Pole Saw |
| Product Dimensions | 80 x 11.1 x 10.5 inches | 9.2 inches in length |
| Weight | 14.11 pounds | 12.8 pounds |
| Motor Power | E-TECH II 24.5cc gas-powered engine | 27.2 cc gas-powered engine |
| Accessories | Powerhead and shaft, bar, chain and owner's manual | – |
| Amazing Features | With balance flex harness | With Easy2Start technology |
| Ratings | 3 out of 5 | 4.8 out of 5 |
| Price | Check Lowest Price | Check Lowest Price |
Buying Guide
Here are some important things to check before you settle with a pole saw model or brand. Understand these parameters to be able to get the right pole saw for your needs. Always remember that purchasing any kind of power saw is a small investment and therefore you must shop smart to get the best value out of your money.
Is a pole saw right for your needs?
Do you really need a pole saw or would you rather check out other garden or landscaping cutting tools? A pole saw is for general cutting jobs that require extending your reach either vertically or horizontally. You will be able to reach tall trees, branches, and tall plants as well as cut tall blades of grass easily with a pole saw. Other tools could be a gardening scissor to manually cut grass, small branches, and low-lying plants. This is also a good tool for shaping bushes and shrubs. But if you need to cut large patches of grass then a lawn mower would give you faster and more efficient results. 
Pole saw pole length
Pole length varies for every brand and model. You may find poles as high as 15 feet while some have adjustable heights. Pole saws with adjustable heights have telescoping poles to let you reach even the tallest branch while your feet stay on the ground. Aside from this advantage, you can use a saw with a long pole to reach grass, shrubs and small plants that need to be cut easily. Choose the right pole length that will suit your gardening work and cut projects at home.
The weight of the pole saw
You need a lightweight saw as you work outdoors considering y you need to carry the saw the whole time. Take note that battery-operated saws are the heaviest while corded ones are the lightest.
The heaviest pole saws and saws for heavy duty use usually have a harness so you can use it comfortably. You wear the harness and attach the pole saw to the harness as you use it. The harness distributes the weight of the saw on your shoulders, body, and back and reduces strain on your hands and arms.
Pole saw updated features
Other important parameters include special ergonomic features to help you use the tool comfortably. The tool's updated features like an easy start system or a safety feature also bring more value to your purchase.  Finally, accessories that come with your purchase also matters. Complete pole saw kits, shaft bars, handles, harnesses and other accessories are heaven sent. You must make sure that special accessories are available like bar and chain oils to lubricate the saw's bar and chain to reduce wear and replacement chains and blades.
Pole saw complete accessories
Your tool should come with basic accessories so you can use it out of the box. The most basic accessories should be included like shaft bars, chains, and wrenches. Take note that it is always a good idea to purchase a complete set because you won't have to pay more for accessories.
Cordless, gas-powered or electric pole saws?
There are three subtypes of pole saws available in the market: cordless pole saws, electric pole saws, and battery-operated pole saws. Each one has its own pros and cons.
Cordless pole saws or battery operated saws are run by a rechargeable battery that could last about an hour or more depending on the tool use. If you are shopping for a cordless model, look for a model with a Lithium-ion battery because this battery offers a longer life, better performance and will never take a long time to recharge. Cordless pole saws require minimal maintenance. Usually, the most that you need to do is to sharpen the saw chain. Because this is battery operated, you can take this anywhere. However, your tool use will only last as long as the battery can last. You need to take extra battery packs with you as you work outdoors to be able to work continuously.
An electric pole saw is more popular than a cordless pole saw because all you need to do is to plug it in an available power socket or extension cord. Usually, electric pole saws come with blades of 6 to 10 inches and require almost no maintenance. An electric-powered pole saw is lighter compared to battery-operated saws because this doesn't have a heavy battery pack. The only set back is that you need to use a very long extension cord to work in a large yard. It would also be harder and less efficient to work with a power cord getting in the way.
Gas-powered pole saws are the most popular of all because these saws have heavy duty bars and chains compared to other types of saws. With bigger bars and chains, you can use this saw to cut larger things. Regular gas-powered pole saws come with a 9 feet shaft so you can reach and trim tall trees as you stay on the ground. Gas-powered pole cutters are heavier than corded models and also these make a lot of noise when used. However, these saws are balanced so these could be very easy to use. 
How do we compare the two pole saws?
Quality
Top quality pole saws will bring you a lot of value. The latest Husqvarna pole saw is a strong, durable and compact saw that has a pruner's balance flex harness that will let you work comfortably even if you use the power tool for a longer period of time. The harness is completely adjustable and will fit any user. With the harness in place, you will be able to use this pole saw in all working positions.
The Husqvarna pole saw has an ergonomic design and flexible suspension system. It is gas-operated by an efficient E-TECH II 24.5 cc engine which gives you quality results for garden and home use. You can easily tell that you are using a top quality pole saw when you choose a Husqvarna saw because of its good design and top features. This could be the gas-powered pole saw for your needs.
Meanwhile, the latest Stihl pole saw is a homeowner pole pruner made for cutting and trimming hard-to-reach branches. This pole pruner is designed exclusively for around the home use and in jobs that regular chainsaws won't reach. This Stihl pole saw comes with Stihl's Easy2Start feature that will allow you to start the tool without a fuss. The Stihl is a gas-powered tool with a shaft length of 9 feet and 2 inches. This weighs less than 15 pounds making it a good outdoor cutting tool for any project.
Price
The Husqvarna pole saw is around $100 online while the Stihl pole saw is around $350 online. These saws come with accessories as well as chains and user manuals.
Weight
Both the Husqvarna and the Stihl saws weigh around 15 pounds, therefore, are both lightweight for any job. Both saws could weigh more with a full tank of gas as well. Being a lightweight pole saw is necessary because you need to lift the saw overhead to reach high areas.
Husqvarna Pole Saw
The Husqvarna pole saw is a lightweight, easy to use and powerful pole saw. This is a saw that will give you hours of good use with is the efficient gas-powered engine. This pole saw is for gardeners, landscape artists, homeowners and contractors who would like to create and fast easy cuts on trees, vines, shrubs and even tall grass. It is for people who would like to get the job done and those who don't want to waste time working a yard or garden.
Short Review
The latest Husqvarna pole saw is a saw with a balance flex harness feature. This comes with a special harness so you can work with this saw comfortably for a long period of time. You can use this saw in different positions: with the saw cutting things on top, with the saw cutting materials on front and also cutting things on the ground. This saw has an ergonomic design and flexible suspension system to help you cut anything without losing power and grip.
There are many features that make the Husqvarna pole saw a good addition to your home and garden. This saw offers rapid acceleration as soon as the engine starts. You can immediately make cuts as soon as you power on the saw. This also comes with a powerful E-TECH II 24.5 cc engine which will give you quick and powerful cuts for all kinds of trimming projects.
This comes with a tool-less coupler that will be able to separate the aluminum shaft for easy storage and transport. You can use this time and again without engine problems because of its rear impact guard that protects the tool from wear and tear. This pole saw is a favorite for pruning and cutting and this could be the powerful cutting tool that you have always wanted to own. 
Main Features
Pole saw for pruning and cutting
With a Balance Flex harness
With an E-TECH II 24.5 cc engine
With a tool-less coupler
With a long aluminum shaft
The shaft may be easily removed for easy storage and transport
Can be used on all working positions
With an ergonomic design and flexible suspension system
With a rear impact guard
With a 10-inch cutting thickness
Operating height of 16 feet
With a 12 –inch chain length
Lightweight and compact
Comes with the powerhead and shaft, bar, chain and owner's manual
Q & As
Can you use this pole saw to cut large pieces of wood and metal?
This pole saw will be able to cut large pieces of wood but it won't be able to cut metal sheets. This saw is made for use in yard or garden and not for workshop or worksite use. You can use this pole saw to cut branches, trim leaves, and shrubs and to cut tall grass.
Where do you purchase accessories for this Husqvarna pole saw?
Husqvarna pole saw accessories are available for purchase from online stores like Amazon or from the manufacturer's official site or you can buy from local shops and dealers. You must always use genuine accessories and blades for your Husqvarna saw and never generic chains and blades because these can affect the way you use your power saw.
What type of fuel is best for this gas-powered Husqvarna pole saw?
Fuel with low ethanol, at 10%, is best for gas-powered pole saws like the Husqvarna. Using fuel with a higher ethanol percentage can damage your saw. Check the manufacturer's instructions on what type of fuel will work best on your Husqvarna tool.
How do you maintain this pole saw?
Pole saw maintenance is necessary to keep your saw in tip-top shape. First, remove dirt and debris manually from the chain and shaft. Use a brush to do so. Keep the chain and bar oiled and ready to prevent corrosion and friction build up. You must use a soft, dry cloth to wipe the saw body clean. Check manufacturer's instructions on how to maintain this pole saw.
Do the blades of the Husqvarna pole saw need sharpening?
You may sharpen a dull blade or you may have it replaced right away. Sharpen your blade regularly and keep it oiled and in good shape.
Where do you take a broken Husqvarna pole saw?
If your Husqvarna pole saw is still under warranty take it to an authorized dealer for repairs. This will guarantee fast and efficient service plus any parts that need to be changed will be replaced by genuine parts. Take a tool that has passed its warranty period to an authorized service center as well as to ensure good service.
Pros
This allows you to handle it comfortably with the Balance Flex Harness.
This has an ergonomic design for user comfort and safety.
This offers faster startup so you can immediately use it for any project
This pole saw is one of the lightest of its class.
You can use this without worrying about hand and arm pain.
This has 16 feet operating height.
You can cut tree branches, vines, shrubs and even tall grass.
Cons
Does not come with a telescoping shaft but rather a fixed shaft.
This does not come with extra chains.
You need to pay for more to get a replacement part.
This saw is known to be very loud when used.
Stihl Pole Saw
The Stihl pole pruner or pole saw is a homeowner's dream. It can cut through different garden tasks and therefore it is for homeowners, contractor, and gardeners. Because this saw can reach high and can work stronger and tougher, it is recommended for users with thick materials to cut and those who want precision and clean cuts all the time. This is a lightweight saw so it is also for people who don't want to carry a heavy weight power saw.
Short Review
Lightweight, compact and easy to use, this is the latest Stihl pole saw. This is a homeowners' pole saw which is redesigned to be effective for a variety of applications. It has a lightweight gearbox which improves usability and comfort. With a lightweight you can easily move the saw higher and tackle any kind of overhead cutting project.
This latest Stihl pole saw has the Easy2Start feature. You only need to give the engine a simple pull and you are all set to work on a variety of tasks. This has a two-piece shaft design that lets you dismantle the long shaft in case you need to keep the tool away or when you want to transport the saw. This pole saw comes with a 27.2 cc gas-powered engine which will let you cut through different materials including wood, vines, fine grass, and shrubs. You can use this to cut branches, to cut shrubs and to trim the grass. You can use this for general cutting tasks in the garden to shaping and landscaping different trees and plants.
This Stihl pole saw weighs less than 15 pounds so it's lightweight and easy to use around the yard. You don't have to worry about straining your arms, shoulders and back with a heavy tool because you can easily handle this tool even for long hours. 
Main Features
Gas-powered 27.2 cc engine
With a long 9 feet shaft
Weighs less than 15 pounds
Made in the USA
With reduced-emission engine technology
With a unique two-piece shaft design
With the Stihl Easy2Start feature
With a lightweight gearbox
With a left-hand guide bar and saw chain mounting system
Can be used for landscaping, gardening, and basic yard work
Q&As
How do you maintain a Stihl pole saw?
Stihl pole saws are maintained by following the manufacturer's instructions. Aside from these, you must remember that careful and regular maintenance will help your power tool last for a long time.
Sharpen and oil your chain regularly. If you need to replace these then do so your tool can be ready the next time you use it. Never wet your saw to clean it. Use a brush to remove dirt and dust on your saw and saw blades. Use a bar and chain oil to prevent corrosion and friction. You can purchase Stihl brand oil for better tool maintenance.
What do you use as fuel for a Stihl pole saw?
This saw uses gas for fuel and Stihl recommends fuel with no more than 10% ethanol. Using fuel with greater ethanol content could damage your power tool and may even void your warranty. Check the manufacturer's instruction on what type of fuel works well with Stihl pole saws.
What does it mean when the Stihl pole saw is fuel efficient?
This means that it requires less fuel to run. The secret is in Stihl's powerful but efficient motor that will let you cut, trim and shape different material thicknesses in your yard or garden. You won't have to refuel time and again to use this power saw. And aside from being fuel efficient, this power saw has reduced emission engine technology. This saw produces zero or low exhaust emissions and is cleaner than EPA and/or CARB exhaust emission standards.
What do you do with a broken Stihl pole saw under warranty?
If the saw is still under warranty then you must take it to an accredited Stihl dealer or service center for quality service. You can check for the nearest service center or dealer from Stihl's official website or call their customer service hotline to find out. And even if your Stihl power saw is not in warranty anymore, the best place to take it for service is still a Stihl authorized service center.
How do you use this pole saw for cutting high branches?
Cutting high branches is something that this Stihl pole saw is built for. You don't need to climb a tall ladder just to make a cut. You simply use this saw with the farthest reach and you will be able to cut that high branch in no time. Check manufacturer's instructions on how to operate this pole saw for the first time.
Pros
This is easy to use
easy to start with the Easy2Start feature.
This is fuel efficient and won't cause harmful emissions.
This has a redesigned motor that has cleaner emissions. 
This is lightweight so you can take it anywhere.
This has a dual shaft feature that lets you disassemble the saw.
This Stihl pole saw has a higher reach compared to other pole saws.
This will let you trim even the highest branch while staying on the ground.
This can be used for general yard work and landscaping.
It is very versatile with its powerful motor.
Cons
Makes a lot of noise when used.
This Stihl pole saw does not come with an extra chain.
You need to purchase a replacement or an extra chain.
The Final Cut
Comparing the Husqvarna and the Stihl pole saw was not an easy task and in fact, there are a lot of similarities between the two saws. These similarities have made it even harder to decide which pole saw will work for your needs. The Husqvarna pole saw and the Stihl pole saw both run on gas, therefore, these are guaranteed to have relentless power for many applications. There is no worry about losing power or complicated extension cords because you can work for as long as you have fuel.
Another very common feature that the two pole saw shared was the flexible but non-telescoping shaft. Both saws are able to tackle high jobs like tall branches and high plumes of leaves because of this extended reach. Too bad these cannot be extended higher with a telescoping shaft.
Still another common feature between the two is the tool's balanced construction. The Husqvarna has a harness that improves balance even further. The harness steadies the user and keeps control over the tool. Meanwhile, the Stihl already has an efficient and sturdy design and this is important to help you raise the pole saw or to move effortlessly from one material to another.
Now the differences and the reason why one tool seem to shine brighter than the other. Both tools can cut better with a balanced saw body but the Stihl has more features to make it a good pole saw. It comes with an Easy2Start feature that lets you start the saw with just a light pull on the engine. It has an efficient engine as well and gives you cleaner emissions. These good features make the Stihl better than the Husqvarna model.
There are a lot of benefits to shopping smart for power tools and one of these is that you get the power saw that fits your needs. By understanding the properties and capabilities of each saw and comparing one product to another will help you find the right pole saw for a variety of applications.
Sours: https://cutthewood.com/reviews/husqvarna-pole-saw-vs-stihl-pole-saw/
STIHL Pole Saw
Stihl HT 56 C-E
Say goodbye to ugly, overgrown branches. The redesigned HT 56 C-E is lightweight, easily maneuver...
$369.99
Details
Stihl HT 131
This reliable telescoping pole pruner features the reduced-emission 4-MIX™ engine. Perfect for tr...
$689.95
Details
Stihl HT 133
The HT 133 makes reaching for high branches a breeze. Say goodbye to heavy pole pruners – the red...
$669.95
Currently Out Of Stock
Details
Stihl HT 103
Prune with ease with the HT 103 pole pruner. Featuring a telescoping design, reduced-weight, and ...
$609.95
Currently Out Of Stock
Details
Sours: https://pandpsmallengines.com/collections/stihl-pole-saw
Stihl Pole Saw HT131 freshly tuned and put to work!!!
STIHL HTA 85 Cordless Pole Pruner Saw

Manufacturer: STIHL

Model number: HTA 85

Price: $490

Power source: 36V Li-Ion

Weight: 14.6 lbs w/ Battery
Outdoor power equipment is steadily transitioning from small gas powered motors to cordless battery powered platforms. This is true not only for the major cordless tool manufacturers but also companies squarely focused on outdoor power equipment like STIHL. One of those tools is the STIHL HTA 85 Electric Pole Pruning Sawwhich I recently started using around the house and for trail clearing.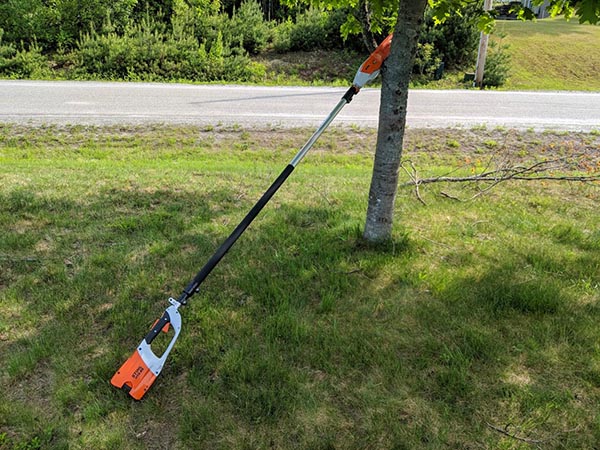 HTA 85 Features and Specifications
Pole Length: 8′-2″ to 12′-1″
Bar Length: 10″
Chain: 1/4″ STIHL PICCO™
Run Time: Up to 50 mins on AP 300 Battery Pack
Noise Level: 76 dB(A)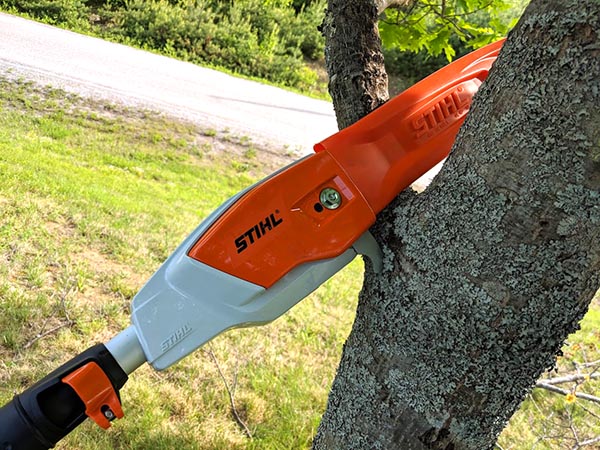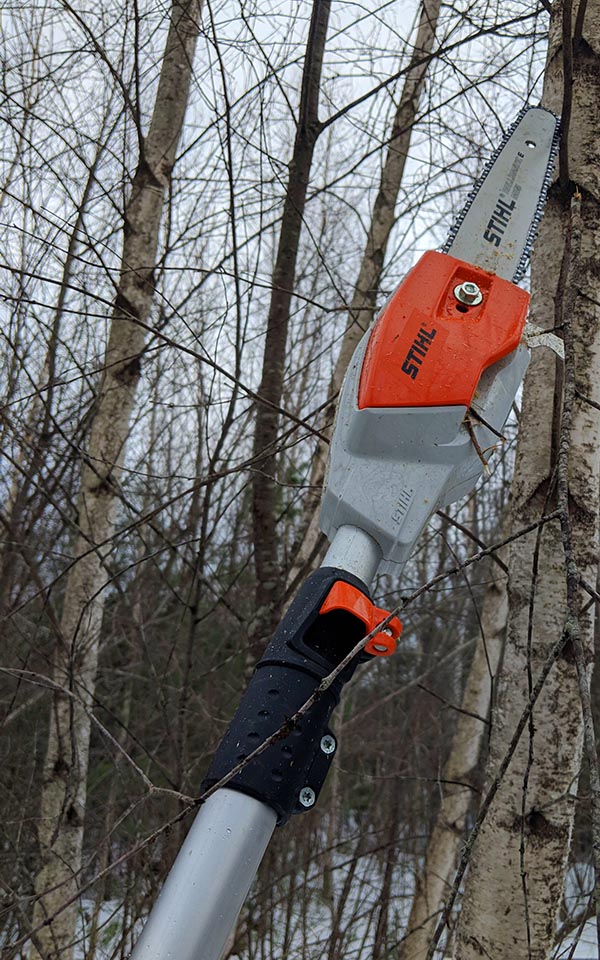 Quiet and Powerful Performance
There are several benefits to moving from small gas powered equipment to cordless battery platforms. One of them is the ability to do work without the distinct sound and noise of small gas engines. The STIHL HTA 85 is only 76 dB(A) which is considerably quieter than a gas powered version.
While the HTA 85 is quiet, it certainly has plenty of power for pruning trees and cutting small brush. It has worked very well for pruning some hardwood trees around the yard. In addition, it's been fantastic for trail clearing in areas where I hunt for whitetail deer. Having a quiet option for clearing trails is ideal for getting the work done without spooking the animals from the loud noise of a gas powered unit.
The big standout on this unit is the 1/4″ STIHL PICCO™ chain. The chain is by far the best of any unit that we've tested before and really makes the unit shine especially on a cordless pruning saw. It's the same chain that STIHL uses on their cordless chainsaws and we feel they are the best on the market.
Most cordless "chainsaw" type tools on the market use the thinner 1/4″ style chains to help improve runtime. Users just need to be cognizant of thinner bar and the fact that they can "pinch" much easier than a heavy chained tool.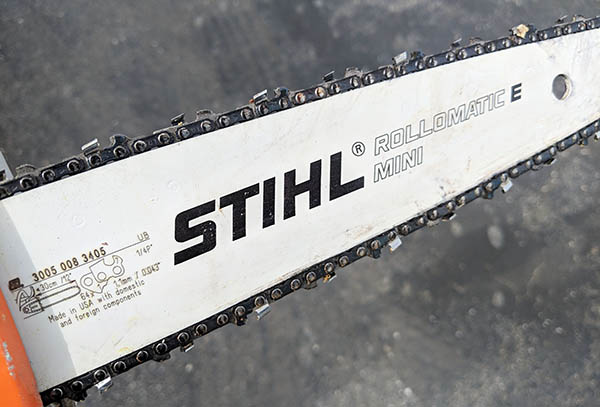 No Small Engine Maintenance
One of the other huge benefits to using a cordless saw vs a gas powered saw is the lack of required maintenance. Small gas engines can be a real bear to maintain especially with modern gasoline that contains ethanol. With a cordless engine users really only need to take care of the batteries and chain. Users have no concerns about whether or not the tool will start assuming they have a fully charged battery. Let's face it, many if not all of us have struggled from time to time getting a small gas engine to start so this is a big benefit.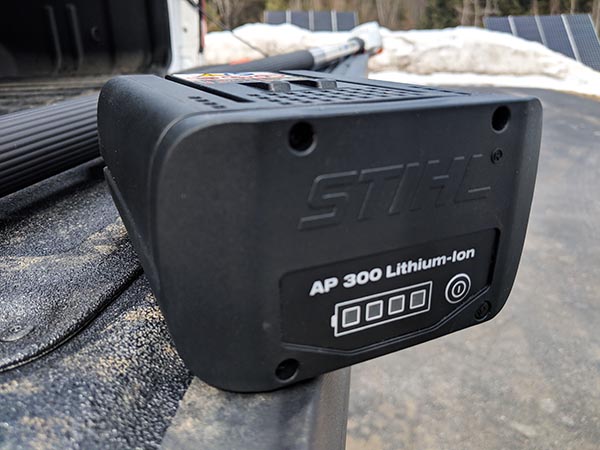 Final Thoughts – STIHL HTA 85
The STIHL HTA 85 is an excellent pole pruner saw. A combination of cordless, quiet power and an excellent chain that can reach well over 16 feet in the air for the average user, this pole pruner should be at the top of anyone's list. The AP 300 battery platform offers several other tools to complete an exception cordless outdoor power equipment option. Priced just under $500 it's a good value especially when considering the quality build of this saw.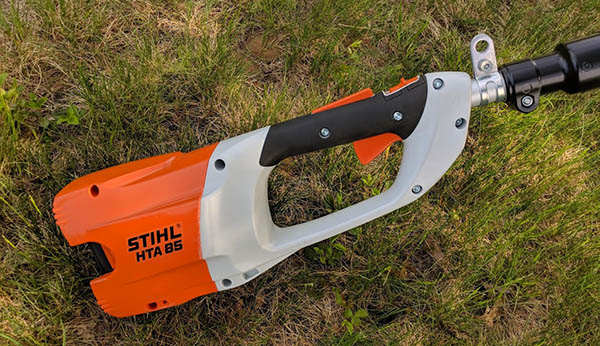 STIHL Electric Pole Pruning Saw
Buy Now From Our Sponsored Retailers
About the author
Todd Fratzel
Todd Fratzel is the Editor of Tool Box Buzz and the President of Front Steps Media, LLC, a web based media company focused on the Home Improvement and Construction Industry.He is also the Principal Engineer for United Construction Corp., located in Newport, NH. In his capacity at United he oversees the Residential and Commercial Building Division along with all Design-Build projects.He is also the editor of Home Construction & Improvement.
@tfratzelTodd Fratzel
All posts by Todd »
Disclosure
Product reviews on this site contain our opinion of a product or service. We will always strive for objectivity and transparency in our reviews. Our goal is to provide readers with honest, objective information based on our own experiences. We never have and never will accept payment in exchange for a positive review. Many of the products that we review are provided to us for free by a manufacturer or retailer. In some cases, we also have advertising or affiliate relationships with manufacturers and retailers of products and services we review. For additional information please visit our additional disclosure policies.
Sours: https://www.toolboxbuzz.com/cordless-tools/pole-pruner/stihl-hta-85-electric-pole-pruner-saw-review/
Saws sthil pole
STIHL® Pole Pruners For Sale on Long Island & in NYC, NY
A few low-hanging branches can ruin the look of your perfectly manicured lawn. Fortunately, there's an easy solution: pole pruners. This yard care tool allows you to cut branches that you otherwise wouldn't be able to reach. Low-hanging twigs will no longer ruin your yard's look. If you need a new tool to add to your lawn care arsenal, look no further than a STIHL® pole pruner. STIHL is a trusted brand that has produced top notch equipment for years. If you want to put the finishing touches on your yard, it's time to invest in a STIHL pole pruner. Say goodbye to branches and overgrown trees!

Check out our selection of STIHL pole pruners at Chief Equipment in Calverton, and Hicksville, New York. Whether you live on Long Island or in New York City, we've got you covered. We are proud to serve Nassau and Suffolk Counties. We'll find the perfect tools for all your yard care needs!
Sours: https://www.chiefequip.com/stihl-pole-pruner-dealer
Stihl HT-101 pole saw shaft repair/replacement. Assembly and disassembly.
Stihl Pro Pole Pruner Line Now Extends to Longer HT 134 and HT 135 Models
Stihl expanded their line of Professional Pole Pruners to feature even more shaft length than the HT 132 and HT 133. The Stihl HT 134 and HT 135 Pole Pruners give landscapers and lawn techs even greater reach for when it comes time to cut at height.
Stihl HTA 134 and 135 Pole Pruners: The Big Deal
The upgrade that Stihl has implemented with the line expansion comes down to each pole pruner's extended shaft length. Prior to this release, Stihl offered a fixed-length pole pruner (HT 132) that extended 5 ft. 7 in., and an extendable shaft model (HT 133) that you could adjust between 7 ft. 6 in. to 11 ft. 6 in.
With the Stihl HT 134 and HT 135 Pole Pruners, you get even more reach. The fixed length model now extends to an overall length of 6 ft. 11 in. The adjustable length of the other model now reaches anywhere between 8 ft. 10 in. to 12 ft. 10 in. In both cases, the longer reach helps keep you on the ground instead of on a lift.
Beyond that, not too much else differs between these respective models. Both of the upgraded Stihl pole pruners feature the same 36.3 cc motor, which was the major upgrade from the HT 102 and 103 to the HT 132 and 133. It does look like the newer editions have a newer low-profile, anti-kickback chain and a bit more weight, but the extra weight could be expected with the extra shaft length.
Model
HT 132
HT 133
HT 134
HT 135
Shaft
Fixed Length
Extendable
Fixed Length
Extendable
Overall Length
5 ft. 7 in.
7 ft. 6 in.
–11 ft. 6 in.
6 ft. 11 in.
8 ft. 10 in.
–12 ft. 10 in.
Displacement
36.3 cc
36.3 cc
36.3 cc
36.3 cc
Engine Power
1.9 bhp
1.9 bhp
1.9 bhp
1.9 bhp
Weight
12.6 lbs.
15.9 lbs.
14 lbs.
17.3 lbs.
Fuel Capacity
18 oz.
24 oz.
17.9 oz.
17.9 oz.
Chain
1/4″ Picco 71 PM3
1/4″ Picco 71
3/8″ Picco 61 PMM3
3/8″ Picco 61 PMM3
Price
$499.99
$649.95
$499.99
$649.99
Pricing
Stihl has not confirmed a hard release date for the HT 134 and 135 Pole Pruners yet, but we do know what you can expect to pay for these tools. The fixed-length HT 134 will retail for $499, while the extendable HT 135 will retail for $649.99. Both come with Stihl's 2-year warranty. When these tools do become available, you'll be able to find them at your local Stihl retailer.
Stihl Pole Pruner Specs
Stihl HT 134 Pole Pruner
Displacement: 36.3 cc (2.2 in.3)
Engine Power: 1.4 kW (1.9 bhp)
Weight: 6.35 kg (14.0 lbs.)
Length: 2.1 m (6' 11")
Fuel Capacity: 530 cc (17.9 oz.)
Oil Capacity: 220 cc (7.4 oz.)
Guide Bar Length: 35 cm (14 in.)
Warranty: 2 years
Price: $499.99
Stihl HT 135 Pole Pruner
Displacement: 36.3 cc (2.2 in.3)
Engine Power: 1.4 kW (1.9 bhp)
Weight: 7.85 kg (17.3 lbs.)
Length: 2.7 to 3.9 m (8'10" to 12'10")
Fuel Capacity: 530 cc (17.9 oz.)
Oil Capacity: 220 cc (7.4 oz.)
Guide Bar Length: 34 cm (14 in.)
Warranty: 2 years
Price: $649.99
Sours: https://www.protoolreviews.com/stihl-hta-134-135-pole-pruner/
Similar news:
.
123
124
125
126
127